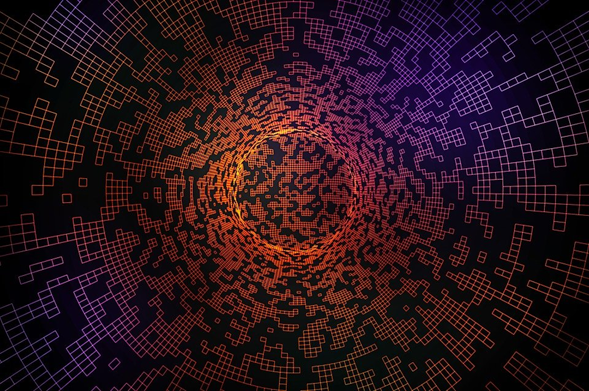 Source
Using notes taken at your lecture and my abilities, complete this task. I find the issue of trading very interesting and from today I will put it into practice for myself.
---
My 6 cryptocurrencies to invest and their explanation of why I decided to invest in them.
My decision to invest in investing in these 6 cryptocurrencies was through their upward movement that they were going to have, I have been seeing them for a while and whenever bitcoin goes down they do too, and whenever bitcoin goes up they do too They do since many of these currencies depend on it, also due to their level of marketing that they have through social networks, each of these cryptocurrencies has done a good job in their projects and are highly sought after by people, in addition to All this, I did a long-term analysis and each one of them yielded very good results, which made me prefer each one even more.
Iota (MIOTA).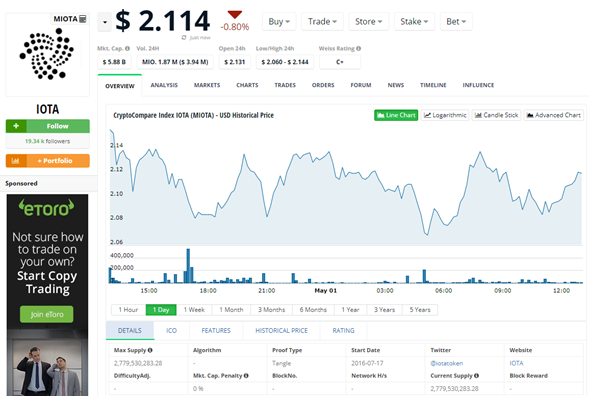 Source
It calls itself the "internet of things", it is actually a scalable open source platform, which allows data transfers between people digitally, iota created a network that simulates the internet which generates a lot of controversy and a lot of demand for its cryptocurrency.
Stellar (XLM).).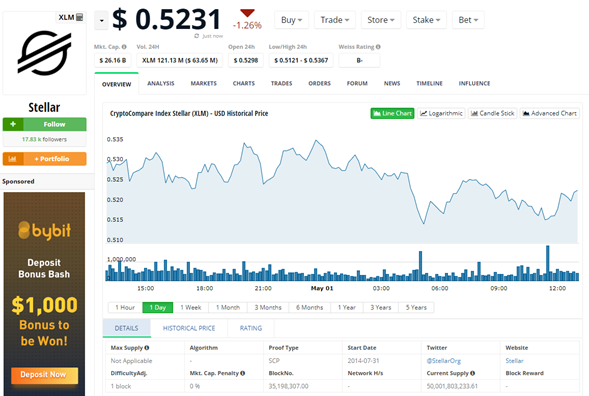 This platform is widely known today, since it has a network of servers for multiple transactions in a decentralized way, its level of security is optimal and provides great availability for institutions of its cryptocurrency for any investor. What makes it different from other cryptocurrencies is that it reduces the interbank transfer time, which makes it attractive to many investors.
Tron (TRX).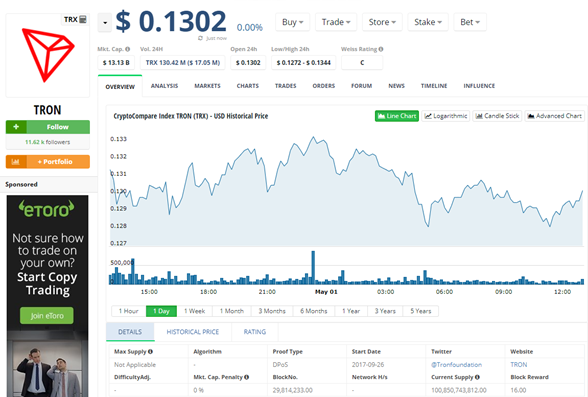 Source
This platform works independently like ethereum does, but tron takes care of digital entertainment, allows you to create various entertainment projects, online games, bookmakers etc.
Binance Coin (BNB).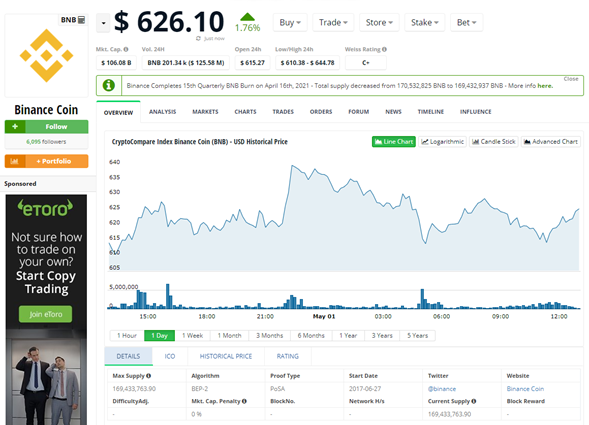 Source
It is based as ERC20 token, bnb is a cryptocurrency that was created by the Binance exchange platform, which allows the purchase of a great variety of cryptocurrencies that exist in this exchange house, lowering its cost of commissions, this platform has a large number of tokens available for the high demand of all users. It is said that this cryptocurrency will reach 10 thousand dollars in a very short time.
Ethereum (ETH).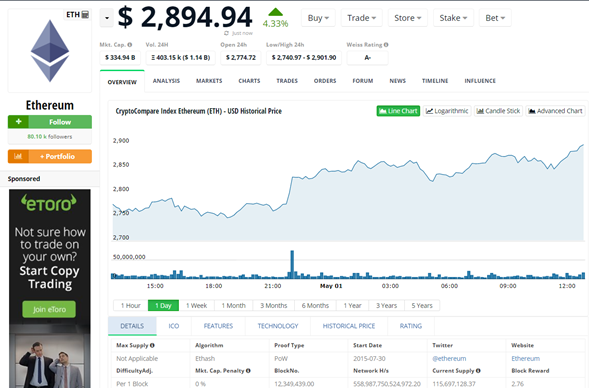 It is a platform whose function is to program smart contracts very easily for various reasons, ethereum in recent times has tripled in value, currently the projects that have smart contracts belonging to ethereum are some of the best and very sophisticated and preferred by all , It is said that ethereum will exceed the value that bitcoin currently possesses but for this to happen it has to considerably increase its market capitalization, which is not easy at all compared to bitcoin.
BitCoin (BTC)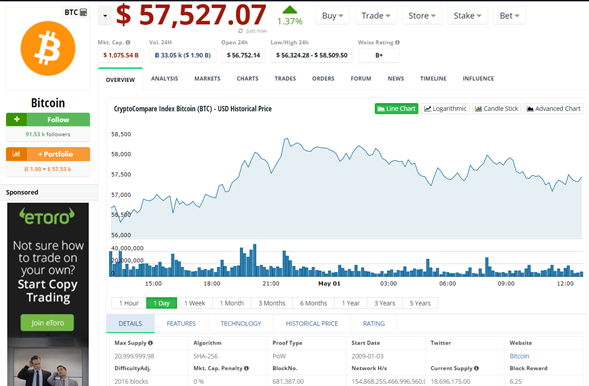 Source
It is a virtual currency, which serves as a payment currency for various services and as a form of merchandise, this currency is not endorsed and is not subject to any entity that controls it, this currency in recent times has exceeded its historical highs and has reached With new sales limits that are increasing, this currency is extremely volatile, it is mineable, and every 4 years the reward it produces when solving each block is reduced by half, which makes its value double. This currency is widely acquired by investors to make large payments and to make large investments.
---
Use a crypto wallet of your choice to store your 6 cryptocurrencies.
The wallet I used was Etoro, this wallet allows the use of virtual money transactions, which is a very good option when it comes to learning about trading and not putting your real money at risk.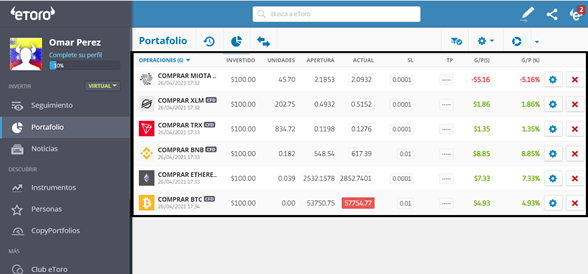 ---
Wait a day or two, then show the final results of your investment portfolio.
The waiting time was 4 days, which let me know that I made very good decisions.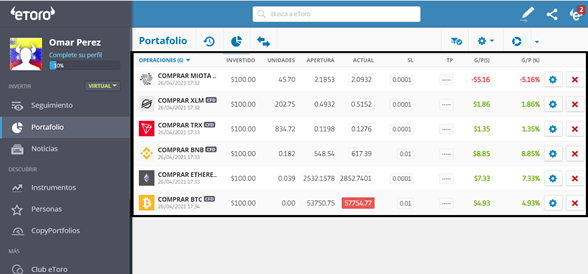 Source
The final results were as follows.

IOTA: Loss of $ 5.16 and 5.16%
XLM: Gain $ 1.86 and 1.86%
TRX: Gain $ 1.35 and 1.35%
BNB: Gain $ 8.85 and 8.85%
ETH: Gain $ 7.33 and 7.33%
BTC: Gain $ 4.93 and 4.93%

TOTAL EARN IN $: $ 19.16
IN TOTAL PERCENTAGE%: $ 19.16
---