OCD DAILY - Issue #399
Welcome to the 399th issue of @OCD Daily!
Issue #399 highlights content from nine (9) Steemit Content Creators! The OCD team continues its search throughout Steemit to find you the undervalued gems, as provided by relatively new users.
Today our curators found nine (9) new pieces of original content! We strive to find works that are created by newer Steemit users, that may not have the audience with which to share their quality content. @OCD strives to help provide that audience and intends to showcase Steemit users who put in the extra effort to create creative, original content.
The @OCD nomination process
A curator will FIND a piece of work (typically from newer users). Within 24 hours that piece has been submitted from the curator to the @OCD team, curator votes are tallied, and the pieces with the most votes are included in the compilation.
We encourage you to visit these blogs and show these great Steemians your support and encouragement.
If you enjoyed their work, give them a Follow or maybe even say Hello!
All of the content chosen by our curators is undervalued, but there is always one piece that rises to the top. That piece is universally appreciated and valued by our curators making it OCD's Top Nomination of the Day.
---


Otop nomination of the day is from @rimicane
@rimicane decided to visit the first Iron Bridge in the World built around 1779, and the author shares lots of details about her eventful trip along with some great pictures.
Curated by @jznsamuel
Visiting THE FIRST Iron Bridge in the World!
---


enter>Our next nomination of the day is from @watersnake101
@watersnake101 tours the Island of Corrigedor in the Philippines and as a final part of it visits San Jose Church. There is not a lot of documentation about the church to be found anywhere online, but @watersnake101 does his best to figure out what the history of the church could look like with a bit of help from locals and his own knowledge. Take a look!
Curated by @m31
Take Me to Church "San Jose Church" - Beautiful Sunday
---

Second fabulous post directly from bird photography workshop. After the owls, @verhp11 is presenting us mighty eagle in action, while resting. gliding and focusing its their prey.
Curated by @svemirac
The Eagle
---


Our next nomination of the day is from @stav
The UK is known for loads of amazing nature, but I had never heard of a 'Mere' before. It's supposed to mean 'permanently under water' which seems like a fitting description. A post full of sights and buildings surrounding the Broads and little adventures of navigating sailing boats on narrow sections of water - all in all a well-spend day for user @stav!
Curated by @soyrosa
A morning out on Horsey Mere
---------


next nomination of the day is from @stacyjean
Ever get yourself up higher than might be good for you? Ever work youself into a depression that looks like it might never end? @staceyjean has a quite unique way to stay in the now. Her feet.
Curated by @bigtom13
Dear Heart: Stay Grounded
---------


xt nomination of the day is from @globetrotterin
Peru is most famous for the Macchu Pichu, but did you know there are beautiful hikes in the other parts of the country as well? When @globetrotterin went last year, she did a trek at Santa Cruz. The whole trek was 51km long, starts at 4000m going up to 4700m and lasted 4 days. Adjusting to the acclimatization was tricky since @globetrotterin just arrived the day before and some parts turned out pretty tough, and she couldn't enjoy the hike as much as she liked. However, the scenery she captured on the way was still breath taking. Well done for completely the trek
Curated by @livinguktaiwan
Santa Cruz Trek - 51km in 4 days
---------


Incredible shoots from an underrated steemian who deserves way more recognition that is currently getting! The magic from this post lies in the fact that Mark actually managed to have a photo session with a little bird - A Kingfisher -, and the birdy even made a lot of different poses for the camera and for our enjoyment :D
Curated by @anomadsoul
Bucket list photography - Wild Kingfishers
---


ination of the day is from @djacbaweur
Gorgeous new piece from Djac Baweur that accompanies his latest chapter, a step by step presentation of making of The Monastery, from sketch stage right through to the finished watercolour version ! What a presence it has!
Curated by @veryspider
The Monastery
---


nomination of the day is from @terra.somnia.art
@terra.somnia.art paint a turtle undersea by acrylic. In addition to paint the sea turtle, she use different method to paint the background, such as pouring or splashing ink. You can watch the video to get an idea how she draws this painting.
Curated by @catwomanteresa
Sea Turtle - Acrylic Speed Painting
https://snap1.d.tube/ipfs/QmR2tLW6WaQxn2CeS1VwdGcEue3kDPeCp1QSdgdhPHkVUW
---------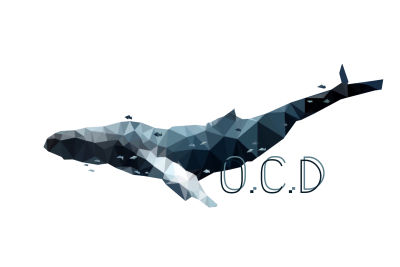 This concludes today's edition of the OCD Daily. We would like to congratulate the featured authors as well as those nominated.
We hope you were able to take away something different, fresh, and new from these posts, provided by the @ocd curators.
The OCD team would also like to thank those that strive to make a difference. As anyone can create a post but only some can create/build value.
Stop by tomorrow for another edition of OCD Daily!
Keep up the great work creating original content.
You never know when @ocd may be around :)
Today's post was authored by @anomadsoul
Know that your Resteem supports undervalued authors!
OCD Now Has a Steem Witness...
@OCD-Witness!

Whitelisted authors may use @ocdb - a non-profit distribution bot for whitelisted Steemians. Check our website for the whitelist, queue and delegation info.