Contest entry window open till next 5 days, You should submit your entries before that time.
REWARDS:
FIRST PRIZE: 1000 NEOXAG STAKE
SECOND PRIZE: 500 NEOXAG STAKE
THIRD PRIZE: 300 NEOXAG STAKE
Also, Winners will receive 100% upvotes from neoxian-city account. Plus a 100% upvote from @raymondspeaks account.
The contest winners will be judged by a panel of several people (Citizen Sharps) and the videos with the most votes will be the winner.
Happy creating! We plan to run these every week. And they will get harder and more technical as people get better at creating videos!

That's all for today , I am inviting you to visit our city : Click on this icon to enter 👉 Though some used to call it Discord channel , but we(citizens) call it our city .

---

This contest Managed & Hosted by: @raymondspeaks Cooperators: @zaku Contest Judge : @raymondspeaks & All Neoxian City Sharps

---

Sponsored By: Neoxian Ciity Trib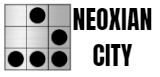 ---
Supported By: @BDVoter



---
▶️ DTube
▶️ YouTube