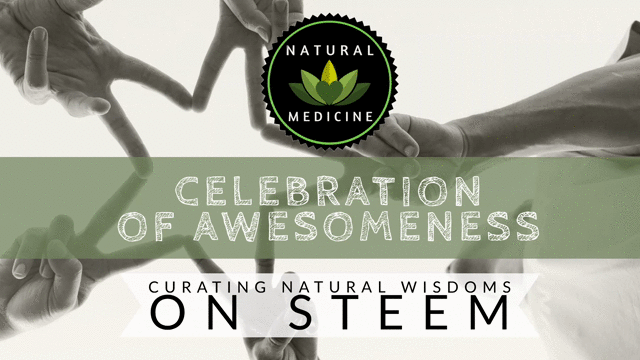 good evening or morning or afternoon or whatever, mindful natural steemians! Welcome back for another round of our weekly curation! I'm Nate, and I'd like to personally thank y'all for making some awesome posts this week. Those of you who are really producing mindful content (not mindless) are appreciated deeply by our whole crew here, come join us on discord and get the whole mix of our community beyond the awesome information on the blockchain.
In case you were wondering how we chose posts to be featured in these curations, we favour:
original articles
a blend of personal stories and facts/research (either anecdotal or otherwise) to engage the reader
good images or photos
novel or interesting approaches to self care through natural remedies
content that makes us go aaaaaaaaahhhhh
If you'd like help making your posts pop, please let us know - we're here to help you succeed!
This week @riverflows graced us with her insight on too much yoga, and how even the most beneficial approaches can be detrimental. Check out her second yoga addiction post here. She writes:
I ended up in so much pain I couldn't surf. I couldn't yoga. In fact, even walking hurt. I remember my husband helping me over a gravel path because I was scared I'd fall. This was from a woman who was so strong the year before I thought it'd last forever.
A powerful account, no doubt. We all thank her for her work in this community and extend our love and support for her direction and vision.
@amico brought us back from the depths of pain with an adorable few pics of a little kiddo she saw doing his own yoga at the beach! Check out their post here. They write:
Obviously he was playing, completely oblivious to the psychophysical practice he was performing.
I think kids have a more natural connection to theirselves that we as adults tend to lose or be severed from in the process of education, employment, and business. Let's try and remember our kidness in the coming week, what do you think?
@trucklife-family gave her account of the support that we can find in pairing with fungi in her entry for our fortnightly food as medicine challenge. Check out her post here. She writes:
Even with all of that going on and my body not getting enough sleep and being feed a poor diet, these mushrooms in their potent form sustained me and supported me. I never got sick, not once in all that time and I know that is because of them.
Y'all didn't think I'd do a curation without mushrooms, did you? Good. It's impossible. If y'all ain't writing about mushrooms, I ain't curating.
The lovely witchy @walkerland shared her old timey herb operation in a quick post that's packed with the usual beautiful photographs of herbs and flowers. Check out her post here. She writes:
Many of them will be infused in oil for soap and skincare, others will be infused in raw apple cider vinegar. We've decided to start making our tinctures using a product that we can make ourselves: Apples.
Well, if that's not an inspiring idea, I can't figure out what is! Making your own tinctures 100% on site from your own homemade vinegar? I didn't know you could! That's some holistic medicine!
Of course, there were more, but I can't fit them all here.
@artemislives, our dear goddess, wrote on black rice for an entry to the challenge.
@kimmysomelove gave us some pretty flower medicine.
And @brutledge is a badass! Emphasizing the importance of self-esteem in a quick post about a CBD presentation she gave.
We hope you loved these posts as much as we did!

We need YOU! Please consider delegating to help keep this collective going. The minimum entry for membership is 50SP (free for members under 150SP), and helps give YOU upvotes, contests, meditation sessions, an awesome discord support group, and so much more!

50SPII100SPII200II300SPII500SPII1000SP