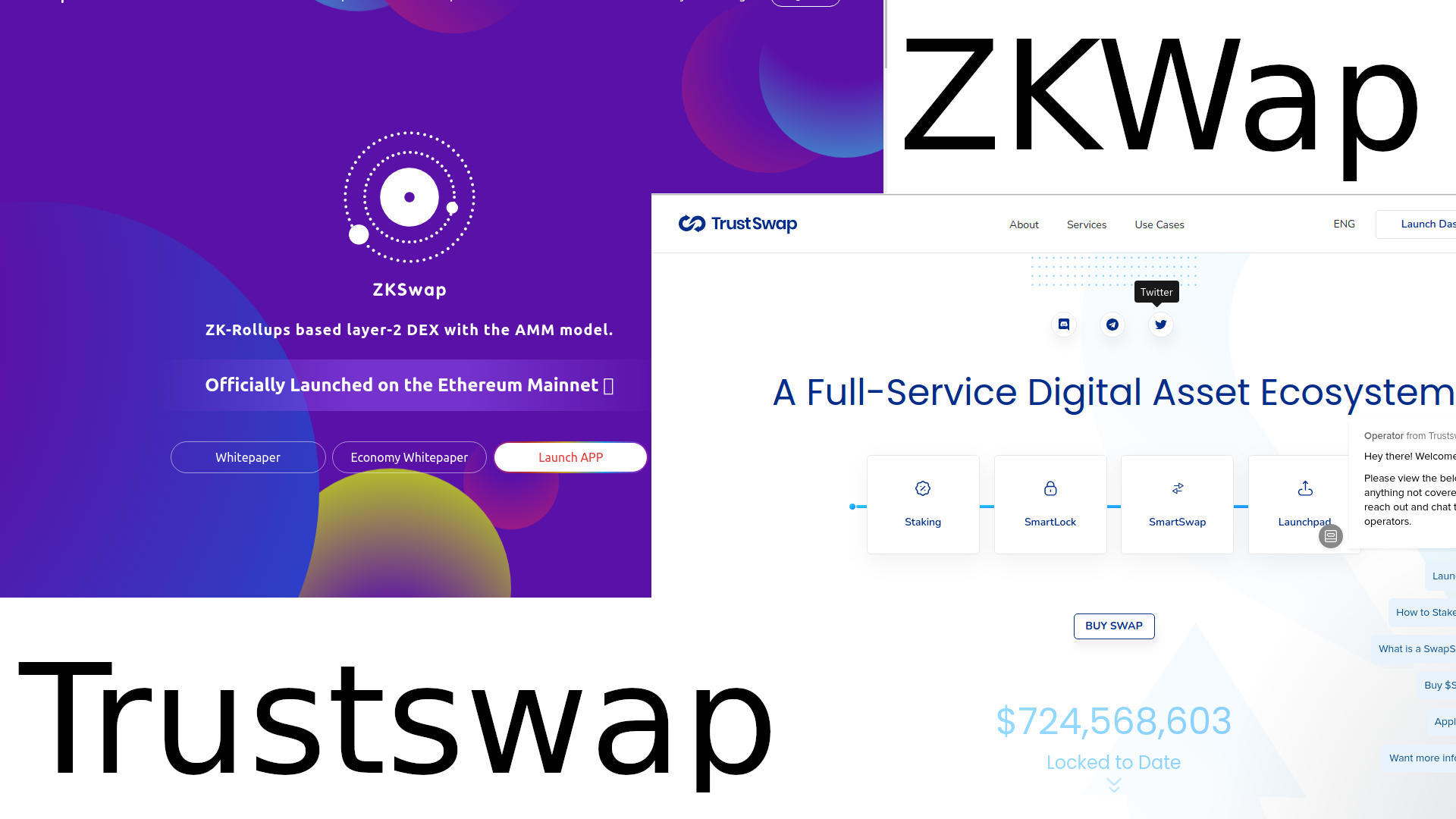 Semana 7 de Crypto Academy
Publicación de tareas para [@besticofinder] Trustswap - ZKSwap
Hola como estan, seguimos comparando monedas y su capilizacion en el mercado, esta semana estaremos hablando de truswap y ZKSwap monedas que aunque son muy similares en función cada una tiene una característica en particular ambas funcionan bajo el protocolo de Automated Market Maker (AMM ) estas monedas han logrado escalar muchas posiciones en el ranking de las monedas en general, y en esta publicación veremos sus usos y principales funciones.
Hello how are you, we continue to compare currencies and their capilization in the market, this week we will be talking about truswap and ZKSwap currencies that although they are very similar in function, each one has a particular characteristic both work under the Automated Market Maker (AMM) protocol these Coins have managed to climb many positions in the ranking of currencies in general, and in this publication we will see their uses and main functions.
Concepto TrustSwap
TrustSwap concept
Es un protocolo denominado TrustSwap por su creador el cual busca limpiar y reducir el espacio de los criptoacctivos y así proporcionar un servicio que admite la acuñación de tokens los cuales se encuentran previamente auditados en un sistema seguro.
It is a protocol called TrustSwap by its creator which seeks to clean and reduce the space of crypto assets and thus provide a service that supports the minting of tokens which are previously audited in a secure system.
Comcepto ZKSwap
ZKSwap concept
Es un protocolo que funciona como exchanger y corre sobre la blockchain de Ethereum, este busca mejorar la velocidad y escalabilidad de las transacciones eliminando amplia mente los costos de comisiones que estas producen, un punto a tomar en cuenta es que estas comisiones no son eliminadas por completo pero son tan bajas que no representan una perdida importante a la hora de tradear esta moneda, esto hace que sea uno de los protocolos mas baratos en cuanto a comisiones nos referimos y mucho mas si lo comparamos con Uniswap
It is a protocol that works as an exchange and runs on the Ethereum blockchain, it seeks to improve the speed and scalability of transactions by largely eliminating the costs of commissions that they produce, a point to take into account is that these commissions are not eliminated by complete but they are so low that they do not represent a significant loss when trading this currency, this makes it one of the cheapest protocols in terms of commissions we mean and much more if we compare it with Uniswap
Propositos de los proyectos
Project purposes
TrustSwap: Ofrecer y establecer condiciones en la forma de los pagos o transferencias asi como establecer como se liberan los fondos en formas de token y que se desbloqueen o liberen con cierta periocidad , esto significa que puedes trasnferir los toques fraccionados cada cierto tiempo que tu hayas configurado , gracias a su tecnologia automatizada.
TrustSwap: Offer and establish conditions in the form of payments or transfers as well as establish how funds are released in token forms and that they are unlocked or released with a certain period, this means that you can transfer fractional touches every so often that you you have configured, thanks to its automated technology.
ZKSwap: Ofrecer una plataforma segura de intercambio p2p que sea rapida y transparente ademas una de las ventajas que tiene ZKSwap es que los usuarios no tiene que esperar el tiempo que normal mente existe en este protocolo para confirmación de liberación y bloquedo de activos, lo que hace que la experiencia sea fluida.
ZKSwap: Offer a secure p2p exchange platform that is fast and transparent, and one of the advantages that ZKSwap has is that users do not have to wait the time that normally exists in this protocol to confirm the release and blocking of assets, which makes the experience smooth.
Alcance Social.
Social Reach.
Trustswap: Cuenta solo con 3 redes sociales acctualmente, un canal en discord, uno en telegram y su respectivo twitter con 32 mil seguidores, para ser sinceros tiene una gran campaña de marketing y su alcance a pesar de que no se encuentra en otras plataformas va muy bien encaminada.
Trustswap: It currently has only 3 social networks, a channel on discord, one on telegram and its respective twitter with 32 thousand followers, to be honest it has a great marketing campaign and its reach even though it is not found on other platforms. very well on the way.
ZKSwap: Cuenta con un alcance significativo en su cuenta de twitter con mas de 10 mil seguidores , ademas en su repositorio oficial de github tiene una comunidad acctiva aunque no es muy numerosa siempre hay alguien dispuesto ayudar, cuenta con discord telegram y wechat, me imagino que el wechat es para los usuarios asiaticos ya que esa es la mensajería por excelencia de los países asiáticos.
ZKSwap: It has a significant reach in its twitter account with more than 10 thousand followers, also in its official github repository it has an active community although it is not very large there is always someone willing to help, it has discord telegram and wechat, I imagine that wechat is for Asian users since that is the messaging par excellence of Asian countries.
Respuesta , capitalizacion y acciones en el mercado.
Response, capitalization and shares in the market.
ZKSwap: El precio el dia de hoy esta en 2.71 dolares por moneda y monto en capital en todos los mercados es de $534,080,607 dolares en las ultimas 24 horas $31,498,575 un 34.83% mas que el monto del dia anterior con un total de acciones en el mercado de 197,440,000 ZKS
ZKSwap: The price today is 2.71 dollars per currency and capital amount in all markets is $ 534,080,607 dollars in the last 24 hours $ 31,498,575, 34.83% more than the amount of the previous day with a total of shares in the market from 197,440,000 ZKS
VS
Trustwap: El precio actual del mercado es de 3.55 dolares por moneda con un capital de $288,233,824 y en las ultimas 24 horas se ha movido un total de $7,315,430 lo que significa un 7.92% mas con respecto al día anterior y el volumen de acciones en todos los mercados es de 81,205,894 SWAP 81% mas que su cuenta anterior.
Trustwap: The current market price is $ 3.55 per coin with a capital of $ 288,233,824 and in the last 24 hours a total of $ 7,315,430 has moved, which means 7.92% more compared to the previous day and the volume of shares in all markets is 81,205,894 SWAP 81% more than your previous account.
Conlusion.
Ambas plataformas ofrecen un sistema de intercambio seguro entre usuarios mediante el sistema p2p, trustwap por su parte tiene una novedosa obcion de realizar pagos automatizado y nosotros como usuarios podemos programar estos pagos para que periódicamente se realicen, por otro lado ZKSwap tiene como finalidad que las transacciones sean mas rapidas y economicas, algo muy bueno ya que otras plataformas a medida que realizas los intercambios te van quitando poco a poco las ganancias que generas, mi opinión personal es que prefiero truswap con una mayor aceptación en los mercados y con su sistema automatizado me enamoro, ya que esa función es muy util, claro ZKSwap tiene una buena oferta en cuanto las comisiones bajas pero analizando el nivel de cambio que realizo esas comisiones no me afectan en lo mas minimo
Both platforms offer a secure exchange system between users through the p2p system, trustwap for its part has a novel objective of making automated payments and we as users can schedule these payments so that they are made periodically, on the other hand, ZKSwap has the purpose that the transactions are faster and cheaper, something very good since other platforms as you make the exchanges gradually take away the profits you generate, my personal opinion is that I prefer truswap with greater acceptance in the markets and with its automated system I fall in love, since that function is very useful, of course ZKSwap has a good offer in terms of low commissions but analyzing the level of change that I make those commissions do not affect me in the least