Hello my dear friends of steemit! He sent you a flock of hugs, I will not get tired of repeating them, they are great and I appreciate them. I wish they were in the company of their loved ones.
That in this flight called life can rise with full freedom, admiring the heavens. I write in this unique way in commemoration of our feathered guests of this post ¡The parrots!.
BROTHERHOOD FLYING BY THE AIR. (DRAWING IN WATERCOLOR)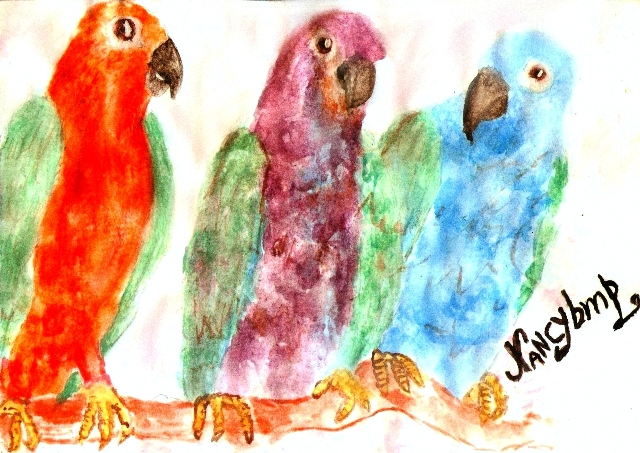 Illustration made by @nancybmp
BROTHERHOOD FLYING BY THE AIR. (ORIGINAL POEM)

In a large and leafy tree these friendly parrots live together.
In this habitat called their home. They have all the services that Mother Nature can provide.
¡They go from here to there!
In a fixed place they should not be.
Because it is more fun to fly and beautiful landscapes to visit.
They glide together by the winds, when they want fresh air
Taste tropical fruits of all kinds.
The rivers are great for a swim.
If necessary, drink a little water with the help of their beaks.
*No matter what they do, they like being in flocks.
These cute little ones between noise and bustle communicate. What identifies them most is the love they show
A quiet and peaceful existence they want to lead.
Not in a cage alone.
Remember all this, when you want to hunt them...*
Among the materials used, we have:
*- Graphite pencil. - Watercolor. - Machine sheet. - Sharpener. - Draft. - Express myself through drawing. - Affinity for fun.*
Here is the process of making the characters of this peculiar story.

First, I focused on capturing the structure of the feathered characters and then coloring them at ease and being able to finish the drawing. div>
STEP 1. BEGIN WITH THE BASE OF THE COLORS THAT WILL HIGHLIGHT IN THE PARROTS.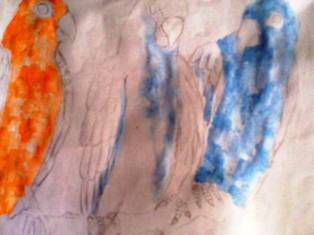 Illustration made by @nancybmp

PASO 2. WE ARE MAKING PROGRESS! INCORPORATING OTHER COLORS.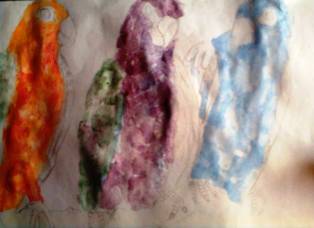 Illustration made by @nancybmp

PASO 3. I WANTED TO MANIFEST THE COLORFUL ASSORTMENT OF THE PARROTS.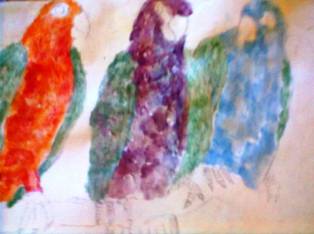 Illustration made by @nancybmp

PASO 4. ¡I WANT IT! ¿WHAT DO YOU THINK?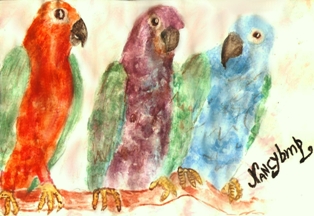 Illustration made by @nancybmp


HERE I LEAVE THE REFERENCE IMAGE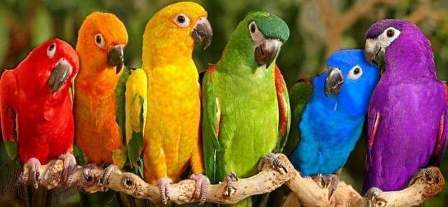 PHOTOGRAPH WITH THE FINISHED DRAWING.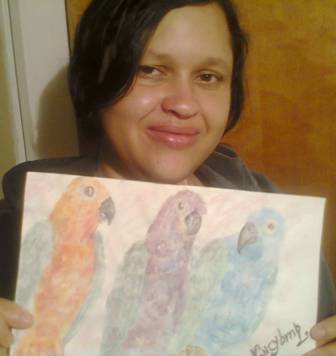 Thank you very much for the support of these communities to the variety of artists on this platform! @helpie, @art-venture @curie @ocd, @artzone, @c-squared @discovery-it, @r2cornell, @tipu.
Copyright @nancybmp - All rights reserved
*MY MOTIVATION IS THAT YOU ENJOY MY POST! THANKS FOR YOUR SUPPORT! DO NOT FORGET TO FOLLOW ME AND VOTE ME! A HUG! @NANCYBMP*