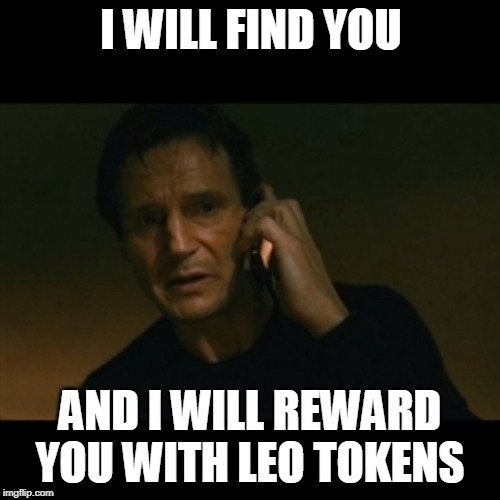 Image credits...@lordneroo
...there is an opportunity for everyone to grab some free LEO tokens.
The word free itself combined with the word tokens should be enough to trigger you. NO?
Thanks to almost the whole @steem.leo team, everyone is eligible to grab 13 LEO tokens.
All you have to do is to read this post and act accordingly.
Ok, ok...I'll tell you once again what you have to do...
All you have to do, is to simply be creative and Tweet about STEEM and LEO in a single tweet. You are free to make a meme...or a gif...or simply write something clever that highlights both STEEM and LEO at the same time.
---
I know that most of you already have a Twitter account and spend some time there reading some news or interacting with friends and such.
So how about spending a couple of extra minutes and shill our beloved STEEM and Steemleo?
Ain't that hard is it?
Then drop the link of your tweet in the comment section of this post and BANG. When it pays out 13 LEO tokens will be sent to you.
You can either stake it (that would be wise) ... sell it (most likely I'll buy your coins back) trade it...
Simple as that.
Some of you might think that it is an insignificant amount, but I rest assure you that it isn't.
13 LEO = ~ 2.5 STEEM and while many treat STEEM as a token with a 0.14$ value, I am not.
In my mind STEEM is worth a lot more than that...so does LEO.
So be creative and get payed for that...
I really do hope that there will be more entries and if this goes well, I plan to make a similar giveaway every week. Each week I'll try to highlight another Tribe. So next week it could be PAL the week after SPORTS and so on.
Now flood the damn Internet with tweets...plz!
Again, drop your link in the comment section of this post...not here. Got it?
On this post...not here...
Have a great one peeps.
Cheers.