Nowadays, "smart home" automation systems are becoming quite popular. Advertising screams about convenience, economy, comfort and many other advantages of such systems. The uninitiated layman sometimes does not imagine what problems he may face when buying such a system for his home. Let's consider some of the disadvantages of a "smart home" in more detail.
The first and main disadvantage of a "smart home" is the high cost of equipment, its installation and maintenance. This aspect many times overshadows the cost of the entire effect of energy savings, indicated in the advantages of "smart home" systems. With careful calculations, you can be sure that the payback period is fantastic. It is also worth noting the danger of failure of expensive equipment and possible inconveniences if it is necessary to repair and maintain it.

Source
Further. Have you ever been inside a microwave oven ??? It should be noted that up to 200 meters of various wires running inside the walls and along the ceiling can go to a room of 20 square meters, unless, of course, the devices of the "smart home" interact with each other via radio channels !!! How much for the whole house? And also, a fairly large cabinet with operating electrical equipment, n-th number of sensors. How dangerous is such a house for life and health?
Disadvantages of "Smart Home"The third drawback is the need for a special place in the house for placing equipment. The equipment must work constantly, stably and not break, which means that an uninterruptible power supply and a stabilizer are needed . And, ideally, a backup power supply . This can be a generator that runs on gasoline or diesel fuel. The generator requires a separate, specially equipped room, specialized service. And if you live in an apartment ...

Source
Let's continue. To implement the smart home system, it is necessary to completely replace all electrical wiring, install all the necessary smart home equipment, redo the plumbing, heating, air conditioning and ventilation systems, possibly replace windows and doors (if they are opened and closed using electric drives), install electric shutters and curtains. Whoever has done repairs at least once knows what it threatens. In fact, you have to destroy your house in order to rebuild it.
Construction deadlines may be delayed. This is due to the fact that the installer must carry out the order, installation and commissioning of equipment, and not all at once, but at different stages of construction. In the event of a breakdown, how quickly will it be possible to fix it? How far and how quickly will the smart home specialists come?
You will definitely need a design project to clearly define the installation locations of all household appliances and furniture. This determines the number and location of smart home control panels, sockets , sensors, video cameras, etc. And if you have to rearrange the furniture or eventually make another bedroom out of the study?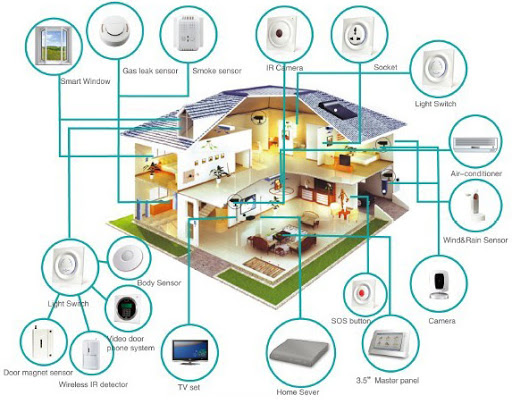 Source
And the last thing. The author, in no way, discourages you from installing a "smart home" system. However, each person has the right to weigh all the pros and cons, to clearly imagine what he has to do, and not to receive unpleasant surprises during the installation process, to rationally use time and money. After all, very often bright advertising is deceiving.
You must answer all the questions asked yourself. Make a clear construction project, a design project of the future house, draw up a work schedule and demand that builders strictly adhere to it.
---