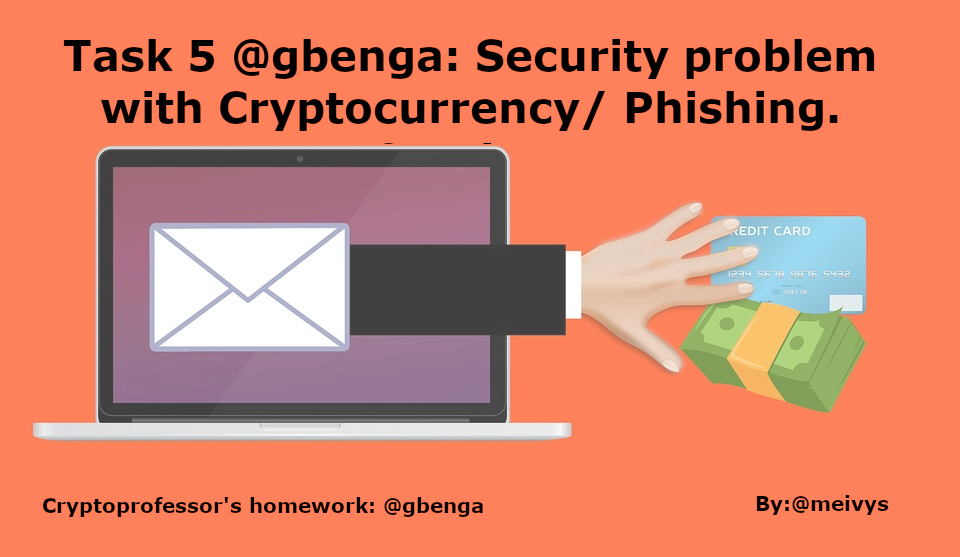 Image edited by me, source pixabay
Task 5 @gbenga: Security problem with Cryptocurrency/ Phishing, @meivys.
---
Before getting into the subject, it is important to know what security is, it is a set of measures taken to eliminate or reduce risks, threats that a person, entity or objects may suffer.
In the world of cryptocurrencies it is also important to take the necessary measures to avoid the vulnerabilities that exist in the digital world, but if we take the necessary measures we are exempt from a cyber attack, no, but if we take the necessary measures we can reduce the risk of attack.

Source pixabay
Although blockchain technology was designed to be secure, the security problems lie in how you use the platforms and applications, there is always someone malicious waiting to see a vulnerability to attack, not even the big exchange houses are exempt from cyber attacks an example of this is:
It is the theft that suffered in 2019, the Binance platform, with the loss of $ 41 million in bitcoins. Hackers used various techniques, from viruses to phishing, to break into the system and access a bitcoin wallet of the company from which its customers made transactions.
Phishing
Source pixabay
---
One of the most recurrent security problems is the Phishing, this scam is about identity theft of an entity, company or person, this makes the victim, through deception, to share information, and thus to gain access to their wallet and steal all their funds.
The term Phishing is used to refer to one of the most common methods used by cybercriminals to defraud and fraudulently obtain confidential information such as a password or detailed information about credit cards or other banking information of the victim. infospyware
There are several types of Phishing, in the cryptographic world, such as:
Clone Sites, the create an identical web site either from an exchange house or wallet, they are promoted by spam message, by emails and other web sites and when you enter the fake site, the attackers get all the user's information.
To prevent this type of attack it is important to verify that the website is where you regularly enter, avoid entering any website whether wallet, exchanges or other site where you have crypto assets, without first verifying the URL, to identify the real website is better to add it to favorites and to enter from there.
Voice phishing, this type of fraud is through a call, with data taken from the web, its objective is that the victim gives you as much information to then attack, ie, seek information from their victims from what has been shared publicly on the Internet, especially in social networks.
Fake support teams, in this case the attackers pose as a support team of a legitimate platform to deceive their victims including large exchange houses or wallet, with the excuse that the victim is suffering a problem, they ask for personal information under the pretext of helping.
FBI Internet Crime Complaint Center:
The fraudulent support requests access to the victim's virtual wallet and transfers the victim's virtual currency to another wallet for a temporary hold during maintenance. The virtual currency is never returned to the victim, and the criminal ceases all communication. Criminals who have access to the victim's electronic device use the victim's personal information and credit card to purchase and transfer virtual currency to an account controlled by the criminal. Internet Crime Complaint Center
Exit scams, This occurs when a platform goes out of business, but users are not notified and continue to receive funds and then walk away with everything. Exit scams as such can occur mostly in exchange houses and marketplaces, as the essential characteristic of this type of scam is that, in principle, they did not plan to be a scam: this occurs mostly as a result of problems with the business.
An example of this is the exit from the market of Cryptsy: and Mt. Gox, after being in operation for a while, which created confidence in the users, until they withdrew the funds and escaped.
Share a personal experience.
---
So far I have not had a bad experience because I have been cautious, but I do get a lot of false advertising like airdrops promotions, as well as spam messages in my email and steemit.
In conclusion, as I mentioned before we are not exempt from a cyber attack, but we are responsible for taking the appropriate measures to reduce risk, it is always important to investigate before making an investment, verify the URL before entering, avoid clicking on spam messages, do not provide personal information, keep your cryptoassets in a wallet, do not share your private keys, if you are going to trade cryptocurrencies in any exchange, be sure to do so only when necessary, because if the site suffers a hack you will lose everything.
Cryptoprofessor's homework: @gbenga
-----
My previous tasks:
Joining the initiative of @steemitblog, @steemcurator01, @steemcurator02, a great opportunity to acquire more knowledge of the world of crypto assets, thank you very much for this new initiative. __Link to original post task 5__