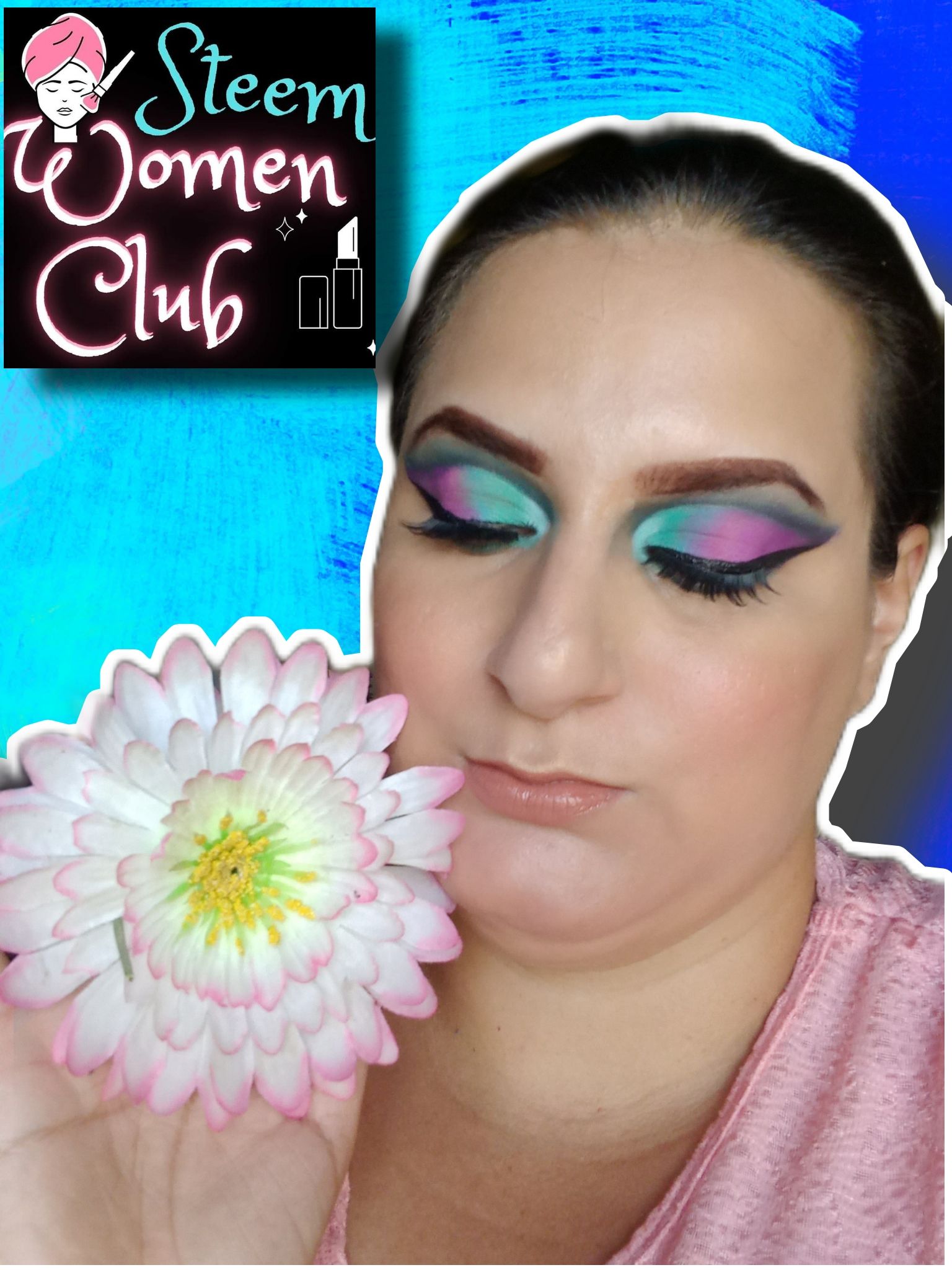 Fotos Propiedad de @marytp30 uso exclusivo Steemit
Hello, my dear Beautiful Women!
Makeup has always been on trend. Nowadays, many girls spend time trying to adapt to the new beauty products that come on the market, however, we are tempted to recreate any style we can think of. Makeup, makes us look fabulous in just a couple of minutes, no matter what style we wear.
I'm happy because I recreated a special makeup look for the @steemwomensclub community inspired by the beautiful colors that make the difference in their logo and that of course ARE MY PREFERRED. I consider it a space that provides unconditional support to women content creators and their slogan fits perfectly; "Together we are stronger".
Below I show you in detail how to make this colorful makeup, that if you like you can wear it to a party or if you are more daring use it in the daily. join me!
Materials:
Base - Shadow palette - Eyeliner - False Eyelashes - Praimer - Translucent powder - Concealer - Contour - Blush - Nude lipstick - Eyeliner pencil
---
I recently bought a palette that has me excited, its pigmentation is incredible and its colors are FABULOUS, I did my makeup using this magical tool.
---
STEP 1:.
Moisturizing the face is extremely important, for this I always do a routine in advance with aloe vera and handmade soap to remove impurities and prepare the face for cosmetic products. I start with my eyebrows, using a brown eyeliner pencil, drawing a lower line from the beginning and the upper one from the middle, with the comb I evenly distributed the product leaving a more natural design. Next, I applied a small amount of Usha primer to start making my canvas (skin) this will help the shadows have better pigmentation and the color will be more striking.
---
STEP 2:.
Once sealed the previous product, we proceed to give color to our eyelids, we first apply a turquoise tone above the basin following the shape, above the same tone we place light blue we blur with a brush without leaving so many marks. With a flat brush, we draw a line right in the basin in black color, we continue blending until it disappears, to lower the intensity we apply the same turquoise tone of the beginning and it has been a beautiful degrade, to create a line at the end of the eyes, use masking tape.
---
STEP 3:.
With a flat brush, we mark the half moon and with a cotton swab soaked in make-up remover we remove the dark shadows from the mobile eyelid and proceed to mark with concealer.
---
STEP 4:.
We begin to place the turquoise colors from the beginning to the middle with a blue gradient, we give depth with purple color in two shades, to improve the intensity we add a little black color in touches, we blur very well. Finally we make a thick and elongated eyeliner that allows us to stick some quite pronounced false eyelashes.
---
STEP 5:
To finish our beautiful makeup, we do the work of the face, for this we use foundation, concealer, translucent powder and sponge to blur. We apply small dots of products, we take to each space of our face, we make the contours with the tone that we like and seal without dragging the sponge. Place purple and black shadow on the lower part of the eyes being careful not to stain the face ready.
---

RESULT




ALL IMAGES ARE MY PROPERTY @MARYTP30 EXCLUSIVE USE FOR @steemwomensclub