Me encanta el arte surrealista, esa corriente de artistas del siglo pasado, me gusta el arte que mezcla lo psíquico de lo imaginario con cosas irracionales, me parece que da resultados originales y que hacen volar tu imaginación.
En esta oportunidad te vengo a presentar mi ultima inspiración, desde hace como una semana estuve practicando mi técnica de dibujo con lapicero.
Hice este dibujo para el concurso de Art Explosion de esta semana organizado por @juliakponsford en donde el reto era crear una obra de tipo hibrido. Yo me inspire en fusionar dos cosas un árbol y un pulpo. Porque cuando veo a un pulpo siempre pienso que es muy parecido a una raíz que se mueve.
I always loved surrealist art, I like art that mixes the psychic and imaginary with irrational things, it seems to me that it gives original results that blows your imagination.

This time I come to present my latest inspiration because for about a week I was practicing my pencil drawing and now I think Im getting better at my technique.

I made this drawing for this week's Art Explosion contest organized by @juliakponsford where the challenge was to create a hybrid-type work. I was inspired to mix two things that are so different like a tree and an octopus. Because when I see an octopus I always think that it is very similar to a moving root. Have you noticed it?
Procedimiento / Process
Lo primero que hice fue dibujar las formas principales del tronco y del pulpo.
The first thing I did was drawing the lines of the shapes. The tree and the octopus
Después de eso se pinta las sombras. Poco a poco vas resaltando las partes con más luz y las otras que son más oscuras.
After that I painted the shadows. Little by little you highlight some parts where thereshould be more light and you put more ink into the darker parts.
Después de eso hice las líneas de los ojos del pulpo y otros detalles.
After that I draw the lines of the eyes of the octopus and some details.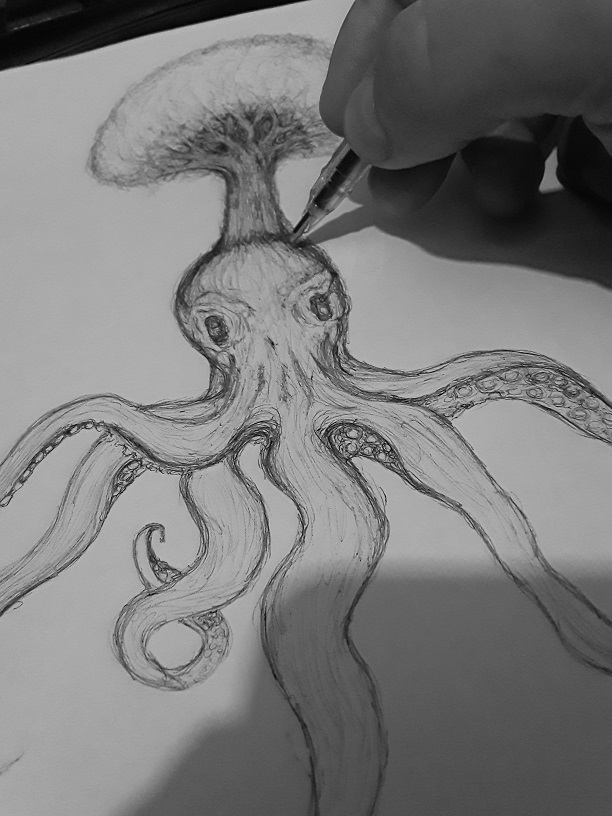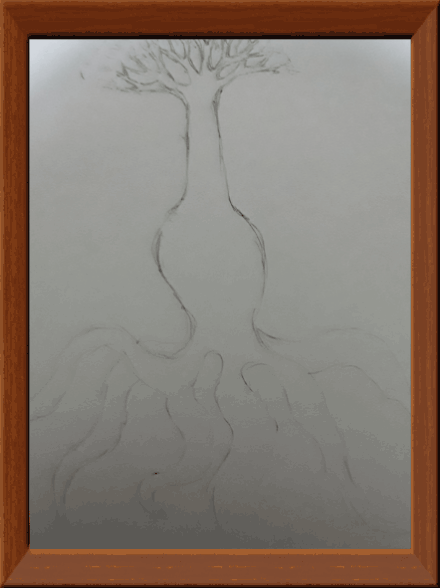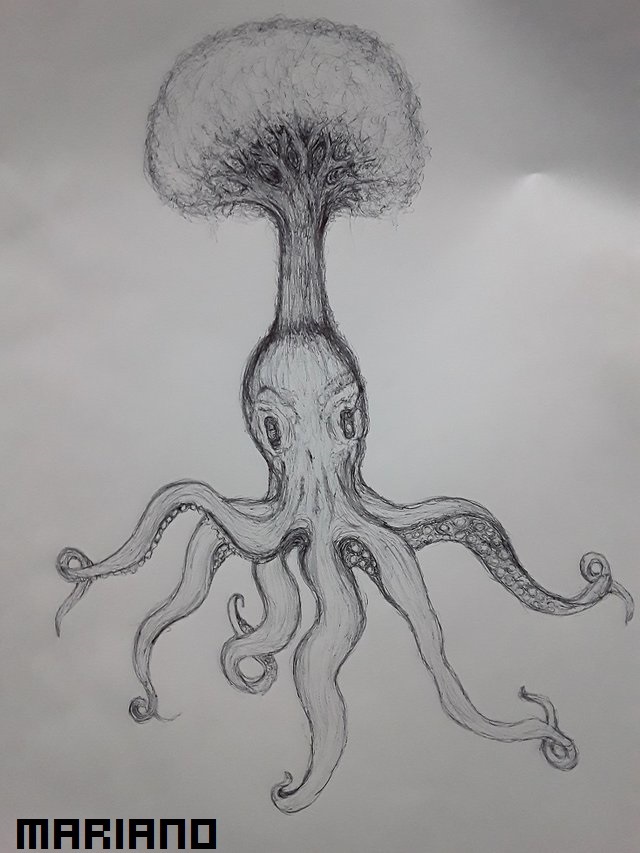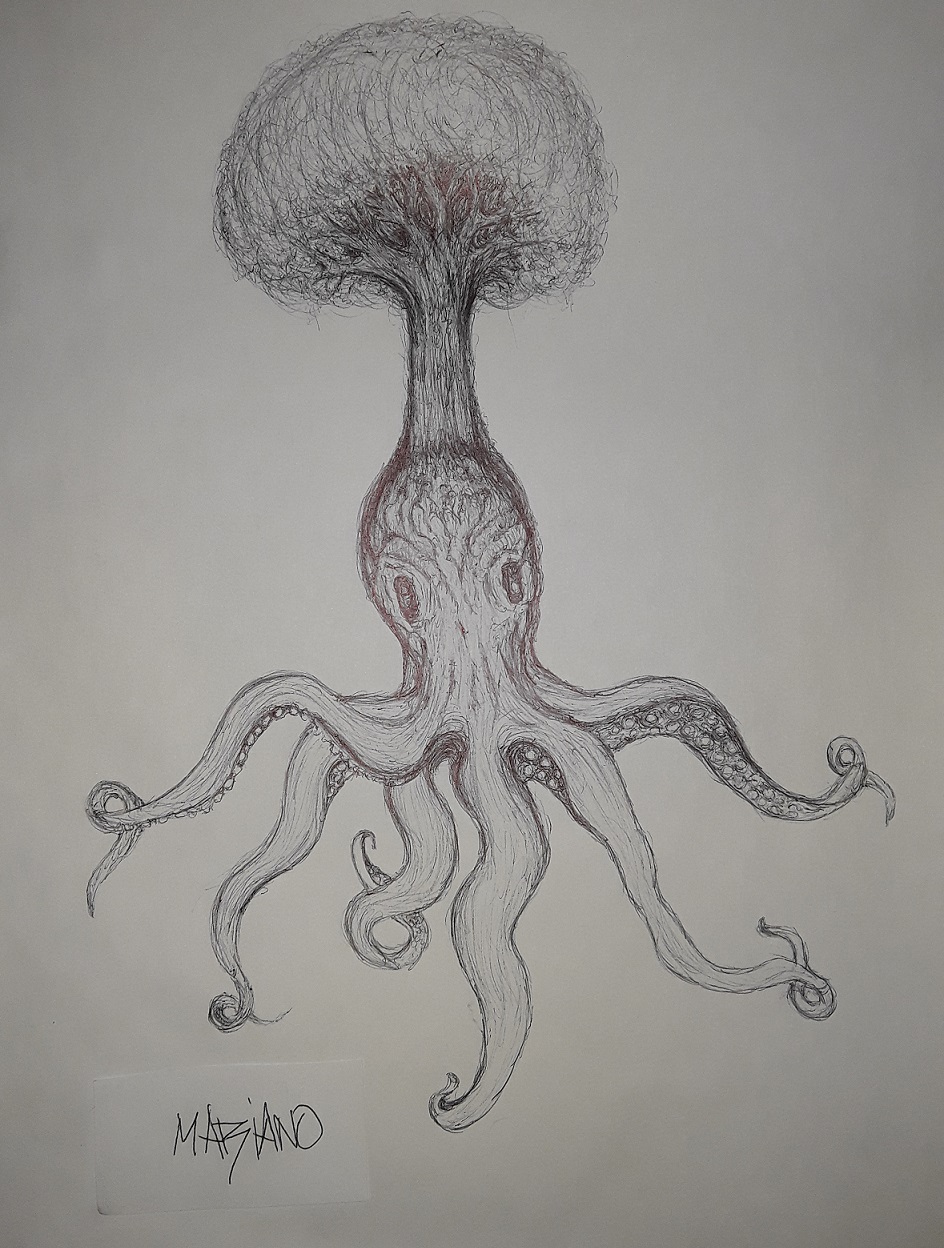 > Al finalizar el dibujo aplique un filtro llamado Cartoon con el programa GIMP y obtuve este resultado:
After that I used GIMP software with the filter called Cartoon to experiment and this is the final result: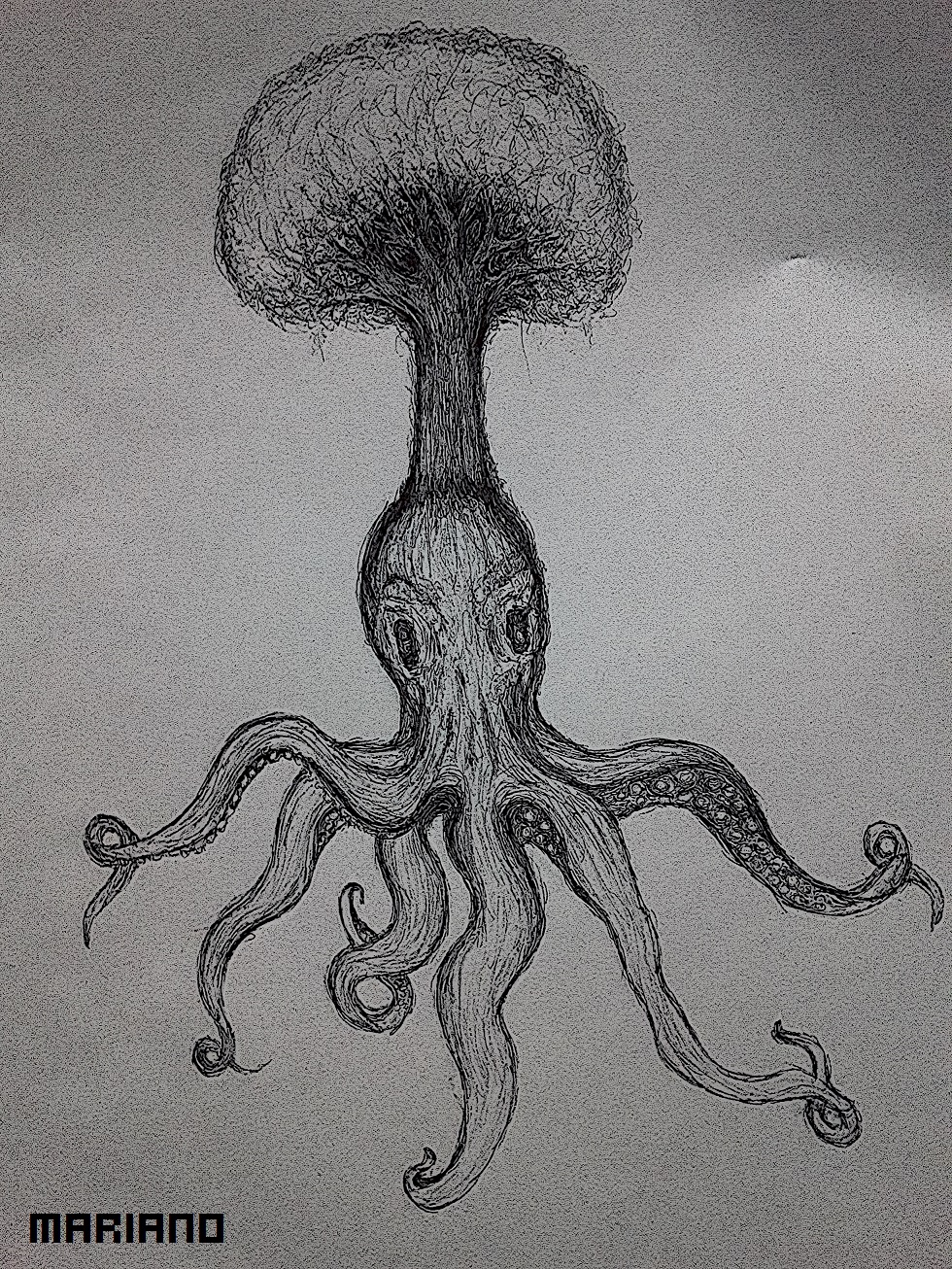 ACTUALIZACION: Puse un filtro para que se vea como si estuviera bajo el agua.UPDATE : I put a filter on it to make it look like he is underwater.
https://imgp.whaleshares.io/0x0/https://cdn.discordapp.com/attachments/612484064762396722/625788790207938587/MOSHED-2019-9-23-15-55-36.gifUPDATE : I put a filter on it to make it look like he is underwater.

Gacias por visitar el blog.
> Thanks for reading the blog.