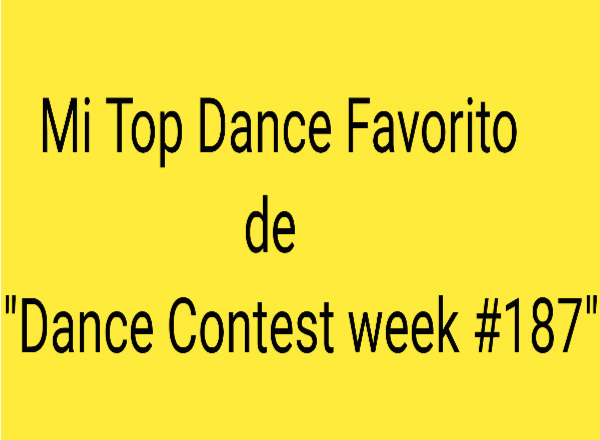 ---
       Hola querida comunidad de Dance and Music, la semana #187 de Dance Contest ha culminado con alegría, nuestros amigos participantes una vez más estuvieron mostrando lo mejor de si para regalarnos alegría y bellos recuerdos en cada una de sus presentaciones.
---
       Poder brindarle a mis compañeros un lindo mensaje en donde resalto todo aquello que transmiten al bailar me hace sentir muy bien. Valoro absolutamente la participación de todos, y aunque ninguno de nosotros seamos profesionales hemos tenido el valor de pararnos aquí frente a toda el mundo para mostrar el lenguaje de nuestro cuerpo y apoyar a nuestro amigo @donatello quien ha sido el motor principal de esta experiencia.
---
       Les invito a conocer mi Top favorito de la semana #187 y también quiero animarlos a seguir adelante con sus coreografías, bailes a duo, en familia, individual, en trío, como sea jajjaja, pero sigamos compartiendo nuestro entusiasmo. Ha comenzado la semana #188 de Dance Contest ¡A Bailar!. No olviden compartir sus comentarios, ellos también nos hace crecer.
---
Agradezco a @steemcurator01 por brindar su valioso aporte para cada uno de nosotros en la comunidad, mil gracias por motivarnos con su bondad al visitar nuestras publicaciones. Saludos.
---
English
---
>       Hello dear Dance and Music community, Week #187 of Dance Contest has ended with joy, our participating friends were once again showing their best to give us joy and beautiful memories in each of their presentations.
---
>       Being able to give my classmates a nice message where I highlight everything they transmit when dancing makes me feel very good. I absolutely value everyone's participation, and although none of us are professionals, we have had the courage to stand here in front of everyone to show the language of our body and support our friend @donatello who has been the main engine of this experience.
---
>       I invite you to know my favorite Top of the week #187 and I also want to encourage you to continue with your choreography, duo dances, family, individual, trio, whatever hahaha, but let's continue sharing our enthusiasm. Week # 188 of Dance Contest ¡A Bailar! Has started. Do not forget to share your comments, they also make us grow.
---
>       I thank @steemcurator01 for providing his valuable contribution to each of us in the community, thank you so much for motivating us with your kindness by visiting our publications. Greetings.
---
https://goldvoice.club/steem/@dianakyv/dance-contest-week-187-copines
---
       Mi querida @dianakyv siempre me han encantado tus bailes prima bella, nos transmites mucha alegría y un aura hermosa con tu sonrisa y esos pasos tan lindos. Este tema fue una buena elección y demostraste y una destreza maravillosa para nosotros. Gracias por haber participado en la semana #187. 😘
---
>       My dear @dianakyv I have always loved your dances, prima bella, you transmit us a lot of joy and a beautiful aura with your smile and those beautiful steps. This topic was a good choice and you showed and a wonderful skill for us. Thank you for participating in week # 187. 😘
---
https://goldvoice.club/steem/@hory90/dance-contest-week-187-no-me-acuerdo-by-hory90
---
       Hola mi querida @hory90, desde que entraste a la plataforma siempre nos has mostrado bailes encantadores, tienes una gracia para bailar hermosa, tu cabello hace fiesta con la música y me encanta como llevas el ritmo de los tiempos en su totalidad, te felicito por eso, gracias por participar en la semana #187, te espero para la 188, asi que prepárate. Jejejeje, saludos y bendiciones. 😘
---
>       Hello my dear @ hory90, since you entered the platform you have always shown us charming dances, you have a grace to dance beautifully, your hair makes a party with the music and I love how you keep the rhythm of the times in its entirety, I congratulate you on that, thanks for participating in week # 187, I'll wait for you for week 188, so get ready. Hehehehe, greetings and blessings. 😘
---
https://goldvoice.club/steem/@danieldedosd2/dance-contest-week-187-muchacha-gentede-zona-baile-cover-by-danieldedosd2
---
       Hola mi corazón @danieldedosd2, esta semana te incluyo porque me divertí muchísimo en este baile contigo y me alegra cuando te atreves a bailar haciendo coreografías, sabes que cuentas conmigo. Desde que te he visto bailando respiro en ti mucha alegría, y eso es bueno para la salud mental. Sigamos bailando. I LOVE YOU ❤️👏👏
---
>       Hello my heart @ danieldedosd2, this week I include you because I had a lot of fun in this dance with you and it makes me happy when you dare to dance doing choreography, you know you can count on me. Since I have seen you dancing, I breathe a lot of joy in you, and that is good for your mental health. Let's keep dancing. I LOVE YOU ❤️👏👏
---
https://goldvoice.club/steem/@amazona06/online-dance-contest-week-187-kali-yuga-tribal-fusion-bellydance
---
       Hola mi bella @amazona06 quiero felicitarte por el baile de esta semana, un ambiente acogedor, y siempre tan elegante, además que el atuendo que usas para bailar es adecuado para este tipo de baile, tienes trajes hermosos que adornan de una manera hermosa tu escena. Gracias por haber mostrado una entrada hermosa para la semana #187. Saludos con cariño. 👏👏👏😘
---
>       Hello my beautiful @amazona06 I want to congratulate you for the dance this week, a cozy atmosphere, and always so elegant, besides that the outfit you wear to dance is suitable for this type of dance, you have beautiful costumes that beautifully adorn your scene . Thank you for showing a beautiful entry for week # 187. Greetings with love. 👏👏👏😘
---
https://goldvoice.club/steem/@morenaluna/dance-contest-week-187-el-manduco-por-morenaluna
---
       Hola mi querida @morenaluna gracias por regalarnos un baile tan hermoso, te felicito por el desenvolvimiento que tuviste en el trayecto de toda la canción, además forma una huella importante en tu vida y eso es bonito. Me encantó como terminaste el video, bellaaaaaa. 👏👏👏👏❤️.
---
>       Hello my dear @morenaluna, thank you for giving us such a beautiful dance, I congratulate you for the development you had during the entire song, it also forms an important mark in your life and that is beautiful. I loved how you finished the video, bellaaaaaa. 👏👏👏👏❤️.
---
https://goldvoice.club/steem/@kingtamarah/dance-contest-week-187-future-hard-to-choose
---
       Hola @kingtamarah cuando visite tu blog me sentí contenta porque pude ver en ti un gran talento para el baile. El efecto que duplica tu imágen me encantó. Nos presentaste un baile muy creativo. Que bueno conocerte en la comunidad. Gracias por compartir tu participación en la semana #187. 😘
---
>       Hello @kingtamarah when I visit your blog I felt happy because I could see in you a great talent for dancing. I loved the effect that duplicates your image. You presented us with a very creative dance. Good to meet you in the community. Thank you for sharing your participation in week # 187. 😘
---
https://goldvoice.club/steem/@cesar24/dance-contest-week-187-or-or-dancing-with-my-mom-a-quick-vallenato-by-diomedez-diaz-by-cesar24
---
       Hola @cesar24 me encantó este baile, muy divertido y movido, tu mamá y tu bailan espectacular. Siempre muy alegres, así que los felicito por esta demostración. Gracias por haber participado en la semana #187, Ánimo que ya comenzó la #188. Un abrazote.😘❤️
---
>       Hello @ cesar24 I loved this dance, very fun and lively, your mother and you dance spectacularly. Always very happy, so I congratulate you on this demonstration. Thank you for having participated in week # 187, Courage that has already started # 188. A hug.😘❤️
---
https://goldvoice.club/steem/@vemaya/dance-contest-week-187-agua-j-balvin-cover-by-vemaya
---
       Hola amigo @vemaya te felicito por presentarnos un baile divertido. Me encantó ver la felicidad de la niña. Bailar con nuestros hijos les ayuda a equilibrar sus emociones y su paz mental. Gracias por participar. 😘
---
>       Hello friend @vemaya I congratulate you for presenting us with a fun dance. I was delighted to see the happiness of the girl. Dancing with our children helps them balance their emotions and peace of mind. Thanks for participating. 😘
---
Sigamos apoyando con nuestro talento a la comunidad e invitando a otros usuarios a formar parte de esta linda experiencia.
---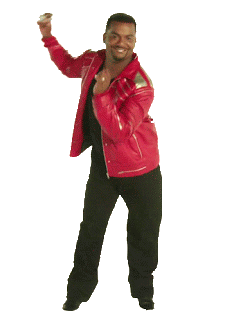 https://images.app.goo.gl/TJ7HwEF4Y8EkKdUv8
---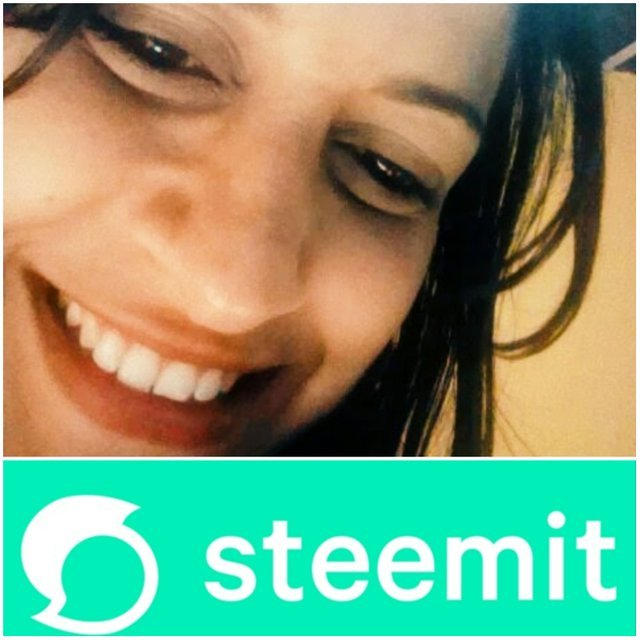 ---
Gracias por tomar tu valioso tiempo para
# seguirme y apoyar mi trabajo.

🎶🎶🎶🎶🎶🎶🎶🎶🎶🎶🎶🎶🎶🎶
Thank you for taking your valuable time
# to follow me and support my work.