Whenever someone from your circle passes away, you find yourself asking how well did you actually know that person. Especially when shortly after the funeral you hear all sorts of stories (supposedly true) about your recently deceased friend.
Since you can not tell reality from gossip and the main hero ain`t there to confirm or dismiss it, you have to rely on your own judgement. You chose what to believe or not about him, based on the relationship you had with that person. You try as much as you can to be objective and deny certain stories, labelling them "outrageous".
Later on, it does cross your mind that maybe there was a possibility that you hadn`t previously considered. What if some of those "absurd" stories were true? What if you barely knew the man? What if you never got to see the real him and you have settled for his shallow version? Could it be possible that he had a secret life that no one(or close to no one) had known of?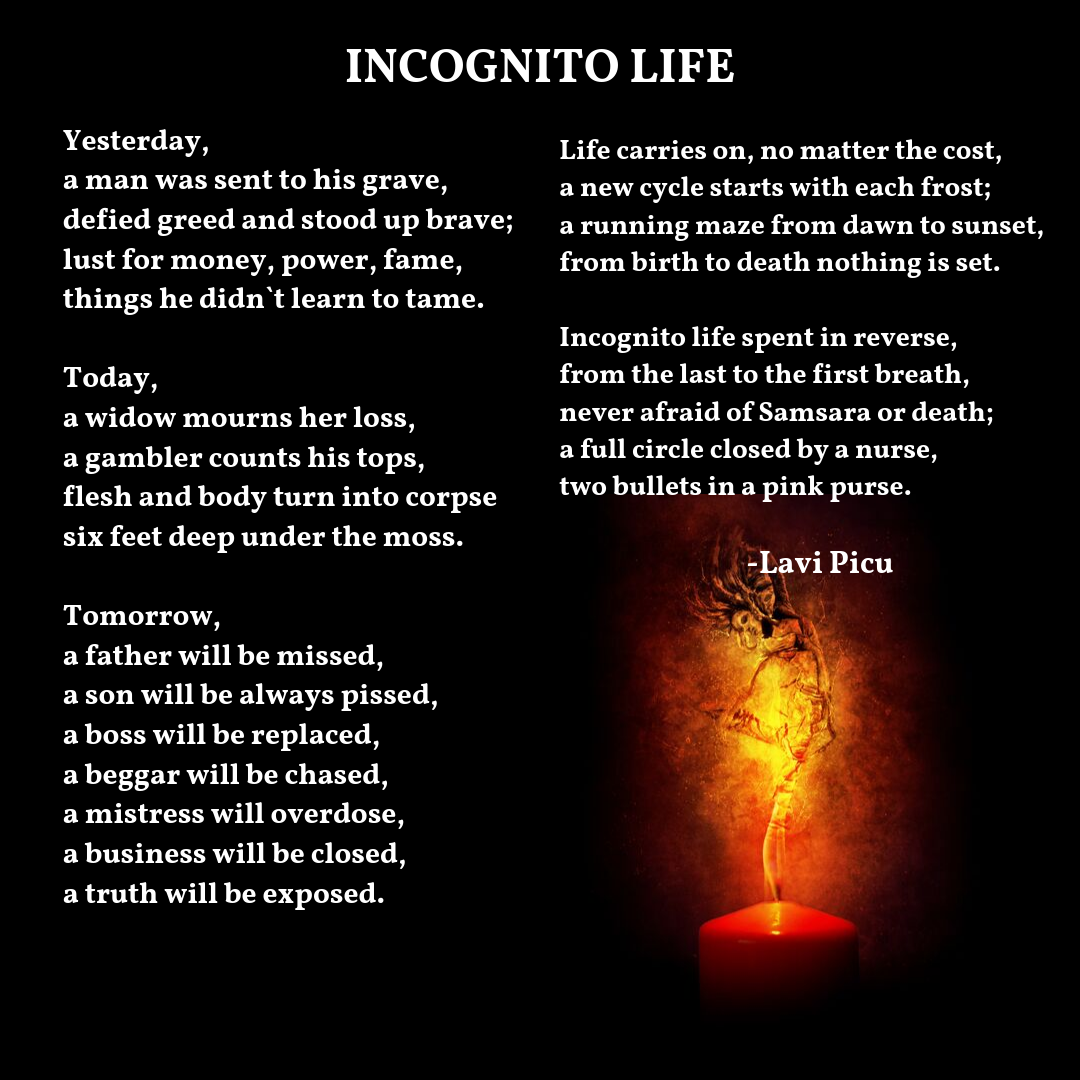 *
Here are some of my poems:
CROWN OF QUILLS
STOLEN LIVES
THE KITE RUNNER
THE MOUNTAINS
BALAD
SHOOTING STARS
YOU ARE NOT ALONE
ALL BOUT LOVE
A TALE OF A MINNOW AND A WHALE
LONG WAY DOWN 1
LONG WAY DOWN 2
SPIDER QUEEN
MINA'S EULOGY
THE CIRCLE OF LIFE
YOU KNOW IT ALL
CONFESSION OF A HUSBAND
BROKEN DREAM
THE RETURN OF A HERX
CLOSE THE DOORS
IT IS LOVE
BROKEN SOUL
FREEDOM
SPEECHLESS
CHECKOUT POINT
TEENAGE YEARS
A CHILD'S MIND
PINK
PAIN
DARE
LOST
PAINS
*

Lavi Picu is the author of three soulful poetry collections: Whiteless Thoughts, Burden of love and Tales of a moody heart. She is a Canadian writer, majored in Linguistics, with a background in translations and writing. She's also a ghost writer, a blogger with a focus on arts and health, a Lyme disease advocate, a mother and a self-taught artist.
@2019 LaviPicu aka Lyme Poet. All rights reserved.