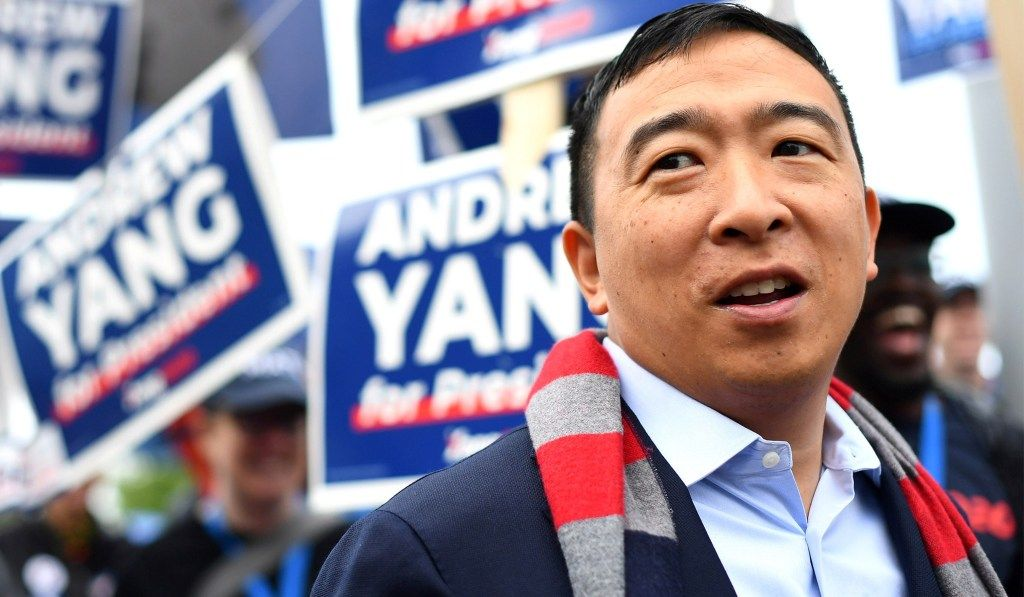 After seeing @theycallmedan push this initiative to attract attention to Andrew Yangs campaign on Steem and Twitter i was intrigued to look a bit deeper into Yangs narrative.
I opened Youtube and watched 3 things start to finish..
Joe Rogans podcast with Yang
H3H3s podcast
One of the debates.
I came to a few conclusions.
The basic jist of what Yang is talking about is the 4th industrial revolution and the development of technology that will replace low end jobs in the near future.
Self driving trucks, Amazon taking over retail, store clerks being replaced by automation, etc.
He is running on the platform of Universial basic income he calls "Freedom dividends".
Hes argumentation is solid although listening to him it seemed that his argumentation was slightly shallow and not hard hitting enough. While he was able to convince me that these things will eventually indeed become an issue (not only in the US) he did not convince me that the danger is immediate or that he is the necessary factor to facilitate adjustment to this change.
The change he is talking about does seem will be gradual and during those processes taking place the economy will slowly adjust to it naturally, in my opinion.
He does talk about collapse, riots, etc. But i am hardly convinced that those things will have widespread massive effect.
His, lets call it "doomsday scenario" is i think a bit exaggerated.
UBI:
His UBI proposition is something that makes him extremely interesting to a lot of people. While he does a good job of arguing for it i still think that giving 1000$ per person will be seen as a very "populist" approach that is one of the reasons why mainstream media is ignoring him.
The introduction of UBI is potentially society changing and change is something that establishment is vary of.
On UBI i mostly agree with him. Eventually AI will replace the majority of jobs and direct financial support of citizens that would act as a stake holder in the nations wealth will be a must.
Question is:
How soon can you introduce UBI? Is the next 4-8 years too soon?
He gave a good response to that, which shows me that he was prepared for discussion. Basically what he says is that its better to be early then late. For being early he named a number of things that would benefit the economy by introducing UBI. While he might be reaching a bit, i found his argument on lowered incarceration rate from UBI introduction that would save a significant amount of tax payer money very compelling.
USA has one of the highest incarceration rates in the world of people that commit non violent crimes that are motivated by economic well-being of those committing the crime.
UBI would surely serve those people well. The 1000 USD would then be pumped back into the economy, those that now are not incarcerated remain as parts of society and potentially add to it instead of being a burden.
While it is hard to determine exactly the overarching effects of this it is also hard not to say that the value of keeping people out of prison is much higher then just the value of the tax dollars being spent to keep them there.
Conclusion:
Yang seems a very approachable guy and down to earth and i can see his appeal. My impression is positive overall even though i see him lacking the charisma or the conviction i think the presidential candidate should show.
I appreciate him running on a platform like this and raising awareness on UBI and technological advancement that we will all experience in the coming decades instead of simply rehashing the same old "economy will grow, China China, Middle East, Israel, Russia" discussions you hear every day.
The rest of his policies i will not go into but again his presentation on topics like the ones above seem to be lacking depth slightly. I havent looked at other candidates, to be fair, as close as him so i cannot say how he compares. Maybe he is the best out of the pack?
Also, I cant say i feel convinced by him being "a leader of the free world".
Some will say: "But you are by Trump?"
I am not... But i can say that Trump does have a demeanor of a leader even if you want to argue that he is a terrible one.
Id say Yang does have a lot of working for him and a lot of things he can still improve upon. It will be interesting following the presidential election in the coming months especially as someone that used to live in the US.
He definitely deserves moree attention.