Singapore may not have the most famous night views (sorry Singapore, I don't think there are many that will beat Hong Kong 😁 ) but I was still keen to see what she had to offer. Of course, I choose the iconic Marina Bay Sands for this experience.

---
SKYPARK OBSERVATION DECK
I checked the internet for the details to get to the rooftop at the Marina Bay Sands, and saw that they had the Skypark Observation Deck at one end of the building. That looked pretty impressive and would offer 270 degrees view. The entry fee was S$26 per person, that's around USD18.30/£15. The problem was that it was uncovered, and there were no benches or anything. That meant if it rained or got too cold in the evening, I would be totally exposed and wouldn't be able to spend a lot of time up there.



Source : Marina Bay Sands website
Then I checked their restaurants and bars, knowing that hotels always have a few at the top of their building. There were quite a few, and Spago Lounge caught my eye. It was located on level 57, the top floor, the same as the observation deck which meant I would get the same view. And, it was right next to the famous Infinity Pool. Bonus. I quickly checked their menu. The cocktails were around the same price as the entrance fee to the observation deck, and the beers were half of the price. That sounded reasonable and a no brainer on where I should go!!!

SPAGO
I went to Spago late afternoon after the Skywalk at the Gardens of Bay. It was only a short walk away. I timed my visit for pre-dinner drinks, as I wanted to catch the view during both day and night time. It was a perfect plan, and one that didn't disappoint me.
Once we were sat down, the waiter was really friendly and offered to take a photo for us. Was it that obvious we looked like first time visiting tourists 😅?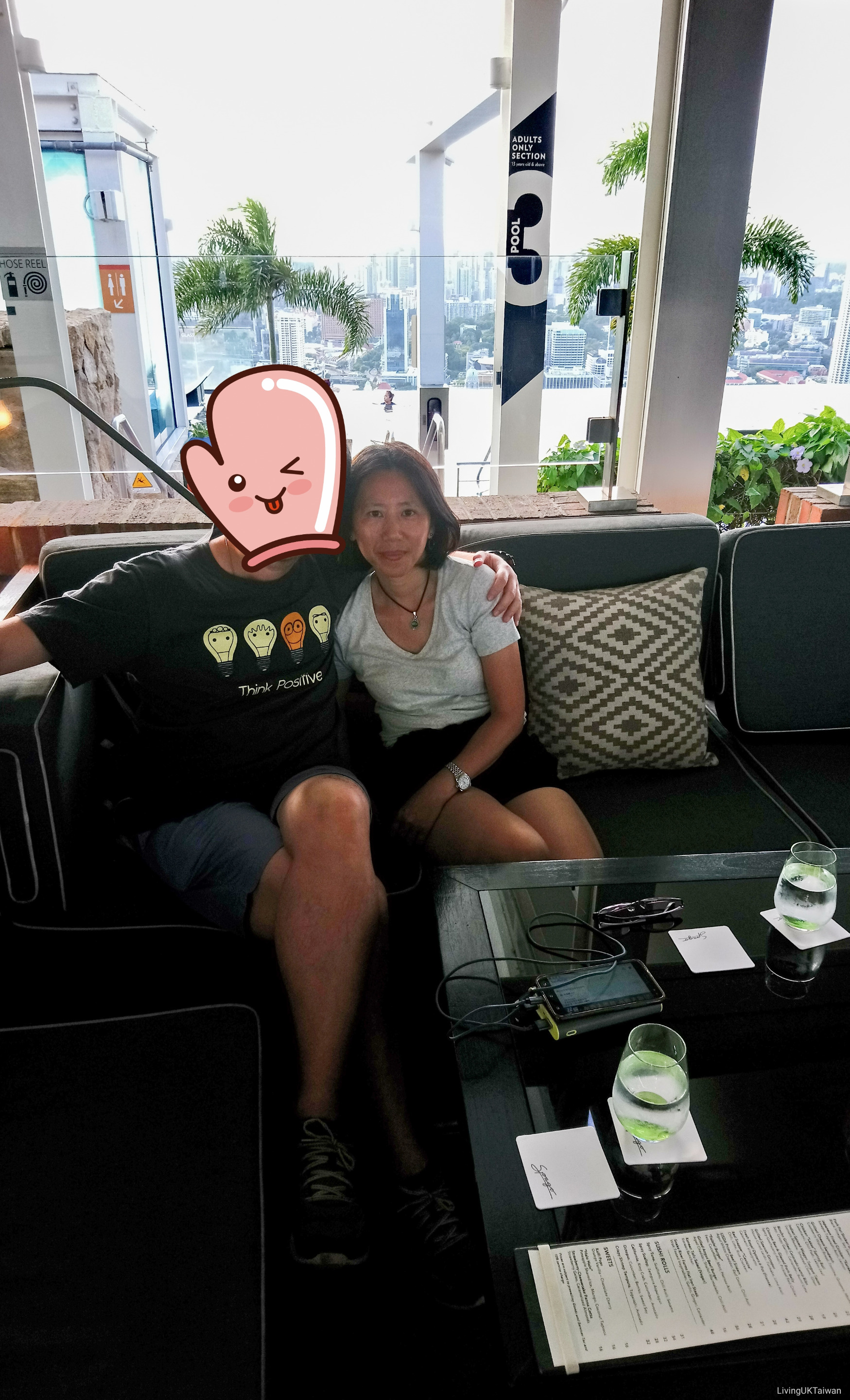 Then he told us about their Sundowners offer available weekdays between 4pm to 7pm. Drinks were even a bit cheaper than what I saw from the menu previously. Honestly, my plan was turning out a lot better than I expected.
I ordered a cocktail, Run Like Hell, not that I'd be running away from this place at all. It consisted of gin, elderflower (my favourite) and lavender (which I couldn't really taste). Hubby ordered a beer and we also ordered some nibbles, Prime beef sliders. In fact, the sliders we soooo good we order a second round.

The lounge itself was very relaxing and had a hint of colonial feel. Both sides were open and customers could get a pretty much unobstructed view of both sides.


DAY VIEW
One of the most famous feature at the Marina Bay Sands is the Infinity Pool. It is 146 meters long and is the world's longest infinity pool. Short of going in for a dip yourself, the Spago is the nearest you can get to it. It was behind where we sat. I couldn't actually get to the poolside as they sectioned it off but I could get a really good view of it. The pool isn't very wide, but with the view of Singapore city behind it, it is truly spectacular. No wonder it is so famous.

On the opposite side is Gardens of Bay and beyond it is the Singapore Strait. Earlier on in the afternoon, I was at the Super Trees which is the cluster of structures right of the center. From this view, there is a lot more greenery than I saw at ground level. I think if I had enough time, I probably would have spent more time at Gardens of Bay. But it's great that I could get this bird's eye view of the entire park.

NIGHT VIEW
Coming to Spago instead of the observation deck meant I could spend more time here and wait for the evening view. I mean, there was no way I could have stood around for two hours up on the deck with nothing to do but to wait for the night view.
When night fell, it was another atmosphere at Spago. The waiters lit up the candles on the table, and soften the music a little bit. It was another ambience. As to the view, it was exactly what I had come here for. I watched as the sun set and the city lit up, transforming itself from one beauty to another.

On the other side of the building, the Gardens of Bay had lit up as well. Every evening, there is a light and music show by the Supertree Grove which I hear is very popular. Originally I had consider to hang around to watch it, but it doesn't start till 7pm which made timing a bit difficult. It was between that or this night view.


I'm glad I made the right decision as my evening turned out perfect. Couldn't have asked for more.
Unless stated, all images are my own
---
You can checkout all my travel post on the Steem WorldMap here or click on the map below
/>