Source
---
---
hello I am glad again you are back with all of you and perform the activity of professor @alphafx thanks for the lecture this week I am @laydy69 and this is my contribution to the community #SteemitCryptoAcademy.
We are going to buy 2 very popular blockchain platforms at the moment crypto.
---
WHAT IS BLOCKCHAIN TECHNOLOGY

To understand we can define blockchain technology as a system that offers a high level of security as it is fully decentralized and seeks autonomy of transactions without the need for a third party to act, unlike centralized banks or organizations that have to keep a record on a single server are prone to cyber attacks stealing information from it and being vulnerable. in this way the blockchain technology has now become a very secure network.
---
TRX VS ETH the two altcoin giants of the moment.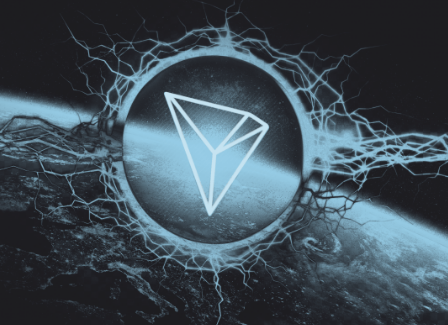 Source
---
TRON (TRX)

Born in 2018 TRX is a currency that works with its own blockchain network is fully decentralized seeks to improve the transfer of data between content creators and content consumers by creating a payment system, provides speed and performance currently tron manages transaction fees that reduce interest fees to a point that is almost Free.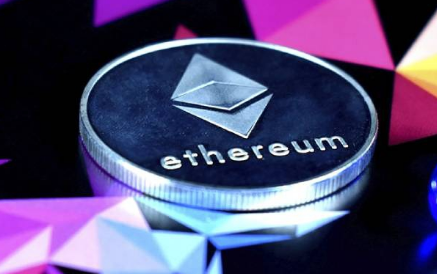 Source
---
Ethereum (ETH)

was born in 2015 is a platform that works on the blockchain offers smart contracts and is the second currency with more capital in the market the platform has a cryptocurrency called ETH is a decentralized currency that offers a programming language in own blockchain, do not act third parties this currency tries to solve the problems that had btc when scalability and time in their transfers currently the currency is a bit expensive but provides a lot of security.
---
Comparison of the Blockchain TRX VS ETH currencies

As for the security of its system TRX needs more update in that aspect although ETH is always innovating with its security system in ETH has a very clear guide where the user can see its DApp instead TRX does not give updates on its security or contributions.
The speed and the cost of sending in international transfers
when we look at Trx which can send 2000 transactions per second and being one of the cheapest beats ETH which can only do 20 transactions per second and the fees are currently high so tron wins in this comparison.
Both are decentralized and work with bloackchain technology and its system of nodes that are used to keep the whole system in full operation. trx's node capacity is 1124 and Eth's 8733. currently there is talk of a new ETH update called Berlin that will run on the 12244000 block.
ETH works with smart contracts where the user can create a transfer order through a contract once the contract is made it can not be modified and will be executed on the stipulated date, also let them use their network for the creation of new cryptographic projects, tron makes payments and transactions on the network for content creators and making easier the market for creators also their transfers are very fast and economical.
---
HOW TO BUY AND SELL BOTH TRON AND ETH ON AN EXCHANGE USING A CREDIT CARD OR OTHER PAYMENT SYSTEM
how to buy on binance you open binance.
look for the spot wallet option .
select the currency you want to buy.
add the payment method and you get the desired tokens.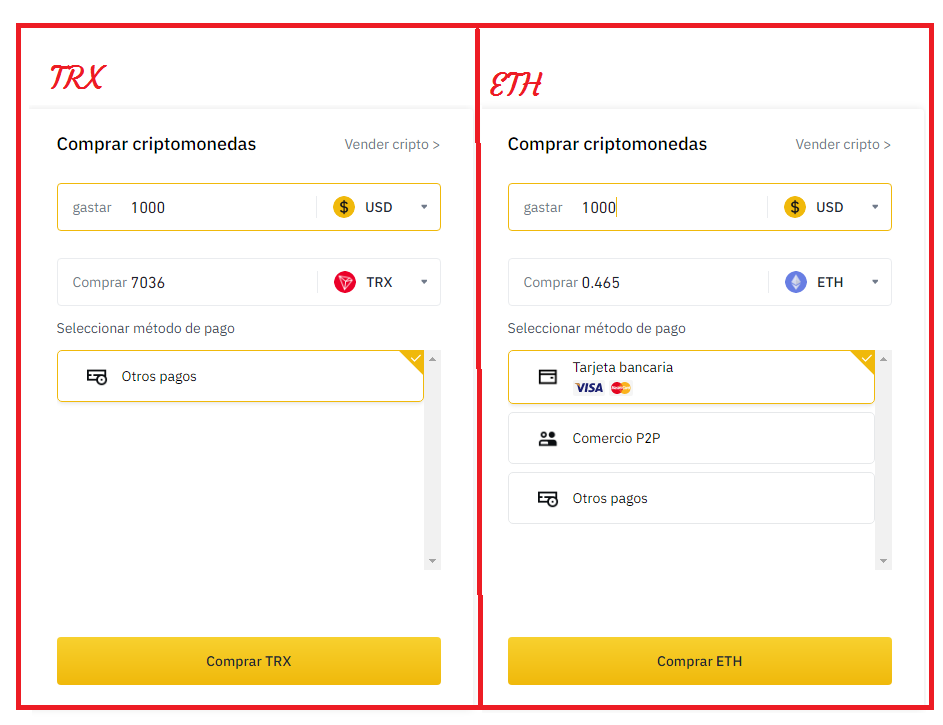 Source
---
Conclusion

The 2 blockchain networks are very important for the digital ecosystem I think that even TRX is not fully developed but it has a great future I could say that huge with respect to ETH the currency is constantly growing currently the Berlin update will bring us big surprises many academics speak of an ETH over 11,000$.
------------