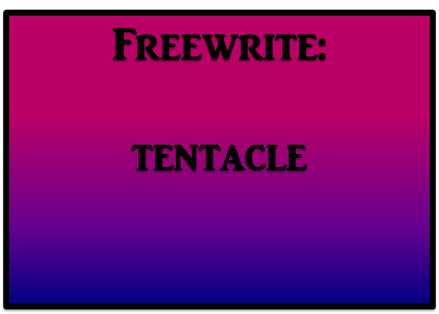 In a cabin located on the outskirts of a city, there was a 20-year-old young man with a gun in his right hand and a piece of dry bread in his left. As he nervously nibbled on the bread, he paranoidly watched the windows of the cabin being sealed shut. His constant vigilance indicated the great pressure caused by the enemy that stalked him.

The minutes passed and the young man had finished eating his bread, however, now that he had nothing to do, he could clearly hear the "ticking" of the clock placed on a small table. He knew that this tentacled monster was not far away, but, he could not run away. His ankle was sprained and the only consolation was that his uncle had gone to the nearest fortified city for help.
---
¡thank you for your attention!
This post has translated with "deepl" translator. If any user sees errors, please say so in the comments to correct it as soon as possible, thanks very much.

---
Tentáculo
En una cabaña ubicada a las afueras de una ciudad, se encontraba un joven de 20 años con una pistola en la mano derecha y un pan seco en la izquierda. Mientras mordisqueaba nerviosamente el pan, observaba de forma paranoica las ventanas de la cabaña que se mantenían selladas. Su constante vigilancia denotaba la gran presión causada por el enemigo que le acechaba.
Los minutos pasaban y el joven había terminado de comer su pan, sin embargo, ahora que no tenía nada por hacer, podía escuchar claramente el "tic tac" del reloj colocado en una pequeña mesa. Él sabía que ese monstruo con tentáculos no estaba lejos, pero, no podía huir. Su tobillo tenía un esguince y el único consuelo, era que su tío había ido en busca de ayuda a la ciudad fortificada más cercana.
---
Los invito a leer | I invite you to read: [ ](https://goldvoice.club/steem/@leonelb/the-seed-has-to-grow-eng-esp-or-a-philosophic-momentResolution [ENG/ESP] | Microstory ](https://goldvoice.club/steem/@leonelb/resolution-eng-esp-or-microstory)*
Camera: Honor 7s
Photographer: @leonelb
Image Editor: Microsoft power point 2010 / NCH software