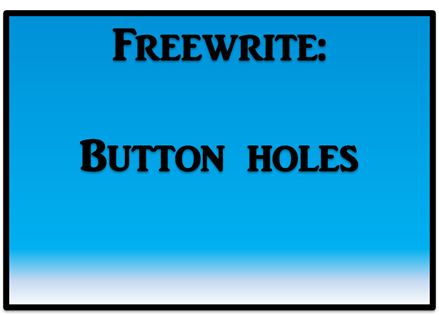 It was a cold night, the snow was roaring incessantly and any sound was muffled. In a house covered in pure white, there was a young woman sitting on a rocking chair, and in her hands she was holding affectionately an almost finished sweater, only two buttons were missing that corresponded to the buttonholes at the bottom. Suddenly, tears streamed down her face, slowly moistening the carefully woven sweater. She wondered why it had to be this way...

Could it be that the gods did not want you to wear this sweater?

Is that why they called you? She murmured in between sobs.
---
¡thank you for your attention!
This post has translated with "deepl" translator. If any user sees errors, please say so in the comments to correct it as soon as possible, thanks very much.

---
Ojales
Era una noche fría, la nieve rugía incesante y cualquier sonido se veía opacado. En una casa cubierta de un blanco puro, se hallaba una mujer joven sentada en una mecedora, y en sus manos sostenía cariñosamente un suéter casi terminado, solo faltaba coser dos botones que correspondían a los ojales de la parte inferior. De repente, lágrimas corrían por su rostro, humedeciendo lentamente el suéter tejido con tanto esmero. Ella se preguntaba, porque debía ser así...
¿Sera que los dioses no querían que usaras este suéter?
¿Por eso te llamaron? Murmuro ella entre sollozos.
---
Los invito a leer | I invite you to read: The seed has to grow [ENG/ESP] | A philosophic moment

---
Camera: Honor 7s
Photographer: @leonelb
Image Editor: Microsoft power point 2010 / NCH software