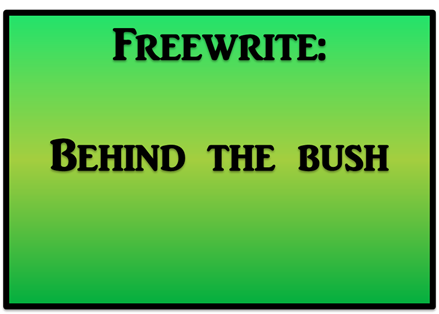 Behind the bush located at the entrance of a park, there was a boy named Noel. The young Noel, went almost every day to the park to be able to observe from a distance his platonic love Monica, who was also a classmate who used to bring her dog for walks in the afternoon. As Monica and her pet advanced in their usual route, Noel made use of his little presence to slip through the bushes and follow them.

One day, Monica and her pet were walking, when they met a young man who was carrying a dagger and was not hiding his bad intention towards Monica. At that precise moment, Noel was behind a bush, and he could feel his heart beating furiously when he saw Monica in danger. Before he even realized it, Noel had attacked the young stranger, and managed to kick him in the solar plexus, then he took Monica and ran off with her before the young man had a chance to recover.
---
¡thank you for your attention!
This post has translated with "deepl" translator. If any user sees errors, please say so in the comments to correct it as soon as possible, thanks very much.

---
Detrás del arbusto
Detrás del arbusto ubicado en la entrada de un parque, se escondía un muchacho llamado Noel. El joven Noel, iba casi todos los días al parque para poder observar desde lejos a Mónica, su amor platónico, quien también era una compañera de clase que solía traer su perro a pasear por las tardes. A medida que Mónica y su mascota avanzaban en su recorrido habitual, Noel hacía uso de su poca presencia para deslizarse entre arbustos y poder seguirlos.
Un día, Mónica y su mascota estaban paseando, cuando se encontraron con un joven que portaba una daga y no disimulaba su mala intención hacia Mónica. En ese preciso momento, Noel se encontraba detrás de un arbusto, y pudo sentir como su corazón latía furiosamente al ver en peligro a Mónica. Antes de si quiera darse cuenta, Noel había arremetido contra el joven desconocido, y logro propinarle una patada en el plexo solar, acto seguido tomo a Mónica y salió corriendo con ella antes de que el joven tuviera oportunidad de recuperarse.
---
Los invito a leer | I invite you to read: A chain of links [ENG/ESP] | A philosophic moment

---
Camera: Honor 7s
Photographer: @leonelb
Image Editor: Microsoft power point 2010 / NCH software