---
What's up beautiful people?
Round 3 of #40poundtricks contest organized by @stickchumpion is already running and I rushed to upload my entry this time.
The tricks we have to do this month is the Feeble Grind and the Fakie Heelflip. I am really good at feeble grinds but I kinda suck in Fakie Heelflips.
Well to tell you the truth, I suck in Fakie stance skating. Haha.
I decided to film a big line full of feeble grinds and then I wanted to do something more than just a plain fakie heelflip so I used my imagination and after some tries I rolled away with a fakie heelflip line too!
Enjoy my entry yo
Thank you all for watching and supporting me my friends and if you want to see more skateboarding check out our awesome community on Steem called "Steemskate" in which you actually own your content and getting paid for it.
Hit the sign up button and join the fun.
Here is the link
https://goldvoice.club/steem/@knowhow92
Instagram : https://www.instagram.com/haris_housos/
Youtube (Brave Browser creator) : https://www.youtube.com/user/pwrepous...
Greek Youtube channel (Brave Browser creator) :
https://www.youtube.com/channel/UCJTN...
Twitter : https://twitter.com/theocharis_ch
Palnet : https://www.palnet.io/@knowhow92
Creativecoin.xyz : https://www.creativecoin.xyz/@knowhow92
Steemace : https://www.steemace.io/@knowhow92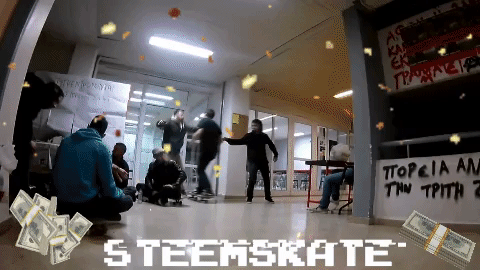 ---
▶️ DTube
▶️ YouTube