Hello steem Lovers.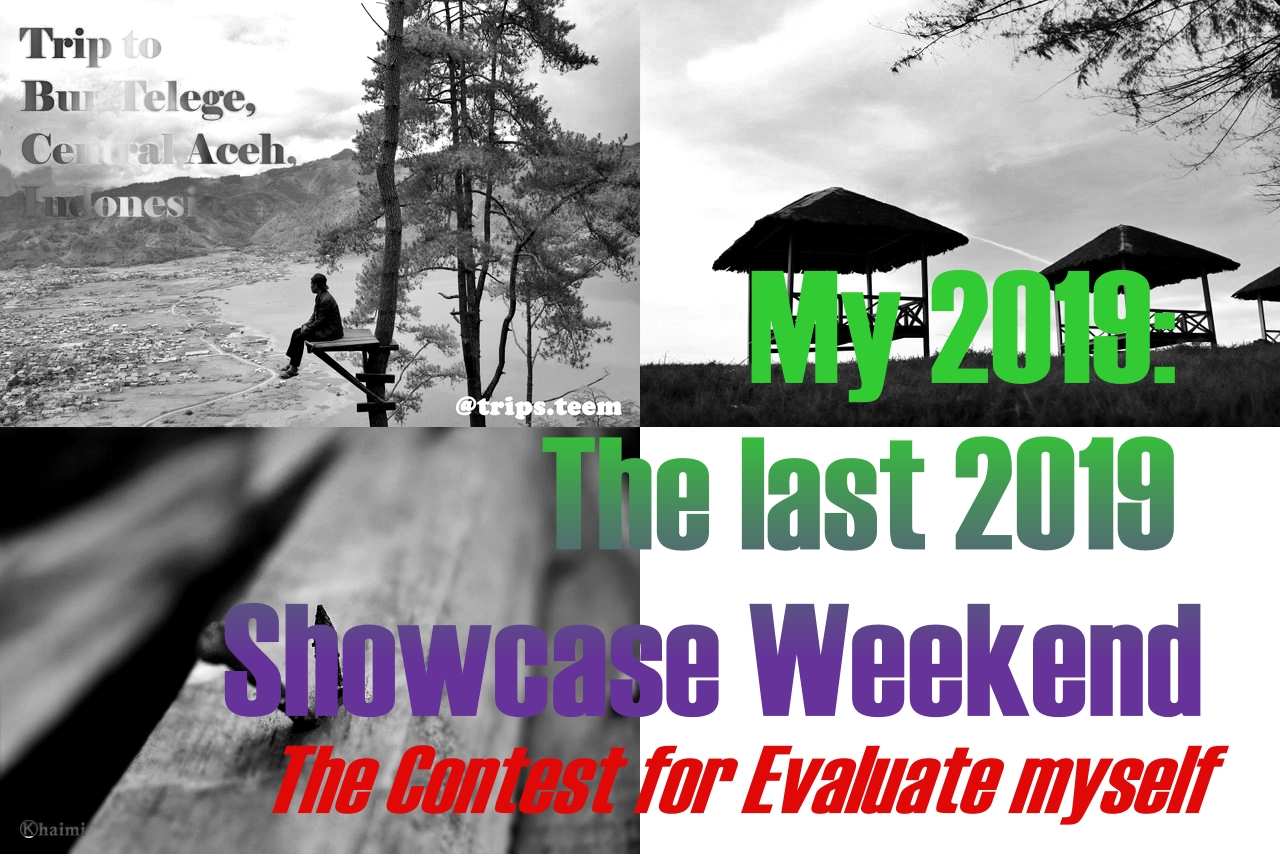 Well, tonight is the last night of the contest created by @anomadsoul and sponsored by @blocktrades about My 2019: The last 2019 showcase weekend. Some important things have been conveyed in that post but the essence of it is how we evaluate ourselves and then our each post becomes more meaningful. This is good for us to raise hope, remain loyal to provide posts for steem. Because regretting posts with little curation or even feeling unappreciated is in vain because it has happened, should be a good change and more creative in order to be better.
This post is my entry in the contest above, but it should be noted that this is not solely because of the contest, but rather to dare to evaluate themselves. Hopefully what I have to say here can be "a door" for me to convey why my post was worthy of appreciation.
As the contest rules, then I choose three posts that I think should be appreciated and here I will give a comparison with my other posts. Comparing my posts with others will be subjective, so I chose a comparison with my own posts to be more objective. Here, I will review it using a few factors, including the post time, the focus of the article, the similarity of methods and the quality of my photography. Some assessments are very identical to my passion for writing and photography. Based on data from steemworld.org, since joining here, I have made 641 posts and in 2019 there have been 193 posts. Compared to 2018 where I have made 446 posts and this maybe has decreased, but I see in 2019 an increase in the results of the vote.
Choosing 3 posts out of 193 Posts, of course, I have to be really selective to choose it, the posts that I feel are undervalued (honestly I'm reluctant to say this but the rules remain rules), and I've got three posts. here it is...

source
First, Bur Telege
I posted this on July 18, 2019, at 13:18. In this post, I got a total of 249 votes with a total payment of $4,984. In my opinion at that time, this post should be able to reach $7.00 but apparently not. Why am I so sure? the first reason is every travel post I make usually is able to reach that number, especially in this post I explain a lot, equipped with travel data and proof it in good quality photos. Please open it to prove that.

source
On the other hand, every comment in this post always reply, it reflects my activity and my efforts to continue to build good communication. From the photography side, I present 23 images in this post, the comment data also gives recognition of my efforts to get a good angle in taking pictures. Reviewing tourist attractions is not easy, because we need data and exploration directly and I have done it, but not with the results.
However, at that time I also realized that the post was via @trips.teem and based on my communication with one of the curators at that time, Steem Power of @trips.teem was weak, so it only gave appropriate curation at that time. I'm thankful for still getting curated.
 
Second, Don't be like rusty nails.
I made this post on August 30, 2019, here I have to admit that this post is too short in composing sentences, the total vote I got was only 48, with a payment of $ 0.612. A little right? At least at that time, I could get around $ 1.3, why? There are several reasons here including me giving another angle from my photography all this time, usually, I take pictures of landscapes, but here I present macros with rusty nails as the object. The photo quality I presented was also good with black and white and color comparisons, some praise from commentators at the time amounted to 15 comments and acknowledged that.

source
But when my expectations were wrong, were I disappointed? Little, because what I said in the post was talking about the mindset and facts of someone. I made it in a good illustration by playing with rusty nails. As a comparison at that time, in the same month, I used tag mindset several times and usually I get above $1.7. My weakness in this post is that it is too concise in writing, it is increasingly difficult because the language I use is English, so it might not be too affected at its core.
Third, I Stopped Twice, two ideas comes nicely
I made it on November 7, 2019, is still the latest among the two posts above, here I get 89 votes, but I'm thankful because I can still get a total of $ 3,504 of curation, the communication in the comments column is also only 10, although three times in resteem but the payment did not exceed the $5.00 as I hope. In my evaluation, this post still uses the #travel tag and I correlate my idea with photography which I think is very good.

source
Reviews of new attractions, as well as the main message about how to be more creative, turned out to be not very valued at that time. But I realize the weakness of this post is that I made it at night, so if it is read at that time or tomorrow, then that post will be interspersed with thousands of posts from other people.

source
Keep spirit :)
Thanks for visiting my blog, if you have some corrections in my post, please let me know your opinion and feel free to comment below. This my #originalcontent (thanks for @ocd @ocdb and @curangel for always support the original content) Read my word and Enjoy my shot. Blessing
#### Stop Plagiarism, Stop Farming, Stop Abusing Please Remember ! C4 (Community, Creativity, Content, and Consistency)
All Picture was taken originally by me, using Canon EOS 800D, Location: Aceh, Indonesia
Thank you and My Regards
@khaimi.
Note: Thanks for visiting my photography's blog and read my writing, [PW] is my code for #photography and complete it with my #writing. Hope you enjoy it, Blessing!!