Yim Wan has been with us for quite a while. His lovely little girl came in with a pretty large wound on the back of her neck that was horribly infected and filled with pus and maggots. I have intentionally not shown any before pictures because they are pretty gruesome. You'll just have to use your imagination but trust me when I say that it was awful. When a dog (or cat) gets a wound on this part of their body they are completely unable to clean it and they further aggravate the wound by constantly scratching it even though doing so causes them a great deal of pain.
She almost certainly would have died if we had not found her an intervened.
After nearly a month staying with us and undergoing multiple surgical cleanings, she is finally ready to go back "home."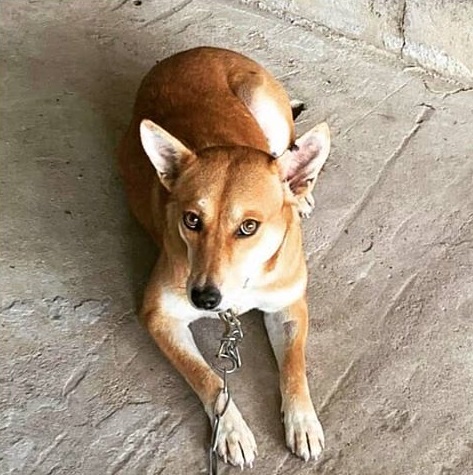 The name Yim Wan (ยิ้มหวาน) means "sweet smile" in Thai and now that she has healed up she is living up to her name. As you might be able to imagine, when we were first handling her she was in so much pain that she was anything but pleasant to deal with. We had to muzzle her at one point because she would try to bite anyone that tried to get near her. We had to trick her into a transport kennel and it was a pretty difficult process to earn her trust.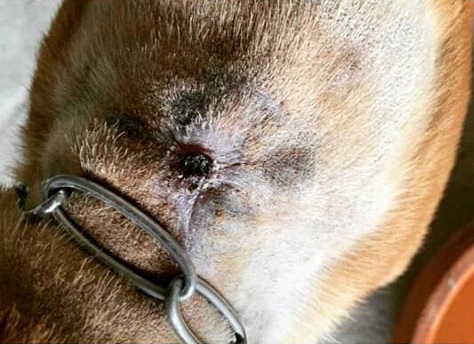 This is the "after" shot of the wound but it was significantly larger and of course open and covered in flesh eating parasites that were slowly eating her alive. Once she was healed and strong enough we also performed a sterilization on her, which is something we will do for any of our temporary boarders.
Yim Wan has such a pleasant demeanor now and would be a likely candidate for overseas adoption if it weren't for the fact that international travel for a dog is all but impossible at the moment thanks to a near complete ban on international flights to and from Thailand for the time being due to Covid-19.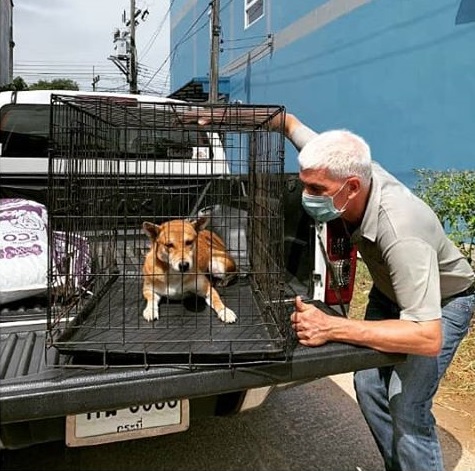 Therefore we had no choice but to release her back to where we found her, which is as far as we can tell, where she has spent her entire life anyway. It is tragic every time that we have to do this but the fact of the matter is that we are dealing with limited funds and very limited space that we must open up for dogs and cats that require more urgent care.
Furthermore, even though it sounds a bit cruel, we can not get any of our rescue animals accustomed to being looked after when we know that we do not have the resources to take them on permanently.
We are delighted about how much more trusting Yim Wan is towards humans after being shown a bit of care and compassion by the staff at Krabi Animal Welfare. Hopefully this lockdown of the country and the world will cease at some point in the near future and we can return to finding forever homes for these dogs and cats that so desperately need it.
---
น้องได้กลับบ้านแล้ว!! ยิ้มหวานได้รับการปล่อยตัวในสุดสัปดาห์นี้ รักษาจนเป็นปกติแล้วและน้องมีความสุขที่ได้อยู่ในพื้นที่ของตัวเอง ไม่มีลูก ๆ และหวังว่าจะไม่มีบาดแผลอีกต่อไป 🐶
น้องได้รับการรักษาอย่างมาก ซึ่งหมายถึงตอนนี้เราได้รับใบเรียกเก็บเงินเป็นยอดที่สูง หากคุณ ๆ เพียงแค่ 4 คนมีส่วนร่วมบริจาคคนละ 1000 บาท ก็จะครอบคลุมค่าใช้จ่ายในการรักษาของน้อง เราขอมีเพียง 4 ในจำนวนคนมากกว่า 1,600 คนที่ติดตามเพจของเรา! 🙏
---
If you would like to see how you can help out, or simply spread the word, please visit our website at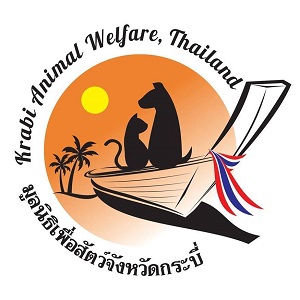 Krabi Animal Welfare is a charity run entirely by volunteers and are a registered non-profit organization in Thailand and the U.K.. We aim to relieve the pain and suffering of dogs and cats within Krabi Province.
เป็นผู้สนับสนุนรายเดือนหรือบริจาคครั้งเดียวได้ที่: