There is no reason to buy an animal these days and I get upset when I see someone that had done so (especially if it is a Chihuahua.) There are so many abandoned animals that need a home simply because people who have no idea what it is like to try to care about anyone other than themselves get a pet based on some sort of need for self-glorification and then once that animals starts doing what animals do such as crapping and pissing in the house or chewing on stuff, they take a few more IG pics with then and then throw the out.
src
There are penalties (thankfully, thanks to ex-president Trump) rather severe penalties for animal abuse in the United States but in other countries throwing a dog or cat to the side when you no longer want it anymore has little to no penalty associated with it at all.
This is completely abhorrent to me and I sincerely hope that there is a special part of karma reserved for the people out there that behave like this towards animals.
Let's forget about abuse for a second and instead think about people who want an animal and instead go "shopping" for one instead of looking at shelters and rescue centers such as our own
src
How about these little darlings? Well these are all pure-bred dogs that are in a puppy mill that are being held captive and well, they will only be cleaned up once potential buyers are coming by. In the meantime there are literally hundreds of thousands if not millions of dogs of exactly the same temperament that are in rescue shelters around the world the you can take home and care for (hopefully) for next to free
src
That picture says "hundreds" but I am referring to the much bigger picture here. The breeds on teh top and bottom or are the same. The only difference is that the ones on the top are being cleaned up and sold for $250 each, and the others are wasting away in kennels are perhaps in the dog-meat trade.
You can help put a stop to this and a good place to start is to not being so fixated on having a pure-breed dog in the first place.
One thing to keep in mind is that a "pure breed" is just a mix of other breeds that was popularlized probably by some sort of person in the monarchy of some country. All dogs are a mix of some sort of dog and another sort of dog. It has been my experience that "mutts" are actually a lot easier to look after because the inbreeding has potential to cause problems.
---
I suppose the point of this post is to once again reach out to people and plead with them to not go to a pet store or breeder to buy a pet ever! You don't have to be in Asia to experience the very high level of homeless and stray dogs that are available at shelters all around the world, especially in the United States.
I strongly encourage you to please look there if you are considering have a dog in your life (which is something that I really think you should do - thy are the best) and there are so many thousands of them that need you help.
---
If you would like to see how you can help out or simply spread the word, please visit our website at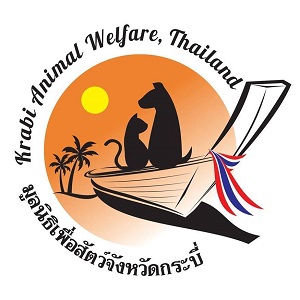 Krabi Animal Welfare is a charity run entirely by volunteers and are a registered non-profit organization in Thailand and the U.K.. We aim to relieve the pain and suffering of dogs and cats within Krabi Province.
เป็นผู้สนับสนุนรายเดือนหรือบริจาคครั้งเดียวได้ที่:
---