Life sure is humbling.
It's interesting watching my dreams shift into different versions of themselves... Witnessing as I grow into the next version of me.
---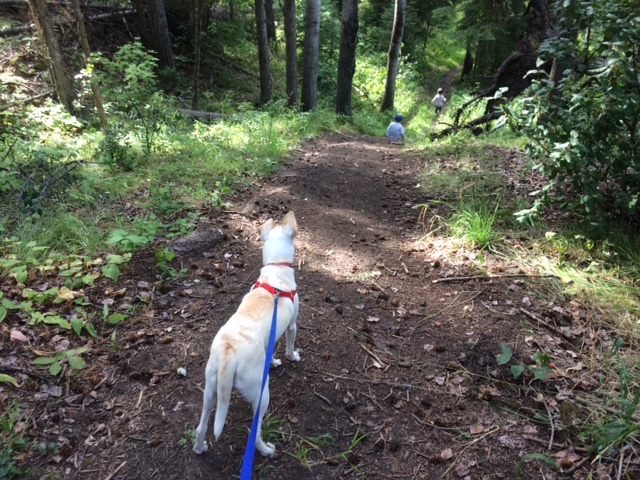 Last time I posted I was going to start teaching yoga and begin fostering rescue dogs. Here's an update. And some really cute puppy pics.
We'll get to the puppy thing in a minute.
I'm still planning to teach yoga from my home, utilizing the living room we designed to double as a studio. However, the classes have to wait until there are railings on my deck, because insurance would likely have a fit if I had people here with things as they are, even if they aren't going to be on the deck.
Yoga postponed.
We have been working on this house (and the ongoing saga of the deck) for six years.
The good news: I've finally felt up to working on the house again, so between my partner being able to work all freaking day and night when he has days off, and me helping as I can, we're getting some things done around here.
---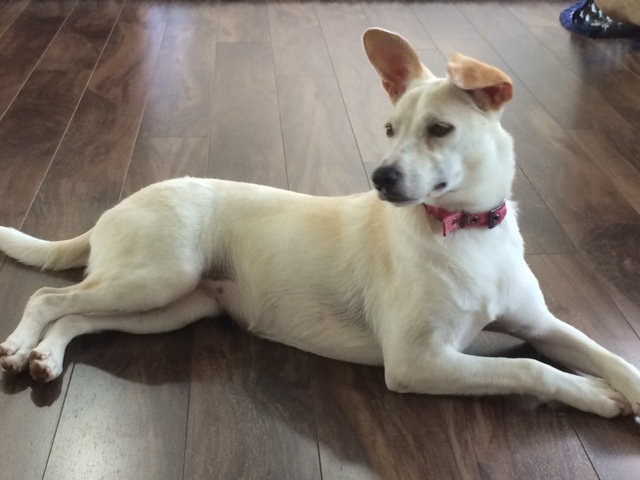 Now, to the puppy.
Here's Hope, the foster puppy who was with me for a brief but wonderful time.
Two weeks ago she was in a high-kill shelter in California. I think she came out of L.A. Which would explain why she acted like the forested terrain she visited on our hikes was completely new.
I am so glad the rescue I'm working with saved her!
She's smart, sweet, loving, playful, and adorable as all get out.
---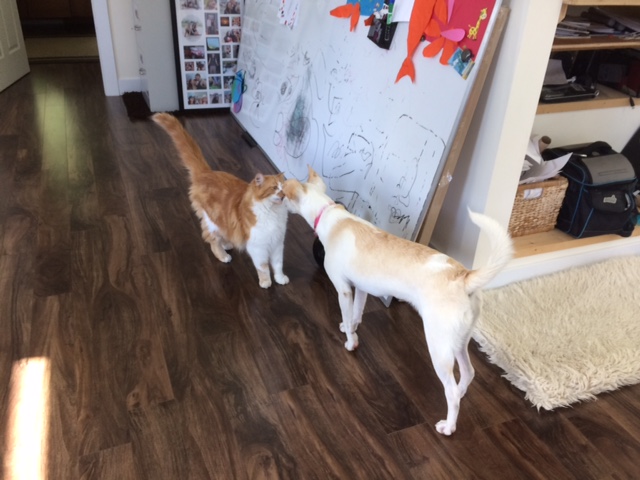 ---
Here's what I posted on Facebook when I got her:
PUPPY PICTURES! This is Hope, who I'm fostering.

Hope is such a sweetheart. She listens well, is smart and eager to please, and has been great with my kids! She has made friends with my cat. She chases him if he runs, but just wants to play and is very gentle with her mouth with everyone, cat included. Leaves things alone when told. Overall she's a little star. If I had to guess, I'd say Jack Russell terrier mix. Her coat looks like a lab, but she's closer to the size of a Jack Russell, just a little bigger. 8 month old puppy. I love her. She deserves the very best forever home.
---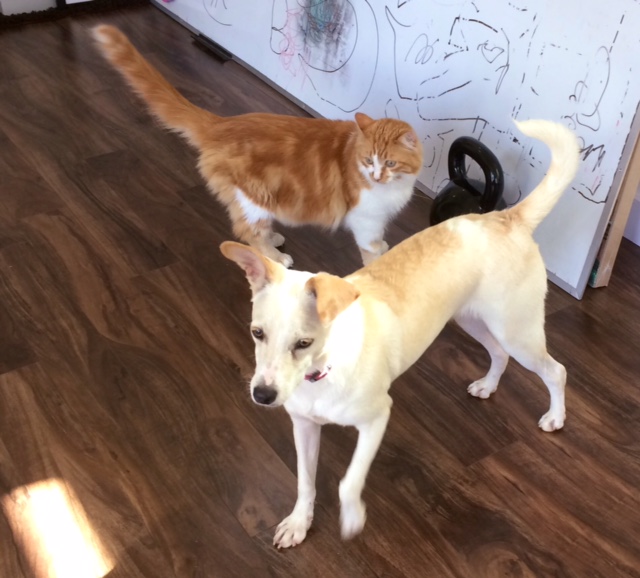 ---
Hope got spoiled in the best possible way. She liked her new toys, and loved the cat. Toby cat liked her, and wanted to play with her, but she kept sticking her nose in his face, and he wasn't sure about that. He also didn't like being kept out of my room because I had to sleep with Hope in there with the door shut. And wake up at dawn to let her out.
Most nights she slept quiet, but last night she woke up probably ten times with a low bark or grumble because Toby cat kept trying to get in.
---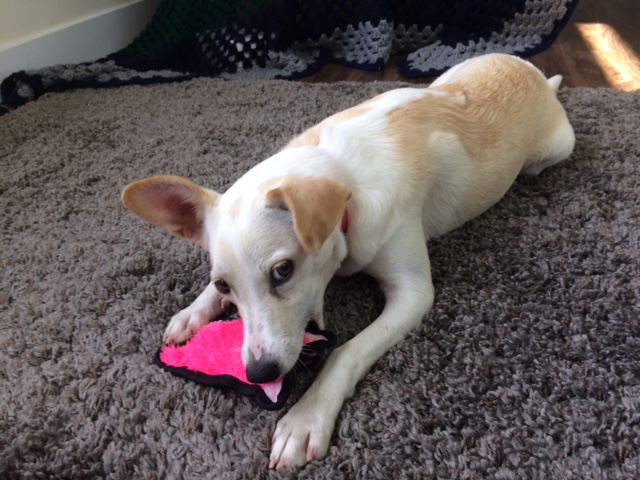 ---
Hope is beautiful. She's a little larger than a Jack Russell, with peaches and cream fur that reminded me of a lab. Such a great size. So soft.
---
---
Hope got to go on hikes and lots of walks where she got comfortable walking on leash. We went on adventures with the kids on their strider bikes. She did awesome, didn't even chase them.
---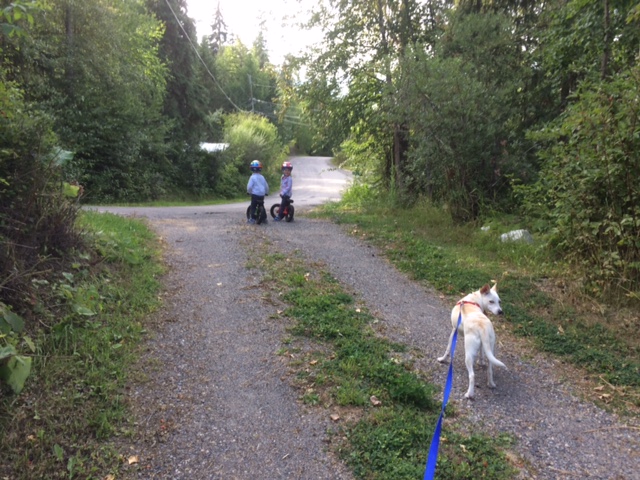 ---
My time as a puppy foster mom lasted a week.
Today I brought her back to the rescue mama's house where she will be in good company with other dogs. I really think she needs that K9 company to satisfy her own needs for play and feeling comfortable. An unrelated trip to the hospital for one of my children two nights ago (everyone is fine) made me realize I just couldn't meet everyone's needs.
My honest assessment was I'm not the right foster home for a puppy. Hope has a couple of applications for adoption in, so I'm sure she'll find a wonderful home soon. It was a great experience for my kids and myself, and we gave the puppy lots of love and walks and helped her learn some things, but boundaries, right?
Life is so humbling.
---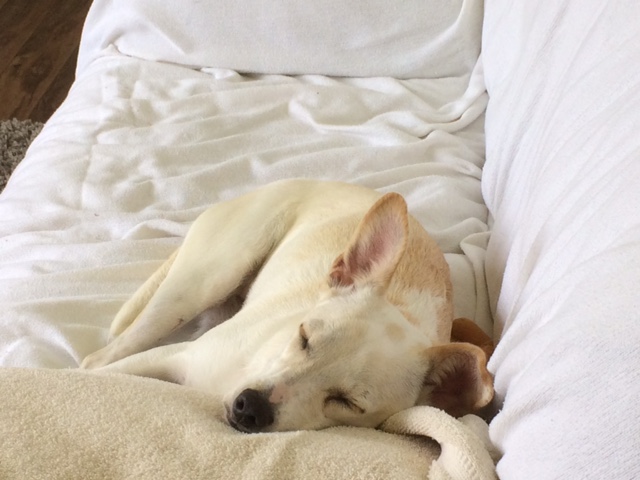 ---
Things I've learned:
I need sleep. No puppies for me.
I can help the rescue in other ways (looks like I'll be lending a hand with fundraising and processing applications.)
The best dog for me would be one that could qualify as an Emotional Support Animal. I need to lower my anxiety levels, not raise them.
Accepting myself as I am is an ongoing process and I'm actually doing pretty good at it.
---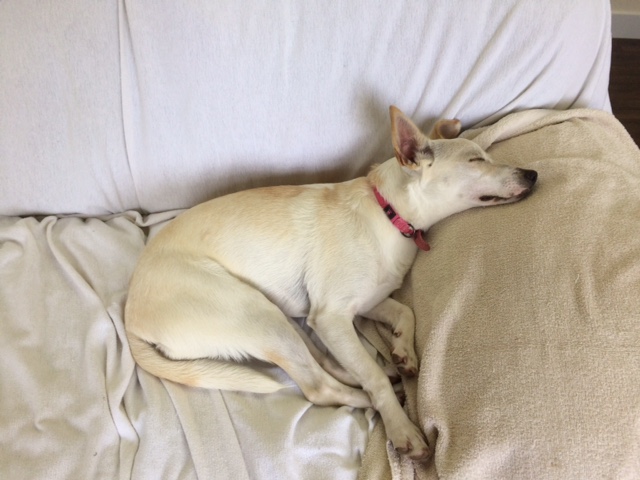 ---
Hope enjoyed herself much of the time she was here.
That said, she was stressed about some things and so was I. Overall, I think the experience was a good one for everyone, and I also know I made the right decision taking Hope back so she could be more comfortable with her surroundings.
Though I'm sad that I'm not able to foster animals at this time, I'm resisting the urge to allow myself to feel like a failure. I'm optimistic that I can still help the rescue organization. I'm also getting clearer about what kind of dog I would be able to adopt, which helps me manifest that situation.
I'm working on being clear around needs, boundaries, and changing habits—like biting off more than I can chew on a regular basis. I'm not giving up on my desire to help animals, just changing what that looks like.
Seeing @rhondak's success with rescue dogs who have support jobs, I'm hoping I can find a dog who specializes in lowering anxiety. Another friend messaged me and said her dog does just that. My guess is @saffisara's Bobby is much the same.
I trust that there's a dog out there for me who can be a loving, calming companion without being as much work as another child. In the meantime, I have some work to do on this house. ;)

Thanks for reading, and thank you sincerely to everyone who comments. I wasn't able to respond to comments on my last post, but I read every one. I haven't had time to write or play guitar or anything else, but I've been focusing on family and being a great mom, and that's number one! :)
Whatever happens, keep singing your song!
Peace. @katrina-ariel
---
Author bio: Katrina Ariel is an old-soul rebel, musician, tree-hugging yogini, and mama bear to twins. Author of Yoga for Dragon Riders (non-fiction) and Wild Horse Heart (romance), she's another free-spirit swimming in the ocean of life. Check out her music here: https://choon.co/artists/katrina-ariel/
Dragon art commissioned from Liiga Smilshkalne.
---