I wrote this love letter many years ago. Like at least fifteen years. Probably longer. I confess, when I found this in a pile of old writing, it took me a minute to remember who I wrote it for, or if I gave it to them at all. I guess I cherished it more than they did, if I did in fact deliver it.
Maybe I created this for myself. This is often why art comes into form.
Regardless, I figured it should live again, and decided it was worth sharing here. For the hopeless romantic in us all. ;)
---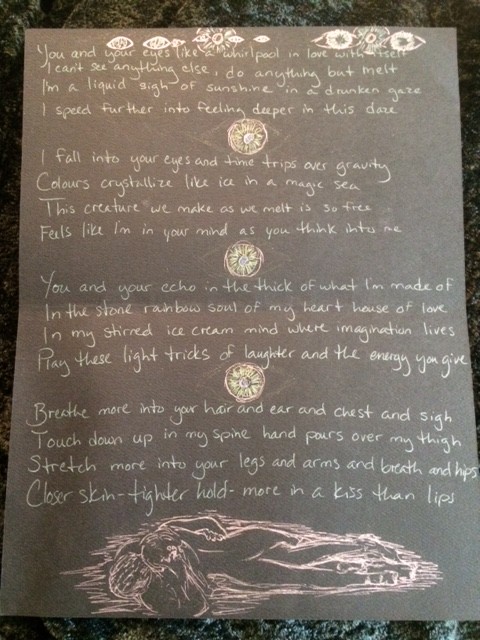 More in a Kiss
---
I can't see anything else, do anything but melt.I'm a liquid sigh of sunshine in a drunken gaze.I speed further into feeling, deeper in this daze.
I fall into your eyes and time trips over gravity.Colours crystallize like ice in a magic sea.This creature we make as we melt is so free,Feels like I'm in your mind as you think into me.
You and your echo in the thick of what I'm made of,In the stone rainbow soul of my heart house of love.In my stirred ice-cream mind where imagination lives,Play these light tricks of laughter and the energy you give.
Breathe more into your hair and ear and chest and sigh,Touch down up my spine, hand pours over my thigh.Stretch more into your legs and arms and breath and hips.Closer skin, tighter hold, more in a kiss than lips.This poem has been pulled from my Steem blog for use in publication. Thank you for your interest in my writing! Please visit me on Twitter for current content: https://twitter.com/KatrinaAriel
Original writing by Katrina Ariel.



I must say, I'm impressed with the artistry I put into this. I used to create cards like this often, back in the days when I had free time and I wasn't using it to write novels (or binge-watch Netflix).
When is the last time you wrote a love letter, or created something inspired by love? Have you ever written a letter to yourself? (I think a love letter to yourself is a fabulous idea!)
Thanks for reading. :)
Whatever happens, keep singing your song!
Peace. @katrina-ariel
---
Author bio: Katrina Ariel is an old-soul rebel, musician, tree-hugging yogini, and mama bear to twins. Author of Yoga for Dragon Riders (non-fiction) and Wild Horse Heart (romance), she's another free-spirit swimming in the ocean of life. Check out her music here: https://choon.co/artists/katrina-ariel/
Dragon art commissioned from Liiga Smilshkalne.
---