I've been devouring books lately. Inhaling them. One book a day most days this week.
There are reasons for this. Good reasons. But what better reason do I need than to lose myself in worlds of fantasy and adventures that play out in my imagination as if I'm the characters living the stories?
I'm devouring the books with my eyes, obviously, not eating the actual pages like the ink lickers in Rachel Caine's The Great Library series. Speaking of, I'm addicted to this series.
Let's get on with the book reviews, shall we?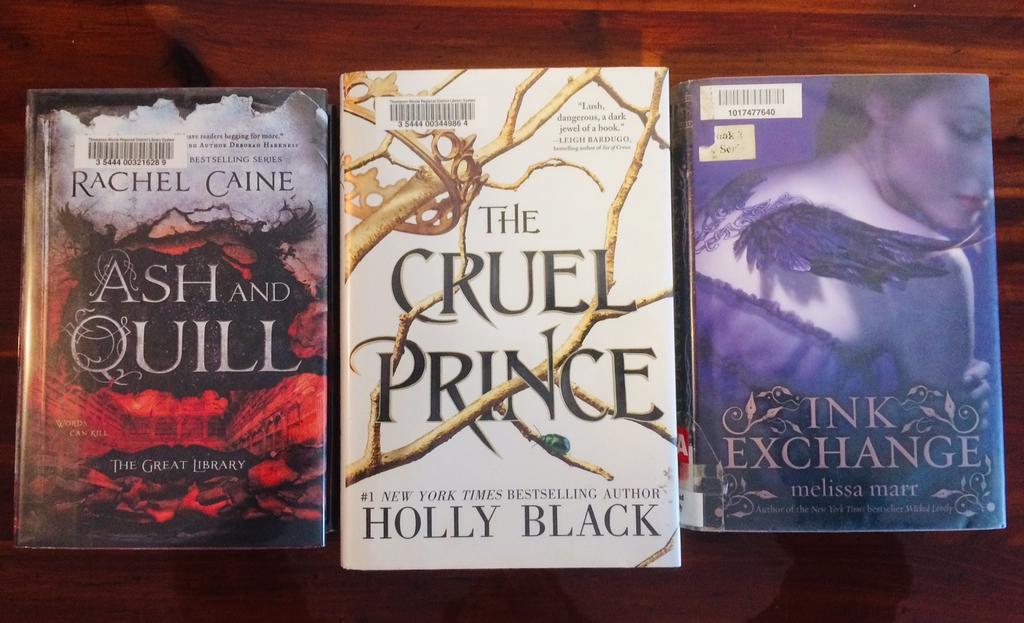 Yay for books! All hail the public library.
ter>
The Great Library series by Rachel Caine
---
Ink and Bone is the first book in this series, and hooked me hard with the characters and their camaraderie.
I finished Ash and Quill, book three in the series, a few nights ago. The story is set in Rachel Caine's world where "Knowledge is Power" and the Library reigns supreme by controlling the information made available to the populace and suppressing unwanted evolution by whatever means necessary.
Each book in this YA (young adult) fantasy series has been filled with action, witty banter, and twists I totally didn't see coming.
I'm in love with the cast, all of whom are flawed, some more than others. They do bad things for the right reasons, and it's a dark, sometimes shockingly-violent tale, but this motley group of friends becomes a family, and they go through hell for each other and for the good of the world under the Library's oppression.
My only nitpicks for this series were a few noticeable typos in the second book, and several times in book two and three where the story moved too fast, omitting details I needed to wrap up some small thing. (Ex: The guard put restraints on the character in the scene before, and now he's got his hands free, but there's no mention of when the restraints came off, so…) Minor details. They don't make the story any less awesome, but they did pull me out of it for a split second. As a writer, this is noticeable to me, and helpful because I learn to look harder for those things in my own writing.
If you'd like a gritty adventure where scholars, inventors, and warriors (one being a life-long thief) fight to save the world from a Big Bad Oppressor in the guise of the Great Library, I whole-heartedly recommend these books. There is a bit of romance, but it's a minor sub plot. The story is action packed!
ked!
The Cruel Prince by Holly Black
---
Oh, this book. I finished reading it around midnight last night, and it's a doozy.
This is the first I've read from Holly Black, though her books have been recommended to me before. I kept seeing people talking about this one, and got it from the library. I'm glad I did, but I'm still not sure how I feel about certain elements of it.
The Cruel Prince is the first in a YA series set mainly in the world of Faerie. I've put a hold on the next book, because the characters have caught me in their web, but it's a sharp, carnivorous web.
The deviousness of the characters in this story is really something. The scheming, the secrets, the defenses that never come down.
I love so many things about this book, like the fact that I had no idea what was going to happen next pretty much the whole way through. There was nothing predictable about it, other than it was true to the title. Cruel.
Being a romanticist, I wanted the characters to have a little more joy without it immediately blowing up in their faces, but I have a feeling the outcome I'm yearning for between two specific characters will evolve over the course of the series. Judging by this book, I'm pretty sure it will be a torturous unfolding, but with deadly beauty and a sliver of hope to keep me reading.
If you like dark tales with fae and mortals, this is definitely worth a read!
<ead!
Ink Exchange by Melissa Marr
---
This is book two in the Wicked Lovely series, which is another YA fantasy involving the Faerie realm and the intrigues of multiple Faerie courts.
Though it's dark, and deals with serious subjects like abuse and addiction, there's enough love in this book that it didn't devastate me quite like The Cruel Prince.
The first book in this series, Wicked Lovely, surprised me with its ending and I absolutely loved it. There were a couple of cliché characters, but they fit a mold with enough uniqueness that it didn't bother me, and the story itself was fresh.
In Ink Exchange, a tattoo connects a young woman to a Faerie king, and, though she loses herself for a while, she redefines who she is and comes out stronger than ever. The ending is bittersweet, but I expect the next book in the series continues the tale, and it was happy enough that I was satisfied with how the story wrapped up.
I'd recommend this series if you like dark fantasy with romantic subplots. And tattoos.
![enter>
There we have it. This is what I've been doing with my time. I'm waiting for three books in the mail, hopefully coming today, including the last two in The Great Library series, as well as an indie fantasy written by a friend I know through social media. I'll do a review of that when I get a chance to read it.
What have you been reading lately? Do you have any fantasy books you love? I'm always looking for recommendations.
Whatever happens, keep singing your song!
Peace. @katrina-ariel
![enter>
Top photo by Kaitlyn Baker/unsplash

Author bio: Katrina Ariel is an old-soul rebel, musician, tree-hugging yogini, and mama bear to twins. Author of Yoga for Dragon Riders (non-fiction) and Wild Horse Heart (romance), she's another free-spirit swimming in the ocean of lifenter>![ ](https:c here: https://choon.co/artists/katrina-ariel/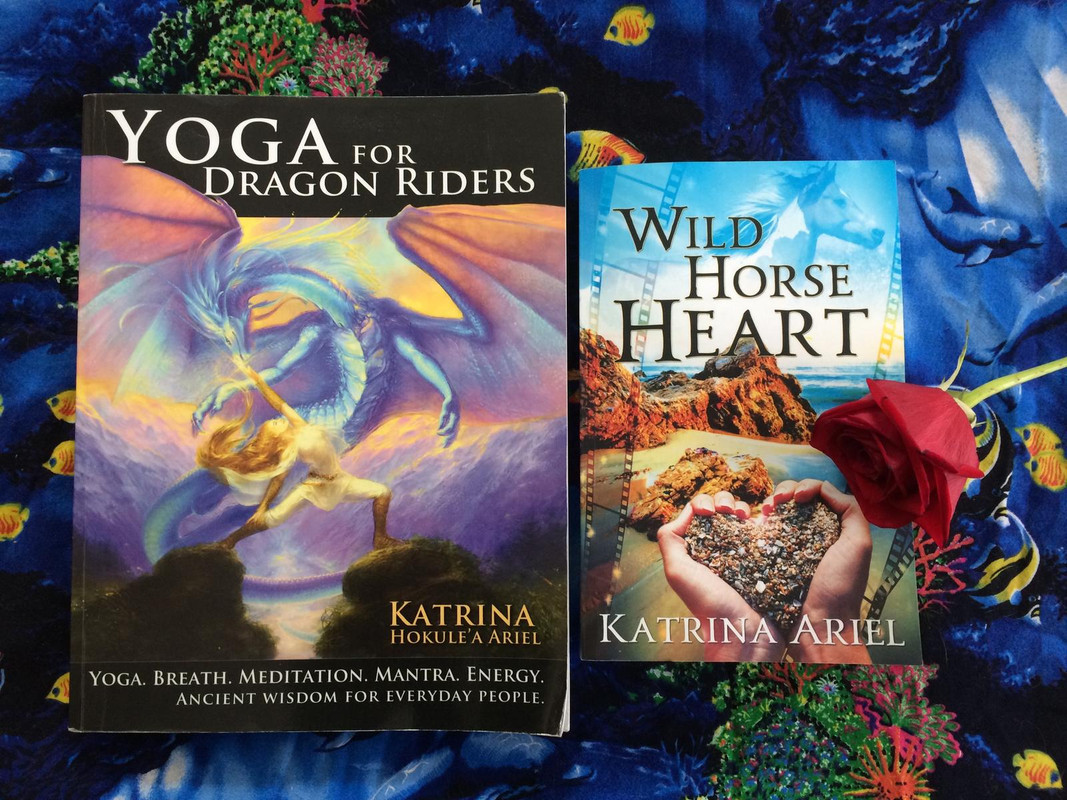 ![ ](htebsite](http://www.katrinaariel.com)
---