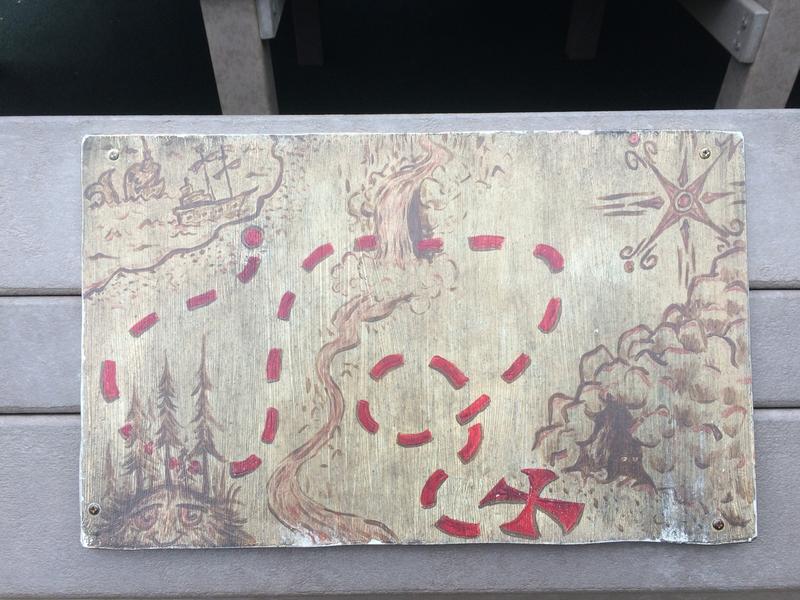 There be dragons!
Those three words will get my attention every time. I like dragons. I've been writing about them in my latest manuscript, which is one of the reasons I haven't been blogging.
The main reason I haven't been blogging, however, is that my previous computer died on me and I was between machines for a month. Now my new (to me) Mac is here, sweet velvet-rubber keys under my fingertips, and I'm back in business.
This map photo was taken at a playground in Tennessee, where I met up IRL with a Steem friend of mine. I love how falling down blockchain rabbit holes have made my life better as I've found friends all over the world.
I've been out of the loop in a big way, and I've missed some things. A lot of things. I'm okay with that. I'm not going to sweat over the hardfork. I'm hoping that Steem is a lot larger than any one update, any one change, and that the platform and the value of STEEM will grow in the long term.
For now, I'll focus on the fact that I enjoy blogging here, I'm grateful for the friends I've made, and I'm looking forward to the future.
Did I mention my new computer's keys feel like rubber velvet? I did? Oh. Well. I like them. :)
Steem on, y'all. Keep doing what makes you happy.

Whatever happens, keep singing your song!
Peace. @katrina-ariel
---
Author bio: Katrina Ariel is an old-soul rebel, musician, tree-hugging yogini, and mama bear to twins. Author of Yoga for Dragon Riders (non-fiction) and Wild Horse Heart (romance), she's another free-spirit swimming in the ocean of Steem.
Dragon art commissioned from Liiga Smilshkalne.