Pumpkin cream soup is a classic autumn dish that warms and saturates for a long time. And since I like it a lot, I often eat it in the pumpkin season. I didn't buy a pumpkin this time. Pumpkin appeared on my occasion of a freegan trip to the nearby bazaar. I learned that an action was being organized together with the city authorities and bazaar sellers. On some days of the week, you can come at certain times and save food that would be thrown away because for some reasons it does not meet the standards of sellers. I admit that I had mixed feelings whether to take part in it, whether the vegetables would be good to eat or whether it was safe at all, but I decided to try. I was surprised that someone wanted to throw away such good vegetables - see for yourself. Do these vegetables look so bad that they should go to the trash?
Pumpkin was also, in my opinion, virulent. She lacked nothing. And the pumpkin variety - the giant pumpkin was perfect for soup. It is very easily cut and has a wonderful, delicate taste. I remember I once bought a Hokkaido pumpkin and I was tired of cutting it. Butternut squash is also great for soups - it has an oblong, pear-shaped shape and a beige color.
Now I will describe step by step how I made soup. I used the recipe given on Lidl's website. It once worked and I have been using it ever since.
Pumpkin cream soup - recipe
Ingredients
2,2 pounds (lbs) pumpkin
1 carrot
1 onion
2 garlic cloves
3 cups vegetable broth
salt
pepper
2 tablespoons of olive oil 4 tablespoons of 18% cream
Source: https://kuchnialidla.pl/krem-z-dyni
First, I peeled the pumpkin and cut it into pieces.
Then I cut the rest of the vegetables into small pieces. Carrot was also freegan ;) (it came from saving food at the bazaar).
In the next step, I poured 2 tablespoons of olive oil into the bottom of the pot with a thick bottom.
Then I fried the vegetables in a pot for three minutes, stirring them all the time.
Then I started making the broth. For lack of time, I used a stock cube to make it. I added the broth to the pot and cooked it for 30 minutes.
At that time I roasted pumpkin seeds in a frying pan.
I also made small toasts. I like to sprinkle soup on them.
When 30 minutes passed and the soup was cooked, I blended it on a cream mass.
I seasoned it with pepper a little and then decorated with delicious toppings.
It was very tasty !! The household members quickly emptied their plates;)
Maybe you know some nice pumpkin soup recipes? Or some other pumpkin peciepes? If so, please write about them in the comments. I like to be inspired by culinary :)
This post participates in the competition called FRUITS AND VEGGIES MONDAY (the creator @lenasveganliving, the host @plantstoplanks) :)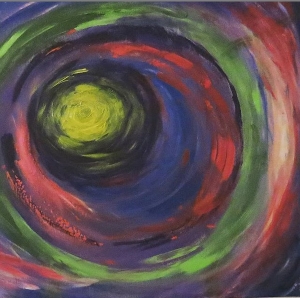 Original content by @katiefreespirit