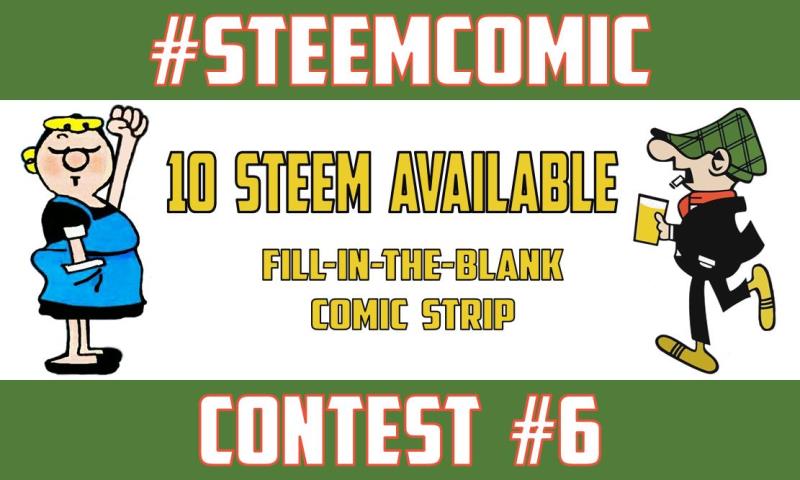 ---
🚨 ᴜᴘᴅᴀᴛᴇ 🚨
---
I've decided to do away with SBI shares as a prize for #SteemComic winners. I feel SBI shares served their purpose for me as a newbie with undervalued posts. However, I now have an organic following and receive adequate post payouts. The reward is now good ole' STEEM, and you are still free to convert it to SBI shares if you like after you claim you receive your STEEM.
The liquid Steem payout from each #SteemComic is the next #SteemComic's rewards. Unfortunately #5's payout was only 6.3 STEEM, and I don't want to let the rewards to shrink to smaller than 10 STEEM, so I've added some STEEM from another post payout to fill in the gap.

𝐏𝐥𝐞𝐚𝐬𝐞 𝐖𝐞𝐥𝐜𝐨𝐦𝐞 𝐎𝐮𝐫 𝐍𝐞𝐰 #𝐒𝐭𝐞𝐞𝐦𝐂𝐨𝐦𝐢𝐜 𝐉𝐮𝐝𝐠𝐞

![MasterBeast.jpg](https://files.steempeak.com/file/steempeak/justinparke/VkqEQ4Yk-MasterBeast.jpg)
𝐌𝐚𝐬𝐭𝐞𝐫 𝐁𝐞𝐚𝐬𝐭 (ɴᴏɴ-sᴛᴇᴇᴍɪᴀɴ)
**Facebook**
Master Beast chose the winners of #SteemComic #5. I can't help but have subconscious bias as I like to see everybody win. I think that the best submission should win, however. With this in mind I've sent all the entries sans usernames to Master Beast. He is battling brain cancer, and any humor is a welcome distraction. The results are in, scroll to the bottom of this post to see Master Beast's winning picks.

𝟏𝟎 𝐒𝐓𝐄𝐄𝐌 𝐀𝐕𝐀𝐈𝐋𝐀𝐁𝐋𝐄
---
𝐑𝐄𝐖𝐀𝐑𝐃𝐒

𝐓𝐇𝐄 𝐑𝐔𝐋𝐄𝐒


⬇️ 𝐇𝐞𝐫𝐞 𝐢𝐬 𝐭𝐡𝐞 #𝐒𝐭𝐞𝐞𝐦𝐂𝐨𝐦𝐢𝐜 𝐒𝐭𝐫𝐢𝐩 𝐚𝐯𝐚𝐢𝐥𝐚𝐛𝐥𝐞 𝐟𝐨𝐫 𝐂𝐨𝐧𝐭𝐞𝐬𝐭 #𝟔. ⬇️

![STEEMCOMIC6OPTION1.jpg](https://files.steempeak.com/file/steempeak/justinparke/tLPLPh1l-STEEMCOMIC6OPTION1.jpg)
---
![STEEMCOMIC6OPTION2.jpg](https://files.steempeak.com/file/steempeak/justinparke/UvlG7Gcv-STEEMCOMIC6OPTION2.jpg)
---
![STEEMCOMIC6OPTION3.jpg](https://files.steempeak.com/file/steempeak/justinparke/2VuuF8Z8-STEEMCOMIC6OPTION3.jpg)

𝐇𝐎𝐖 𝐓𝐎 𝐄𝐍𝐓𝐄𝐑 𝐘𝐎𝐔𝐑 𝐂𝐎𝐌𝐈𝐂 𝐒𝐓𝐑𝐈𝐏

𝐏𝐨𝐬𝐭 your comic strip on the 𝐒𝐓𝐄𝐄𝐌osphere using #steemcomic as your 𝐦𝐚𝐢𝐧 𝐭𝐚𝐠 and 𝐩𝐫𝐨𝐯𝐢𝐝𝐞 𝐭𝐡𝐞 𝐥𝐢𝐧𝐤 to your post in the comments below.
𝐒𝐮𝐛𝐦𝐢𝐭 your comic during the 7-day period 𝐛𝐞𝐟𝐨𝐫𝐞 𝐭𝐡𝐢𝐬 𝐩𝐨𝐬𝐭 𝐫𝐞𝐚𝐜𝐡𝐞𝐬 𝐩𝐚𝐲𝐨𝐮𝐭.
𝐖𝐢𝐧𝐧𝐞𝐫𝐬 will be announced in a new post within 𝟒𝟖 𝐡𝐨𝐮𝐫𝐬 after this post reaches payout.
Please make your entry 𝐯𝐢𝐬𝐢𝐛𝐥𝐞 in the comments below by using a 𝐡𝐲𝐩𝐞𝐫𝐥𝐢𝐧𝐤. Example: <𝐚 >your comic's url image link</𝐚>

𝐖𝐢𝐧𝐧𝐞𝐫𝐬 𝐅𝐫𝐨𝐦 #𝐒𝐭𝐞𝐞𝐦𝐂𝐨𝐦𝐢𝐜 𝐒𝐭𝐫𝐢𝐩 𝐂𝐨𝐧𝐭𝐞𝐬𝐭 #𝟓

![KittyGirlEntry.jpg](https://files.steempeak.com/file/steempeak/justinparke/h6smonYN-KittyGirlEntry.jpg)

![SSONGENTRY.jpg](https://files.steempeak.com/file/steempeak/justinparke/Xw8JKqCS-SSONGENTRY.jpg)

![XCALENTRY.jpg](https://files.steempeak.com/file/steempeak/justinparke/SvHlKqaZ-XCALENTRY.jpg)

![STANENTRY.jpg](https://files.steempeak.com/file/steempeak/justinparke/7n5lBVsF-STANENTRY.jpg)

![RICHENTRY.jpg](https://files.steempeak.com/file/steempeak/justinparke/6swFQlEe-RICHENTRY.jpg)

ɪ sᴜᴘᴘᴏʀᴛ ᴀɴᴅ/ᴏʀ ᴅᴇʟᴇɢᴀᴛᴇ ᴛᴏ