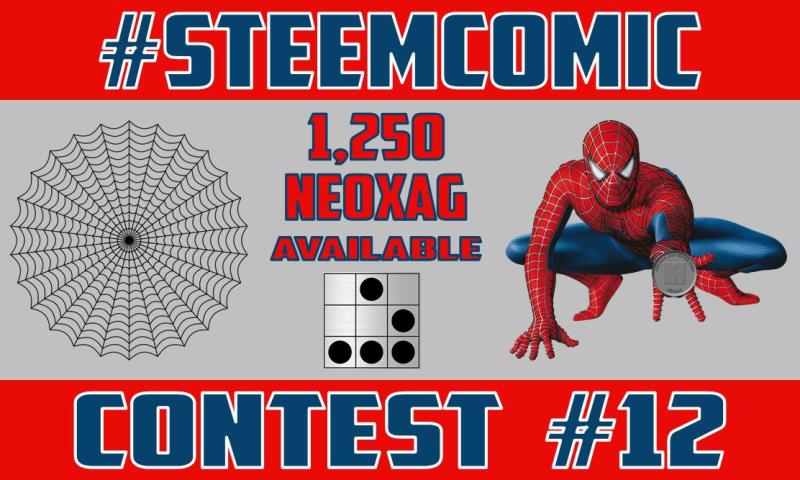 #SteemComic #12 is in support of the Tribe **Neoxian.City**, a general topic Steem frontend. The **NEOXAG** is the SCOT token of this tribe, and the rewards for this week's SteemComic. You can find a lot of high quality posts on the Neoxian frontend, I and I highly suggest you give it a tour if you've never logged in. If you're familiar with @minnowsupport, you can also thank Neoxian for being one of the developers behind that. @Neoxian is also a Steem witness, and I suggest you consider allotting one of your votes to this hardworking Steemian.
---
**NEOXAG TOKENS**
---
"Wondering why the rewards are so high this week?"
Thanks to a 1,000 NEOXAG donation from Steemian @RaymondSpeaks in addition to my 250 NEOXAG purchase, the total rewards are 1,250 NEOXAG for this #SteemComic. If you happen to submit a winning entry, most of your thanks should go this Steemian.


![MasterBeast.jpg](https://files.steempeak.com/file/steempeak/justinparke/VkqEQ4Yk-MasterBeast.jpg)
Master Beast (ɴᴏɴ-sᴛᴇᴇᴍɪᴀɴ)
**Facebook**
Master Beast has created two Steem accounts and lost the passwords to both of them, and in the process lost his desire to further pursue a Steem journey. Master Beast is battling brain cancer, and the weekly #SteemComic provides some well-needed laughs and a brief escape from monotonous routines.

1,250 NEOXAG Tokens Available
---
REWARDS

THE RULES


⬇️ Here are the #SteemComic Strips available for Contest #11. ⬇️

![STEEMCOMIC12OPTION1.jpg](https://files.steempeak.com/file/steempeak/justinparke/FUjEjbGL-STEEMCOMIC12OPTION1.jpg)
---
![STEEMCOMIC12OPTION2.jpg](https://files.steempeak.com/file/steempeak/justinparke/FRVyYhCt-STEEMCOMIC12OPTION2.jpg)

HOW TO ENTER YOUR COMIC STRIP

Post your comic strip on the Steem blockchain using #steemcomic as your main tag and #neoxian as your second tag.
Alternatively, post your submission from the **Neoxian.City** frontend to ensure visibility within the tribe.
Provide the link to your post in the comments below.
Submit your comic during the 7-day period before this post reaches payout.
Winners will be announced in a new post within 48 hours after this post reaches payout.
Please make your entry visible in the comments below by using a hyperlink. Example: <𝐚 >your comic's url image link</𝐚>

ɪ sᴜᴘᴘᴏʀᴛ ᴀɴᴅ/ᴏʀ ᴅᴇʟᴇɢᴀᴛᴇ ᴛᴏ
|![ECOTLOGO.png](https://files.steempeak.com/file/steempeak/justinparke/FjzJZNzs-ECOTLOGO.png)
**@EcoTrain**
center>
![ECOTLOGO.png](https://files.steempeak.com/file/steempeak/justinparke/FjzJZNzs-ECOTLOGO.png)
**@EcoTrain**
|
|
![TFEEDLOGO.jpg](https://files.steempeak.com/file/steempeak/justinparke/QkbwUwqj-TFEEDLOGO.jpg)
@TravelFeed ✭ **Travelfeed.io**
|
![IBLOGO.png](https://files.steempeak.com/file/steempeak/justinparke/z9SDWMqI-IBLOGO.png)
@InnerBlocks ✭ **TheInnerBlocks.com**
|
|
![CCLOGO.png](https://files.steempeak.com/file/steempeak/justinparke/xG7eogAi-CCLOGO.png)
@CreativeCoin ✭ **CreativeCoin.xyz**![CLOGO.png](https://files.steempeak.com/file/steempeak/justinparke/Hx4q2cqy-CLOGO.png)
**@C-Squared**
/center>|
![CLOGO.png](https://files.steempeak.com/file/steempeak/justinparke/Hx4q2cqy-CLOGO.png)
**@C-Squared**
|
|
![SteemTerminalBanner.jpg](https://files.steempeak.com/file/steempeak/justinparke/g08qxbS9-SteemTerminalBanner.jpg)
**@SteemTerminal**
center>
![SteemTerminalBanner.jpg](https://files.steempeak.com/file/steempeak/justinparke/g08qxbS9-SteemTerminalBanner.jpg)
**@SteemTerminal**
|
|
![tipulogo.png](https://files.steempeak.com/file/steempeak/justinparke/48uo2hR5-tipulogo.png)
@Tipu ✭ **Tipu.Online**
|
![MinnowSupportLogo.png](https://files.steempeak.com/file/steempeak/justinparke/chuHohCV-MinnowSupportLogo.png)
@MinnowSupport ✭ **MinnowSupportProject.org**
|