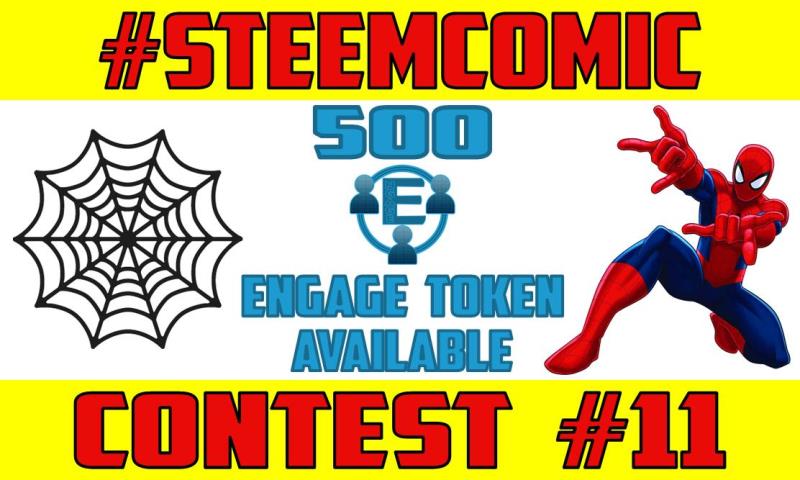 #SteemComic #11 is in support of the **ENGAGE TOKEN** once again. This is the project of Steemian @abh12345 via @misterengagement. He has been very generous in supporting #SteemComic, so and his token, the **ENGAGE TOKEN**, a vanity token which helps to support The Curation and Engagement Leagues. ENGAGE tokens are meant to be used by existing owners of ENGAGE to reward positive engagement on the Steem blockchain. If you hold 1,000 ENGAGE tokens, you can distribute ENGAGE by typing !ENGAGE 100 or any numeric value less than 100.
currently the !ENGAGE function and bot are down, but will be working again very soon
---
**ENGAGE TOKENS**
---
This Steemian recognized me as a quality content creator early on in my Steem journey, so I am repaying the favor in a small way by increasing awareness of the ENGAGE token.


![MasterBeast.jpg](https://files.steempeak.com/file/steempeak/justinparke/VkqEQ4Yk-MasterBeast.jpg)
Master Beast (ɴᴏɴ-sᴛᴇᴇᴍɪᴀɴ)
**Facebook**
Master Beast has created two Steem accounts and lost the passwords to both of them, and in the process lost his desire to further pursue a Steem journey. However, he has successfully chosen last week's #SteemComic winners. Master Beast is battling brain cancer, and the weekly #SteemComic provides some well-needed laughs and a brief escape.

500 ENGAGE Tokens Available
---
REWARDS

THE RULES


⬇️ Here are the #SteemComic Strips available for Contest #11. ⬇️

![STEEMCOMIC11OPTION1.jpg](https://files.steempeak.com/file/steempeak/justinparke/HbIVEbqm-STEEMCOMIC11OPTION1.jpg)
---
![STEEMCOMIC11OPTION2.jpg](https://files.steempeak.com/file/steempeak/justinparke/ZL4ViB8j-STEEMCOMIC11OPTION2.jpg)
---
![STEEMCOMIC11OPTION3.jpg](https://files.steempeak.com/file/steempeak/justinparke/Mrqu0dUy-STEEMCOMIC11OPTION3.jpg)

HOW TO ENTER YOUR COMIC STRIP

Post your comic strip on the Steem blockchain using #steemcomic as your main tag and provide the link to your post in the comments below.
Submit your comic during the 7-day period before this post reaches payout.
Winners will be announced in a new post within 48 hours after this post reaches payout.
Please make your entry visible in the comments below by using a hyperlink. Example: <𝐚 >your comic's url image link</𝐚>


![image.png](https://files.steempeak.com/file/steempeak/justinparke/EwrVMrWz-image.png)

![image.png](https://files.steempeak.com/file/steempeak/justinparke/CzfB8p4R-image.png)

![image.png](https://files.steempeak.com/file/steempeak/justinparke/clCXTDH7-image.png)

ɪ sᴜᴘᴘᴏʀᴛ ᴀɴᴅ/ᴏʀ ᴅᴇʟᴇɢᴀᴛᴇ ᴛᴏ
|![ECOTLOGO.png](https://files.steempeak.com/file/steempeak/justinparke/FjzJZNzs-ECOTLOGO.png)
**@EcoTrain**
center>
![ECOTLOGO.png](https://files.steempeak.com/file/steempeak/justinparke/FjzJZNzs-ECOTLOGO.png)
**@EcoTrain**
|
|
![TFEEDLOGO.jpg](https://files.steempeak.com/file/steempeak/justinparke/QkbwUwqj-TFEEDLOGO.jpg)
@TravelFeed ✭ **Travelfeed.io**
|
![IBLOGO.png](https://files.steempeak.com/file/steempeak/justinparke/z9SDWMqI-IBLOGO.png)
@InnerBlocks ✭ **TheInnerBlocks.com**
|
|
![CCLOGO.png](https://files.steempeak.com/file/steempeak/justinparke/xG7eogAi-CCLOGO.png)
@CreativeCoin ✭ **CreativeCoin.xyz**![CLOGO.png](https://files.steempeak.com/file/steempeak/justinparke/Hx4q2cqy-CLOGO.png)
**@C-Squared**
/center>|
![CLOGO.png](https://files.steempeak.com/file/steempeak/justinparke/Hx4q2cqy-CLOGO.png)
**@C-Squared**
|
|
![SteemTerminalBanner.jpg](https://files.steempeak.com/file/steempeak/justinparke/g08qxbS9-SteemTerminalBanner.jpg)
**@SteemTerminal**
center>
![SteemTerminalBanner.jpg](https://files.steempeak.com/file/steempeak/justinparke/g08qxbS9-SteemTerminalBanner.jpg)
**@SteemTerminal**
|
|
![tipulogo.png](https://files.steempeak.com/file/steempeak/justinparke/48uo2hR5-tipulogo.png)
@Tipu ✭ **Tipu.Online**
|
![MinnowSupportLogo.png](https://files.steempeak.com/file/steempeak/justinparke/chuHohCV-MinnowSupportLogo.png)
@MinnowSupport ✭ **MinnowSupportProject.org**
|