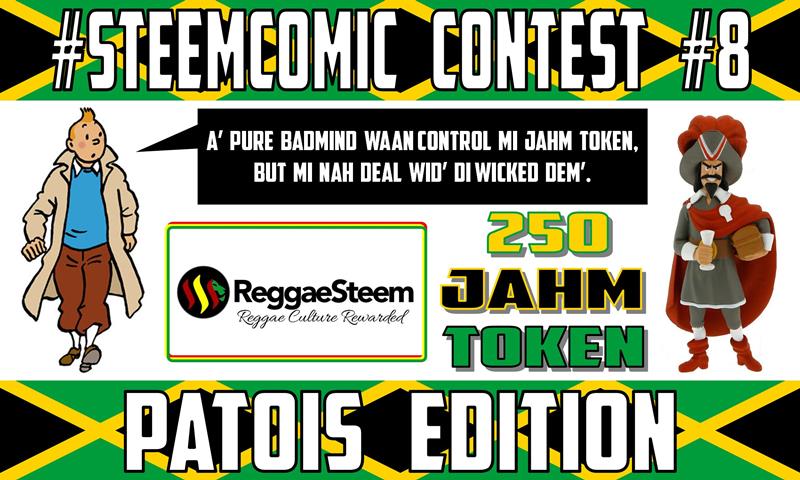 I am proud to announce #SteemComic #8 is in collaboration with ReggaeSteem.io. This is one of my newest and favorite Steem communities, and I highly recommend you check them out. Don't be intimidated, this community welcomes much more than just reggae music related content. I have recently been added to the ReggaeSteem JAHM Whitelist, so in celebration, I am doing a patois-themed Steem Comic Contest. Remember to submit your entry only in JAMAICAN PATOIS.
Thanks to @dmilliz, @donald.porter and @miyard, the hard-working crew behind ReggaeSteem.io. To learn more about this community, check out this Introducing ReggaeSteem post.

The liquid Steem payout from each #SteemComic is the next #SteemComic's rewards, in various forms. #7's payout was 13.343 STEEM, with which I have purchased 250 JAHM to be used as #8's rewards.

𝐎𝐮𝐫 #𝐒𝐭𝐞𝐞𝐦𝐂𝐨𝐦𝐢𝐜 𝐉𝐮𝐝𝐠𝐞

![MasterBeast.jpg](https://files.steempeak.com/file/steempeak/justinparke/VkqEQ4Yk-MasterBeast.jpg)
𝐌𝐚𝐬𝐭𝐞𝐫 𝐁𝐞𝐚𝐬𝐭 (ɴᴏɴ-sᴛᴇᴇᴍɪᴀɴ)
**Facebook**
The results are in; Master Beast has chosen the winners of #SteemComic #7. So far he is still a non-Steemian, but that is a good thing at least for choosing a winner without bias. He is battling brain cancer, and any bits of humor are welcome distractions in his days. Scroll to the bottom of this post to see Master Beast's winning picks.

𝟐𝟓𝟎 𝐉𝐀𝐇𝐌 𝐀𝐕𝐀𝐈𝐋𝐀𝐁𝐋𝐄
---
𝐑𝐄𝐖𝐀𝐑𝐃𝐒

𝐓𝐇𝐄 𝐑𝐔𝐋𝐄𝐒


⬇️ 𝐇𝐞𝐫𝐞 𝐚𝐫𝐞 𝐭𝐡𝐞 #𝐒𝐭𝐞𝐞𝐦𝐂𝐨𝐦𝐢𝐜 𝐒𝐭𝐫𝐢𝐩𝐬 𝐚𝐯𝐚𝐢𝐥𝐚𝐛𝐥𝐞 𝐟𝐨𝐫 𝐂𝐨𝐧𝐭𝐞𝐬𝐭 #𝟖. ⬇️

![STEEMCOMIC8OPTION1.jpg](https://files.steempeak.com/file/steempeak/justinparke/KrYQZCpf-STEEMCOMIC8OPTION1.jpg)
---
![STEEMCOMIC8OPTION2.jpg](https://files.steempeak.com/file/steempeak/justinparke/XrbGEQ4p-STEEMCOMIC8OPTION2.jpg)
---
![STEEMCOMIC8OPTION3.jpg](https://files.steempeak.com/file/steempeak/justinparke/2emfWxBk-STEEMCOMIC8OPTION3.jpg)

𝐇𝐎𝐖 𝐓𝐎 𝐄𝐍𝐓𝐄𝐑 𝐘𝐎𝐔𝐑 𝐂𝐎𝐌𝐈𝐂 𝐒𝐓𝐑𝐈𝐏

𝐏𝐨𝐬𝐭 your comic strip on **ReggaeSteem.io** using #steemcomic as your 𝐦𝐚𝐢𝐧 𝐭𝐚𝐠 and 𝐩𝐫𝐨𝐯𝐢𝐝𝐞 𝐭𝐡𝐞 𝐥𝐢𝐧𝐤 to your post in the comments below.
𝐀𝐥𝐭𝐞𝐫𝐧𝐚𝐭𝐢𝐯𝐞𝐥𝐲 post your submission from anywhere within the 𝐒𝐭𝐞𝐞𝐦osphere using the#steemcomic as your first tag and #jahm as a secondary tag to make your post visible within the **ReggaeSteem.io** community.
𝐒𝐮𝐛𝐦𝐢𝐭 your comic during the 7-day period 𝐛𝐞𝐟𝐨𝐫𝐞 𝐭𝐡𝐢𝐬 𝐩𝐨𝐬𝐭 𝐫𝐞𝐚𝐜𝐡𝐞𝐬 𝐩𝐚𝐲𝐨𝐮𝐭.
𝐖𝐢𝐧𝐧𝐞𝐫𝐬 will be announced in a new post within 𝟒𝟖 𝐡𝐨𝐮𝐫𝐬 after this post reaches payout.
Please make your entry 𝐯𝐢𝐬𝐢𝐛𝐥𝐞 in the comments below by using a 𝐡𝐲𝐩𝐞𝐫𝐥𝐢𝐧𝐤. Example: <𝐚 >your comic's url image link</𝐚>

𝐖𝐢𝐧𝐧𝐞𝐫𝐬 𝐅𝐫𝐨𝐦 #𝐒𝐭𝐞𝐞𝐦𝐂𝐨𝐦𝐢𝐜 𝐒𝐭𝐫𝐢𝐩 𝐂𝐨𝐧𝐭𝐞𝐬𝐭 #𝟕

![DDD.jpg](https://files.steempeak.com/file/steempeak/justinparke/82Pmypt9-DDD.jpg)

![HHH.jpg](https://files.steempeak.com/file/steempeak/justinparke/b2hIZmdO-HHH.jpg)

![BBB.jpg](https://files.steempeak.com/file/steempeak/justinparke/GLzLGT9f-BBB.jpg)

ɪ sᴜᴘᴘᴏʀᴛ ᴀɴᴅ/ᴏʀ ᴅᴇʟᴇɢᴀᴛᴇ ᴛᴏ
|![ECOTLOGO.png](https://files.steempeak.com/file/steempeak/justinparke/FjzJZNzs-ECOTLOGO.png)
**@EcoTrain**
center>
![ECOTLOGO.png](https://files.steempeak.com/file/steempeak/justinparke/FjzJZNzs-ECOTLOGO.png)
**@EcoTrain**
|
|
![TFEEDLOGO.jpg](https://files.steempeak.com/file/steempeak/justinparke/QkbwUwqj-TFEEDLOGO.jpg)
@TravelFeed ✭ **Travelfeed.io**
|
![PSTREEMLOGO.png](https://files.steempeak.com/file/steempeak/justinparke/xIVZNSvD-PSTREEMLOGO.png)
@PhotoStreem ✭ **PhotoStreem.com**
| |
![CCLOGO.png](https://files.steempeak.com/file/steempeak/justinparke/xG7eogAi-CCLOGO.png)
@CreativeCoin ✭ **CreativeCoin.xyz**
|
![CLOGO.png](https://files.steempeak.com/file/steempeak/justinparke/Hx4q2cqy-CLOGO.png)
/center>

**@C-Squared**

|
|

![IBLOGO.png](https://files.steempeak.com/file/steempeak/justinparke/z9SDWMqI-IBLOGO.png)

@InnerBlocks ✭ **TheInnerBlocks.com**![HELPIELOGO.jpg](https://files.steempeak.com/file/steempeak/justinparke/2KramQOV-HELPIELOGO.jpg)

**@Helpie**

/center>|

![HELPIELOGO.jpg](https://files.steempeak.com/file/steempeak/justinparke/2KramQOV-HELPIELOGO.jpg)

**@Helpie**

|

![PARTIKOLOGO.png](https://files.steempeak.com/file/steempeak/justinparke/ODH6NAxw-PARTIKOLOGO.png)

@Partiko ✭ **Partiko.app**

|
---
Posted via ReggaeSteem | Reggae Culture Rewarded