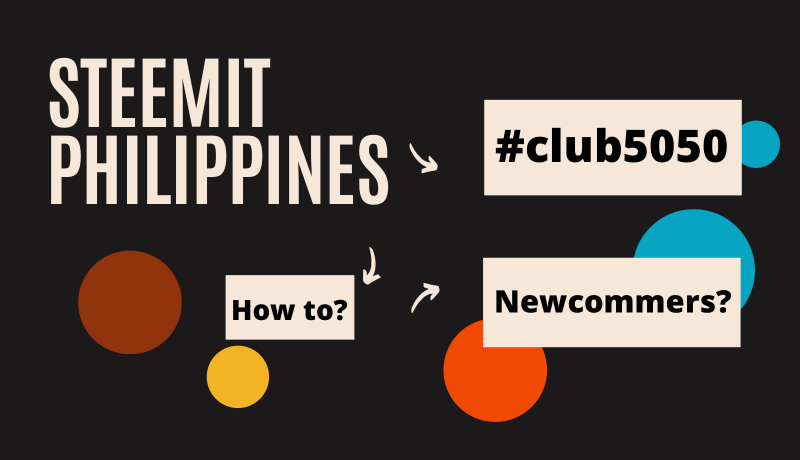 First and foremost on behalf of the Steemit Philippines Team and members we would like to express our deepest gratitude to the Steemit Team for their continuous support to our community. This month again we have your support under the Tier-1 of the booming support program. As we always promised that we will not disrupt your trust towards us. To steemcurator 01 and booming accounts from all of us, Filipinos thank you very much!
club5050 is the latest program in Steemit these days. In this post, I would like to inform our members that there are some changes to the rule. For those who are not informed yet, here is the summary of the announcement by the Steemit Team through the @steemitblog account.
Please note that if your community produces any sort of 'Top Posts of the Day selections we will now only be voting on the chosen posts if they are successfully participating in #club5050.

We have selected just five Communities of the Month for November so that @steemcurator01 will have some spare voting capacity to support good #club5050 posts across the whole community.
Even if you do not post in one of the communities selected for November, keep powering up and keep using the #club5050 tag (among the first four tags) and you will still have a chance of getting a good vote from @steemcurator01.
It is profanely stated that all of us need to commit to the #club5050 program and follow the rules. We are no longer allowed to submit a post who is not a #club5050 member. Previously, I was making a post that we are giving a badge to those who are committed to this program. But before we give you that badge we will check your wallet first if you have power up 50% of your income. Only 22 members have joined for the Month of October. We are hoping to see more of our members join for a greater chance of being upvoted by the curators.
This time we are under the Tier-1 of booming support program, but we still have a chance to receive steemcurator01 support if we keep on powering up and use the #club5050 tag.
Club5050 Rule Changes
We are very happy with our participation in #Club5050.
We are very positive that this approach will very much helpful to best grow the Steem community and the Steem economy.
We are continually monitoring how #Club5050 is working and looking for ways to improve it.
One issue we have become aware of is that requiring power-ups every 7 days can interfere with people's plans to participate in the monthly #SPUD4STEEM events organized by @kiwiscanfly.
We are therefore extending the 'accounting period' from 7 days to one calendar month.
This means to participate in #club5050 you must balance any cash-outs or transfers away with equal or greater power-ups over one calendar month.
Therefore if you want to take part in #SPUD4STEEM you can make one big power-up on the 1st of the month and that can >be used against cash-outs and transfers for the whole of the following month.
Of course, this does not mean that you have to cash out an amount equal to the power-up - LESS IS ALWAYS BEST !
When deciding the size of the vote we give for a #club5050 post we look at the size of the power-ups against the amount of cash-out or transfer.
If you only power up and don't cash out at all that is even better ( #club100 🙂 ).
We are also looking out for people who make it to Dolphin status (5,000 SP) - there are special rewards for those joining #clubdolphin.
If anyone makes it to #cluborca (50,000 SP) we will definitely be throwing a party for them…
To have the complete information about this announcement you may refer to this link. https://goldvoice.club/steem/@steemitblog/communities-of-the-month-support-program-november-winners
In line with this announcement, they have changed the validity of the #club5050 program, instead of 7 days or weekly power up then they changed it to monthly power-up. This rule is an advantage to us since our community is active in joining the monthly #SPUD contest by @kiwiscanfly. And our community is also initiating a local #SPUD contest for our members. We have received a few #SPUD entries every month and it's a good sign that we members are willing enough to commit to this #club5050 initiative.
As of now, we are discussing how Newcommers can join this program since we are no longer allowed to submit a post for those who are not committed to the #clu5050 initiative. And it is unfair for those new users who have just joined this platform. We tend to help them by giving them some alternatives on how they can earn steem to power up and join the #club5050 program so that they will also have a chance for curators to upvote.
Reminder, for us to grow in this platform we have to help our self first. Our self-growth is our responsibility. We don't need to expect that there is somebody out there who will always help us or curators will always support us, we also need to have strategies or plans on how to have self-sustainability in the long run.
Hoping for your full understanding on this matter.
20% payout of this post goes to Steemit Philippines.
Please comment down for your power-up for November for our further update and for us to give you the #club5050 badge.
Yours sincerely,
Admin @ juichi