<h1#
Saludos artistas y amantes darte<h1...
GreGreetings artists and avers


...


Les
Les presento un nuevo diseño en tradicional, me considero un amante de las frutas y en especial de las manzanas, me llegó a la mente dibujar frutas y no pensé dos veces en escoger misdas...

I pres I present a new design in traditional, I consider myself a lover of fruits and especially apples, it came to my mind to draw fruit and I did not think twice about choosing my favorit######

¡Espero ¡Esperste!
> ###### I hope you like!
I hope you like!

iseño:_*
> ##

Presenntaciónesign:
![IMG-20t; ## _Presentation of the design:_
)
MateriAAempleados:
Materiales empleados:
MateriPor used:

>

Pencil

Draft
Cardboard
Mecha
> pencil
Colorft
> Color
http://4; * Mechanical pencil
> * Colors Prism Color
Acompa/AAAAAAAAF34/9Kl1x1y0Uv4/s1600/sn:
> ##
_JoAcompañame a ver el process:
El bción:_*
> ## Join me to see the elaboration process:
The sa cartulina escolar color blanco usando un grafito HB.
> * The sketch was made on a white school card using HB graphite.
Todo el coloreado de las frutas está elaborado usando técnica de degradado, primero empezaré aplicando verde oscuro como sombra para nzana:
All theego unificados o mezclamos con el color verde manzana:
> All the coloring of the fruits is made using gradient technique, first I will start applying dark green as a sha color:
[Screen fruit, then unified or mixed with the apple green color:
luz:
With thllo repasamos toda la fruta dejando un brillo de luz:
> With the yellow color we review all the fruit leaving a brightness of light:
Aplicamos rojo y rosa pálido sobre la otra fruta de la misma manera anterior aplicaremos lo luz:
We applono más oscuro al más claro dejando un brillo de luz:
> We apply red and pale pink on the other fruit in the same way as before we will apply the colors from the darkest shade to the lightest one leaving a shine of light:
Con un marcador permanente negro empezamos a trabajar sobre el fondo superior del dibujoágico:
With a a las frutas protagonistas, ya verán se ve muy mágico:
> With a permanent black marker we begin to work on the upper background of the drawing, this gives more life to the protagonist fruits, you will see it looks very magical:
Seguimos trabajando en el fondo o parte del dibujo adicional, agregaremos una superarrón)
We contapoyadas las frutas usando colores (amarillo y marrón)
> We continue working on the background or part of the additional drawing, we will add a surface where the fruits will be supported using colors (yellow and brown)
Fotografía guía
Guide photogrs://

[Guide photography](https://maocalgoya.wixsite.com/artesplasticas/oleowww.paisajesybodegones.com/2017/05/bodegones-al-oleo-pinturas-de-frutas.html?m=1)

[Guide photography](https://www.paisajesybodegones.com/2017/05/bodegones-al-oleo-pinturas-de-frutas.html?m=1)

I hope you liked it, I made it with love for you ❤
See you in the next ❤

%20(1).gif)
---
Posted from my blog with SteemPress : https://app-1540953539.000webhostapp.com/2019/07/manzanas-apples-prismacolor-%f0%9f%8e%a8
---
> We review colors, let's check them out even more and this is how you get the final result: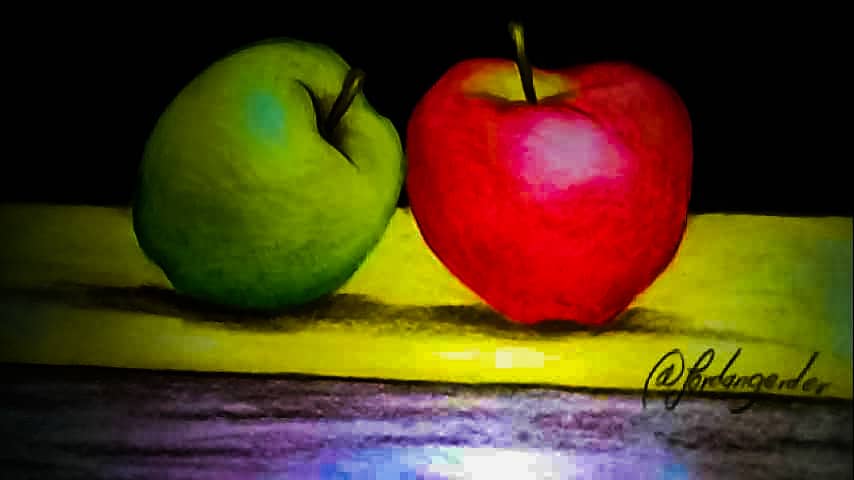 Fotografía guía
Guide photography
Espero te haya gustado, lo he elaborado con cariño para ustedes ❤Nos vemos en la próxima ❤
> I hope you liked it, I made it with love for you ❤See you in the next ❤
---
Posted from my blog with SteemPress : https://app-1540953539.000webhostapp.com/2019/07/manzanas-apples-prismacolor-%f0%9f%8e%a8
---
/manzanas-apples-prismacolor-%f0%9f%8e%a8
---