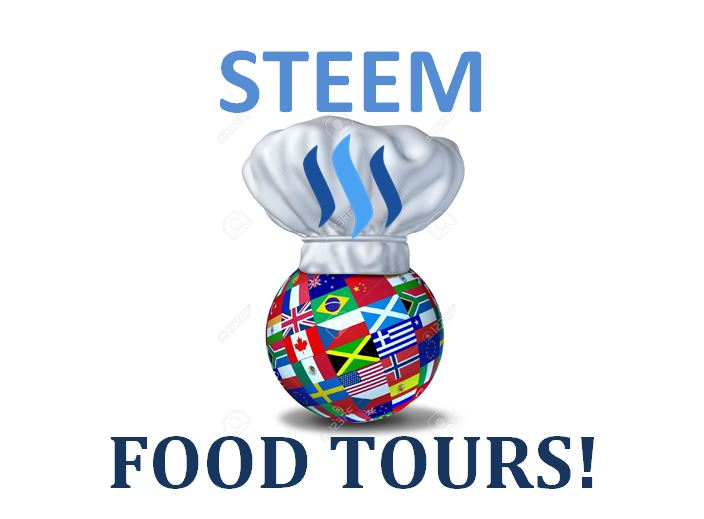 STEEM Food Tours #93
Submit a Restaurant Review for a Chance to Win STEEM!
Welcome to the 93rd edition of the @STEEMFoodTours will be a weekly contest to begin gathering restaurant reviews on the STEEM blockchain.

Contest Rules

- Create a post and title your entry:

'STEEM Food Tours #_ : Name of Restaurant - Location of Restaurant'

- Review a restaurant. Post must include a minimum of 3 photos.

- Upvotes & ReSTEEM's appreciated (but not required)

- Use #steemfoodtours as a tag for your post.

- Use original words and photos only.

- Please try to include a link to the restaurant's website, if possible.

- Comment a link to your entry in the comment section of this main weekly post.

- Contest will end at post payout (7 days from post creation)

Prizes & Judges
1st Place - 60% of Liquid Rewards earned from this post
and 1,000 FOOD Tokens
2nd Place - 40% of Liquid Rewards earned from this post and 500 FOOD Tokens
Every Honorable Mention Receives 100 FOOD Tokens
Recently, @jasonbu from @foodiesunite reached out and added some FOODIE tokens to the prize pool.
Many factors will go into the winning decision. I will be looking for high-quality reviews of local eateries. It can be any type of eatery such as restaurants, bars, bistros, and cafés. I want to see the hidden gems! If someone was visiting your town from far away, where would you recommend they eat? This is a great opportunity to enjoy a meal and get compensated for the review!
The goal is to make the STEEM blockchain a platform for de-centralized, censorship-resistant reviews.


WEEK 2
WEEK 3
WEEK 4
WEEK 5
WEEK 6
WEEK 7
WEEK 8
WEEK 9
WEEK 10
WEEK 11
WEEK 12
WEEK 13
WEEK 14
WEEK 15
WEEK 16
WEEK 17
WEEK 18
WEEK 19
WEEK 20
WEEK 21
WEEK 22
WEEK 23
WEEK 24
WEEK 25
WEEK 26
WEEK 27
WEEK 28
WEEK 29
WEEK 30
WEEK 31
WEEK 32
WEEK 33
WEEK 34
WEEK 35
WEEK 36
WEEK 37
WEEK 38
WEEK 39
WEEK 40
WEEK 41
WEEK 42
WEEK 43
WEEK 44
WEEK 45
WEEK 46
WEEK 47
WEEK 48
WEEK 49
WEEK 50
WEEK 51
WEEK 52
WEEK 53
WEEK 54
WEEK 55
WEEK 56
WEEK 57
WEEK 58
WEEK 59
WEEK 60
WEEK 61
WEEK 62
WEEK 63
WEEK 64
WEEK 65
WEEK 66
WEEK 67
WEEK 68
WEEK 69
WEEK 70
WEEK 71
WEEK 72
WEEK 73
WEEK 74
WEEK 75
WEEK 76
WEEK 77
WEEK 78
WEEK 79
WEEK 80
WEEK 81
WEEK 82
WEEK 83
WEEK 84
WEEK 85
WEEK 86
WEEK 87
WEEK 88
WEEK 89
WEEK 90
WEEK 91
_Stay Tuned for Week 92!_

Best of Luck

_and Happy Eating!_

[
)](https://discord.gg/XRhDPbW)
Sign Up to Menē for $5 towards 24K Gold Jewelry
Join Airbnb and Save $40 on your first trip
Get Paid to Read Your E-Mails with Earn.com
Earn STEEM Dollars & more by completing online tasks
Convert your online activity into Gift Cards, Crypto or Paypal with GaB
Join the SWIFT Universal Basic Income Experiment
Get Paid to Get Fit with the SweatCoin App
Use Bitcoin for Amazon Purchases and Save $$$
Join the TRYBE Publishing Platform on the EOS Network
Join Lolli for Bitcoin Rebates
Sign Up to Binance - A Leading Crypto Exchange
Join the TRYBE Publishing Platform on the EOS Network
Join Lolli for Bitcoin Rebates
Collect, Trade & Battle on the Blockchain with SteemMonsters
Join Actifit - Get Rewarded For Being Active
Send a Tip Using the Bitcoin Lightning Network
[
)](https://steem.com/)

---