The entire world is really really really really focused on Covid-19. We all know this. We have seen friends stop being friend with life-long friends because of a difference of opinion online about how this or that should be handled as far as the virus is concerned. We see people fly off the handle about terms they never used before this year such as "flattening the curve" and "asymptomatic."
But that is not what any of what I am going to talk about right now is about. I'm going to talk about how Thailand, the country I temporarily call home had 54 road deaths yesterday and nearly 3,000 injuries because of said dangerous road. The road death of 54 exceeded their total combined Covid-19 death rate since this entire fiasco started.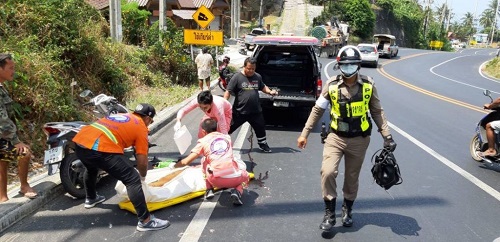 src
This isn't new or unusual either. It has been this way for a very long time in Thailand. Yet it was always treated with a very passing sense of care. There has never been any sort of major overhaul of really anything that happens on the roads as far as road enforcement of really any sort of law is concerned.
People drive 4 or 5 people to a motorbike and load the backs of pick-up trucks up with everyone in the village who wants to go somewhere with a drunk uncle who is driving on a regular basis. Seatbelts in the cars that I have been in are often buckled under the passenger in order to avoid that annoying sounds the car makes to remind you that you are supposed to be wearing it.
It is extremely well-known here that the only person that needs to be wearing a helmet is the driver of the bike and this helmet wouldn't pass even the simplest of crash tests in the west.
And yet.... nobody cares. It has been that way for the 18 months I have lived here and from the people that I talk to that have lived here a much greater amount of time than me, it always has been this way. So tell me... why, all of a sudden is there such a huge lockdown on the prevention of a disease that has killed fewer people in 4 months than the roads in Thailand kill every day?
I realize that the road death toll yesterday was exasperated by a couple of road accidents that involved multiple high-capacity vehicles. But at the same time we need to look at the high number of injuries (3000) in the same day - and these are just the ones that were reported.
How are these numbers not justifying the same reaction that has been put onto people just trying to live their lives? As long as a person is moving in traffic and not walking somewhere around other people, it doesn't really seem to matter that they are on a moving, gasoline-powered vehicle that can end their lives much faster than a disease with a really low kill rate - yet almost nothing is done about this...and nothing has been done about it, ever.
I want you to think about this: Thailand has had 54 Covid deaths in TOTAL. Last year they had 26,000 road deaths making them the 2nd most deadly country in the world per capita for road fatalities. Now they have the added honor of breaking the total number of Covid deaths in a single day with the complete absence of any sort of rudimentary road safety enforcement.
If the objective is to save lives (and i dont think it is!) then they are doing this totally wrong.