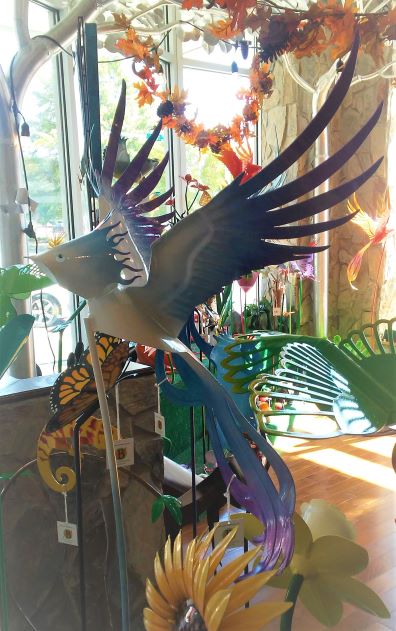 Last Christmas, my cousin gave me a bright red metal Cardinal to go in my yard, because she knows I am Gaa Gaa for artsy yard things. Somehow, I don't have a photo of it for my post. Wha??? I thought I took some in December, but maybe I thought they weren't good and deleted them....LOL ! Who knows now, but it is currently in my front yard flying through a natural area. It is dark outside however and I'm not taking a flashlight out there to take a picture for this post.
It was made by a small local company called Beechwood Metal Works. They make nice yard things like you are about to see and they also do large installations for museums and children's hospitals and etc.
The Owl and Rabbit store is where they sell some of their fun yard art, along with other assorted artsy things. I LIKED them on facebook back when my cousin gave me the cardinal, but until last Friday (a week ago) I had never been to the store. I had taken the day off and decided that would be my prize to myself after I was a good girl at the dentist. 😄
So off I went !
Crossing the corner I could see this carousel rabbit in their side window.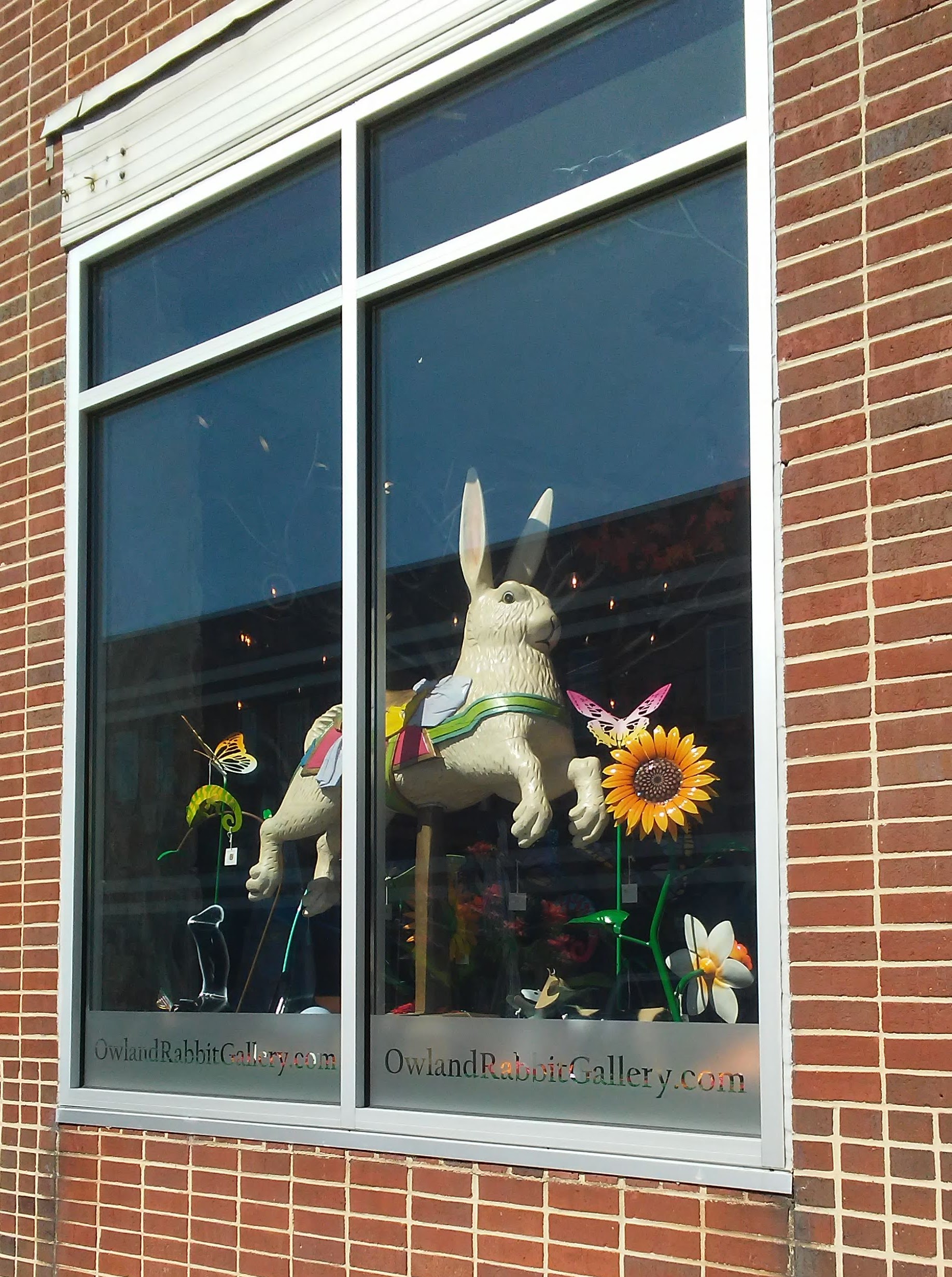 They are in a cute corner shop in the old downtown area.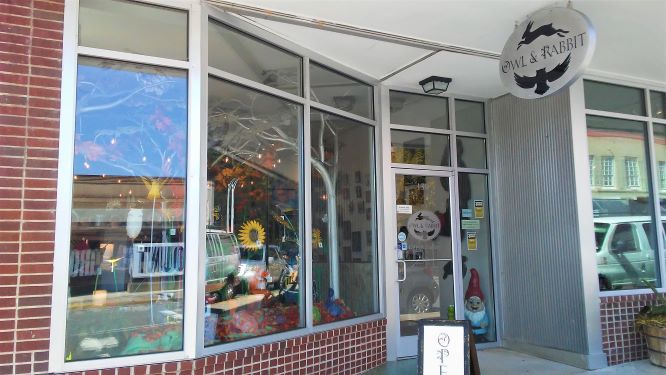 Yay !! They are open ! ok, ok, I already checked and knew they were.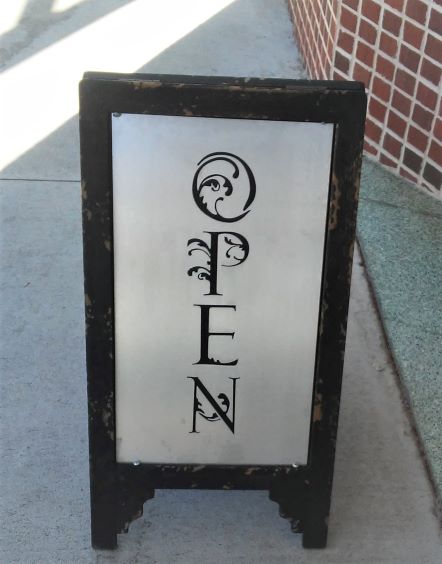 A glance in the window right before I got to the door.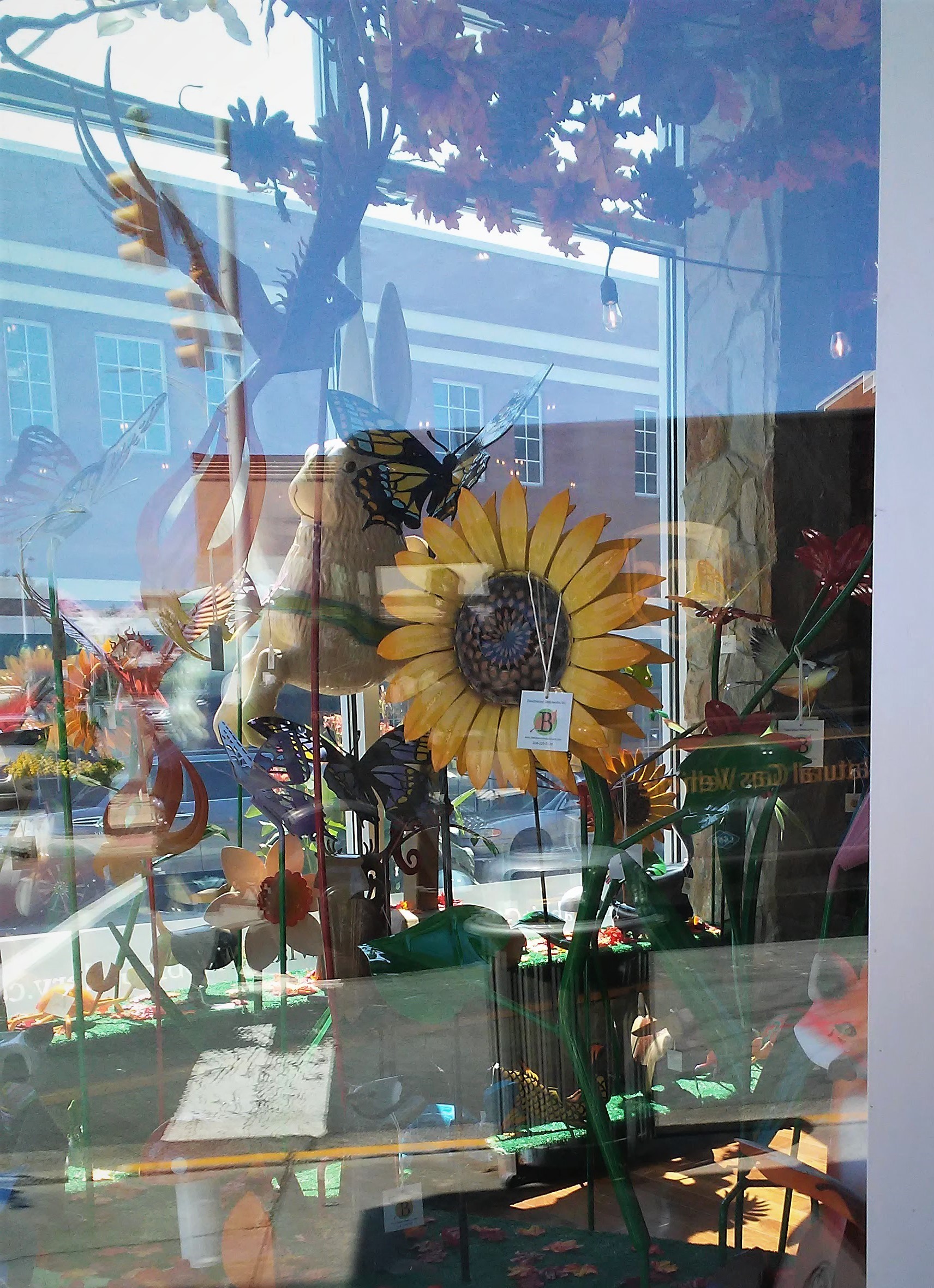 I'm finally here !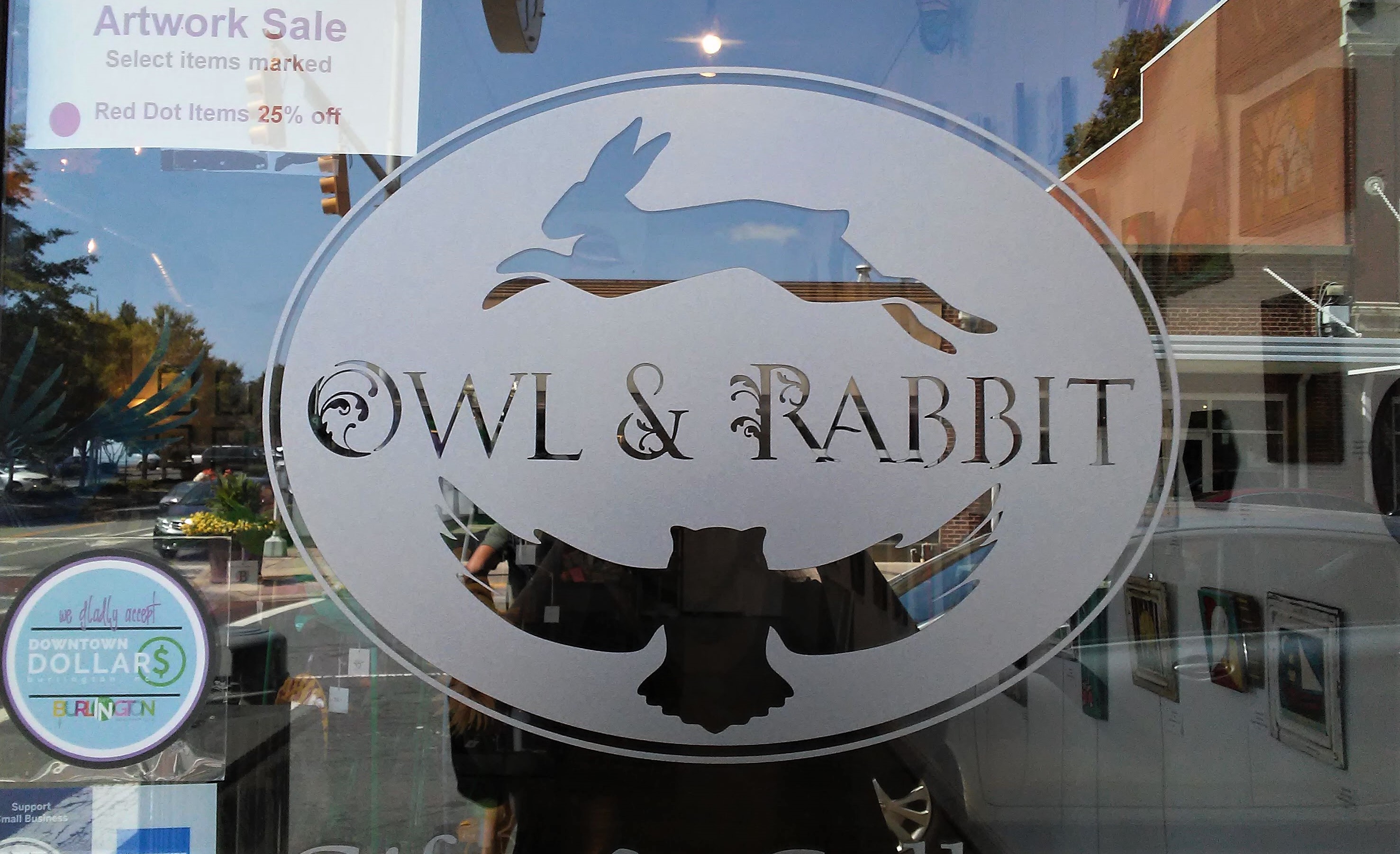 On Friday when I went, this centipede held the door for me. Wasn't that nice??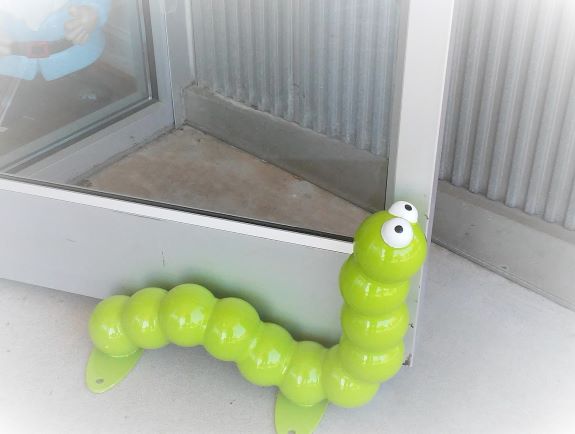 !
The next time I went (yes, I have already been back on Wednesday when I was out for my Wednesday walk).... This gnome was watching from the inside. I believe the centipede was trying to tell me to watch out because the gnome is a prankster.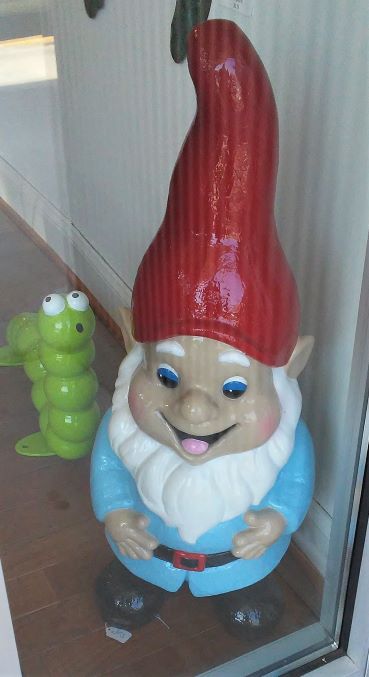 Below is a sample of some of the fun yard items they have. Flowers and Butterflies, Chameleons and Bees.... of various colors.
💙 💙 💙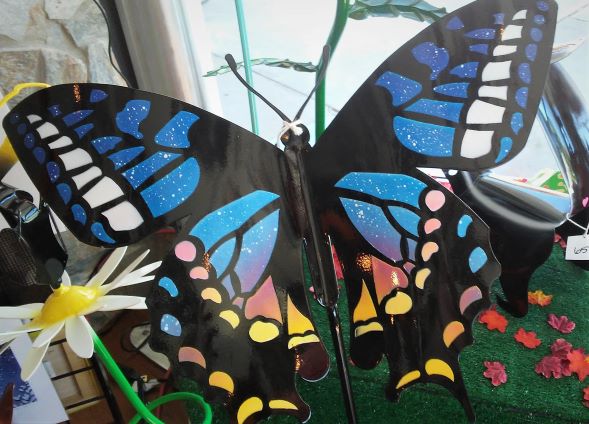 💜 💜 💜
I bought this bee on the purple flower for my sister. We love bees and I always get her bee things.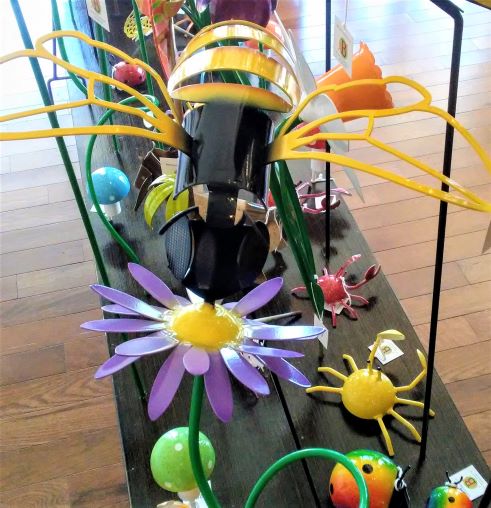 Don't have a green thumb? Then buy some flowers that never die ! Put them right out in your flower bed. Nobody will be able to tell they are not real from the road. ha ha
💚 💜 💜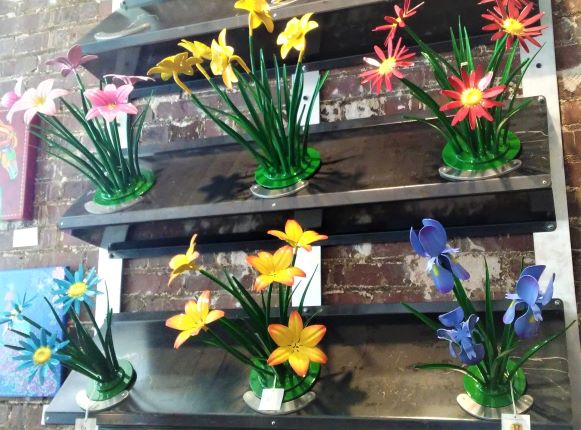 💜 💜 💜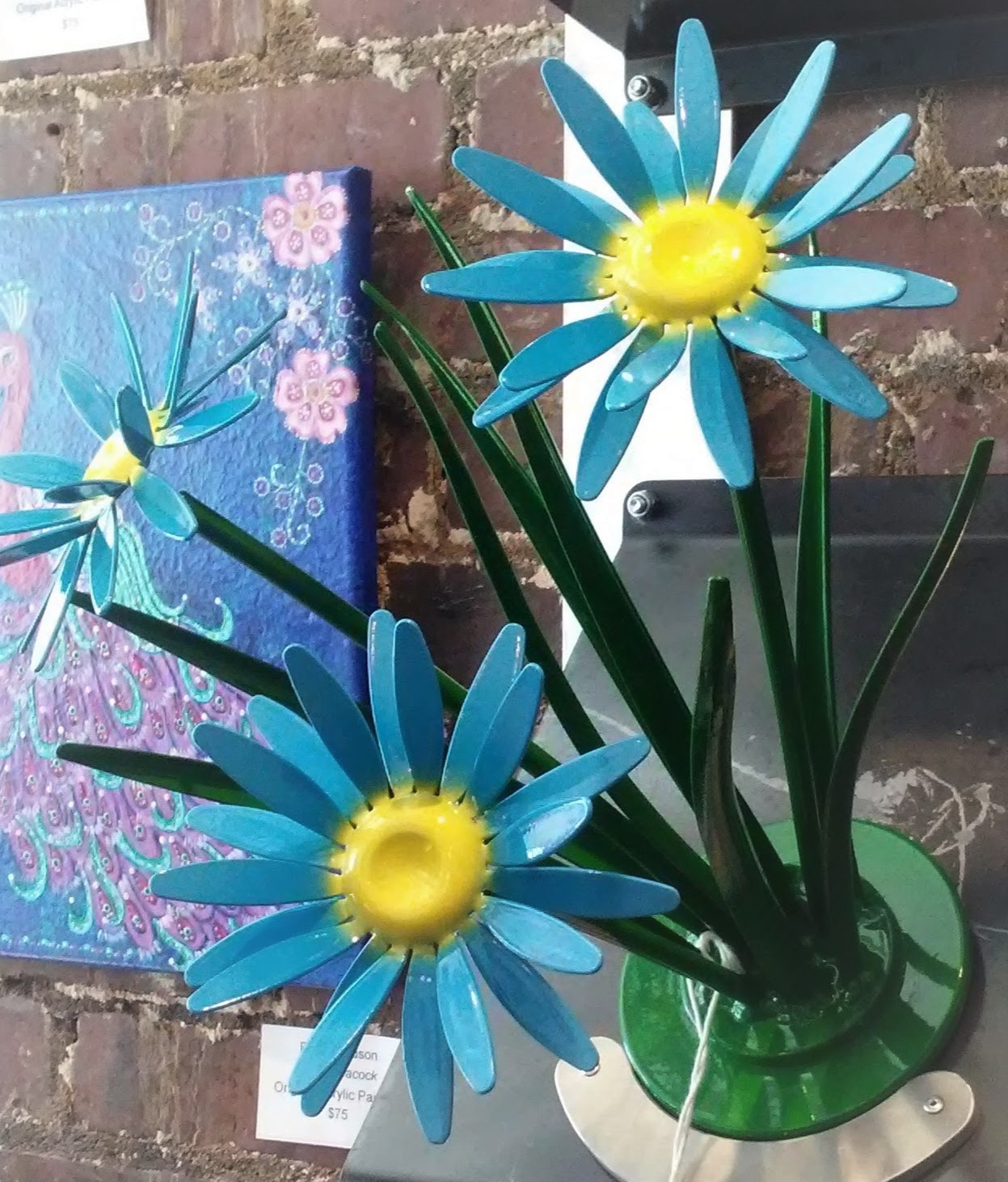 💛 💛 💛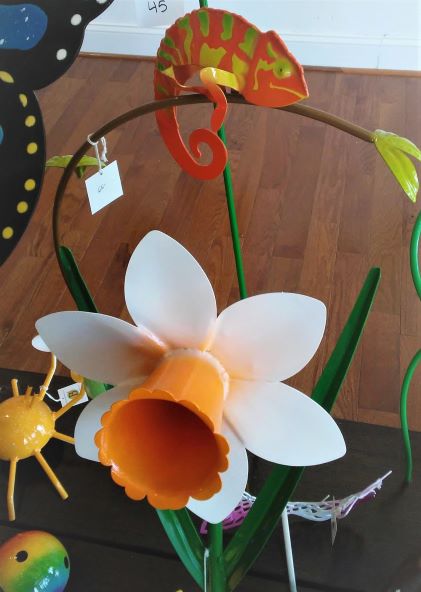 💙 💙 💙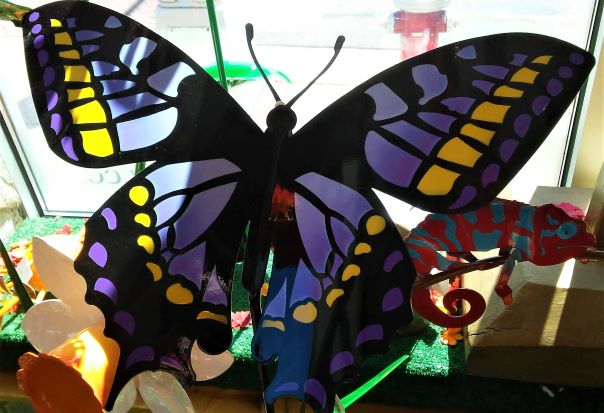 💜 💜 💜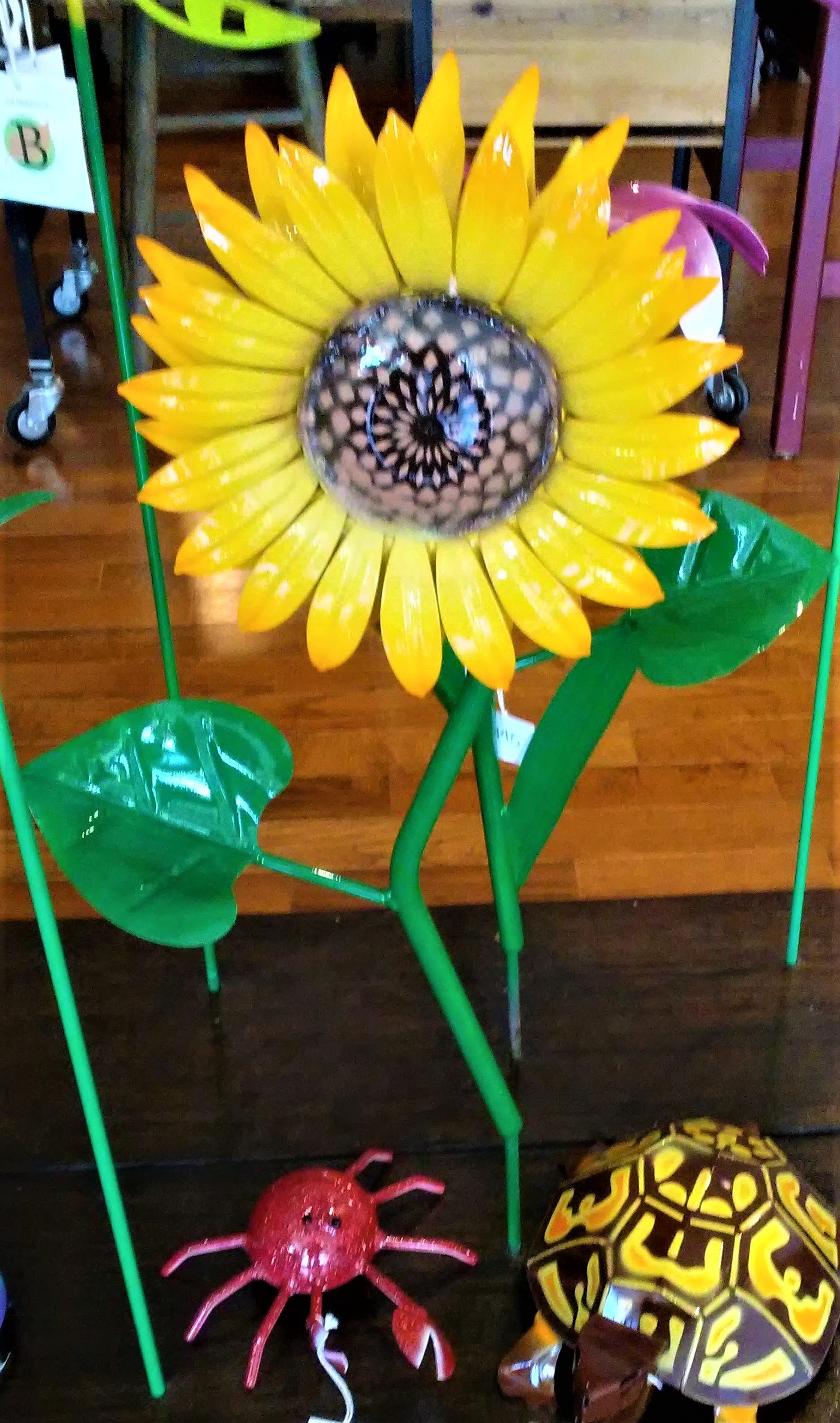 💚 💚 💚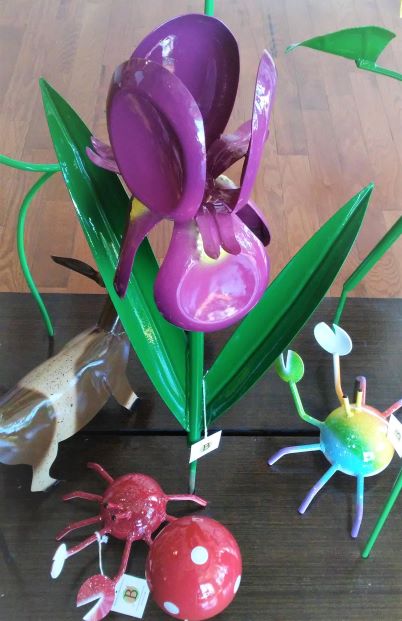 💛 💛 💛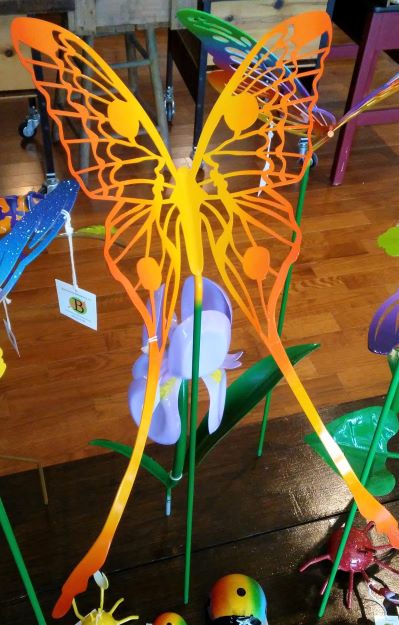 💗 💗 💗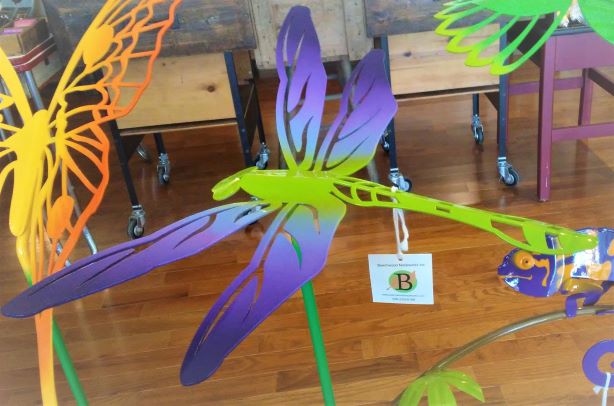 💙 💙 💙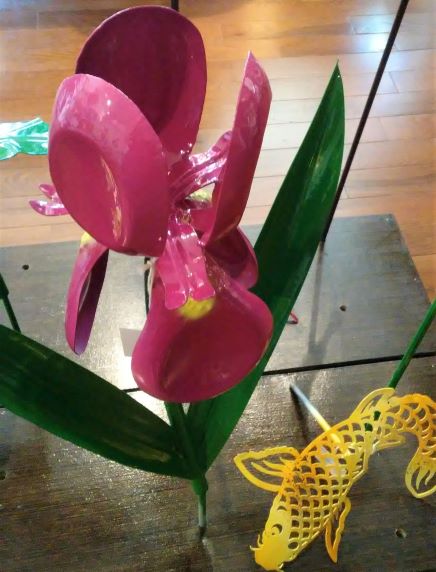 💙 💙 💙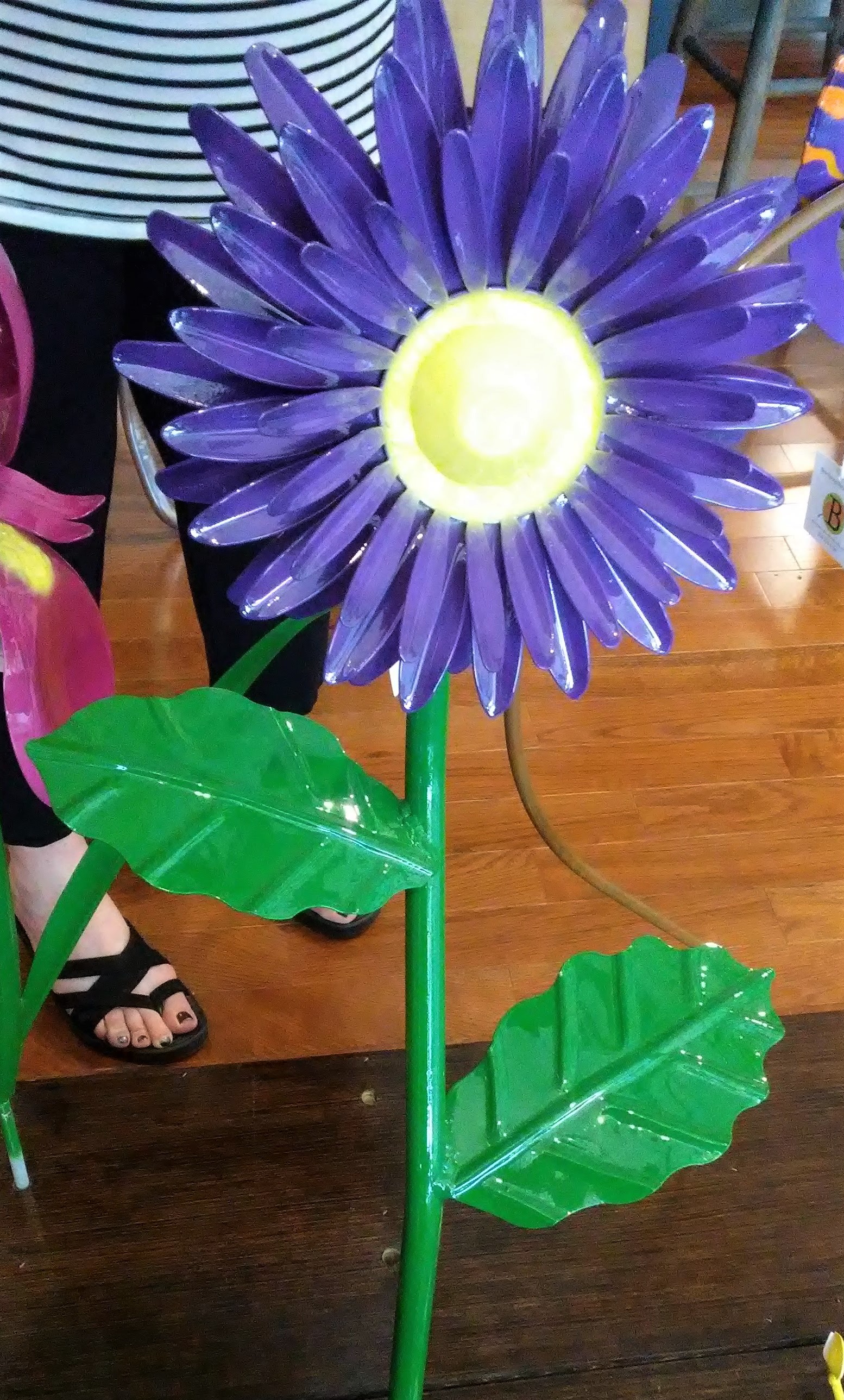 💜 💜 💜
This rainbow dragonfly followed me home on Wednesday..... so I had to keep it.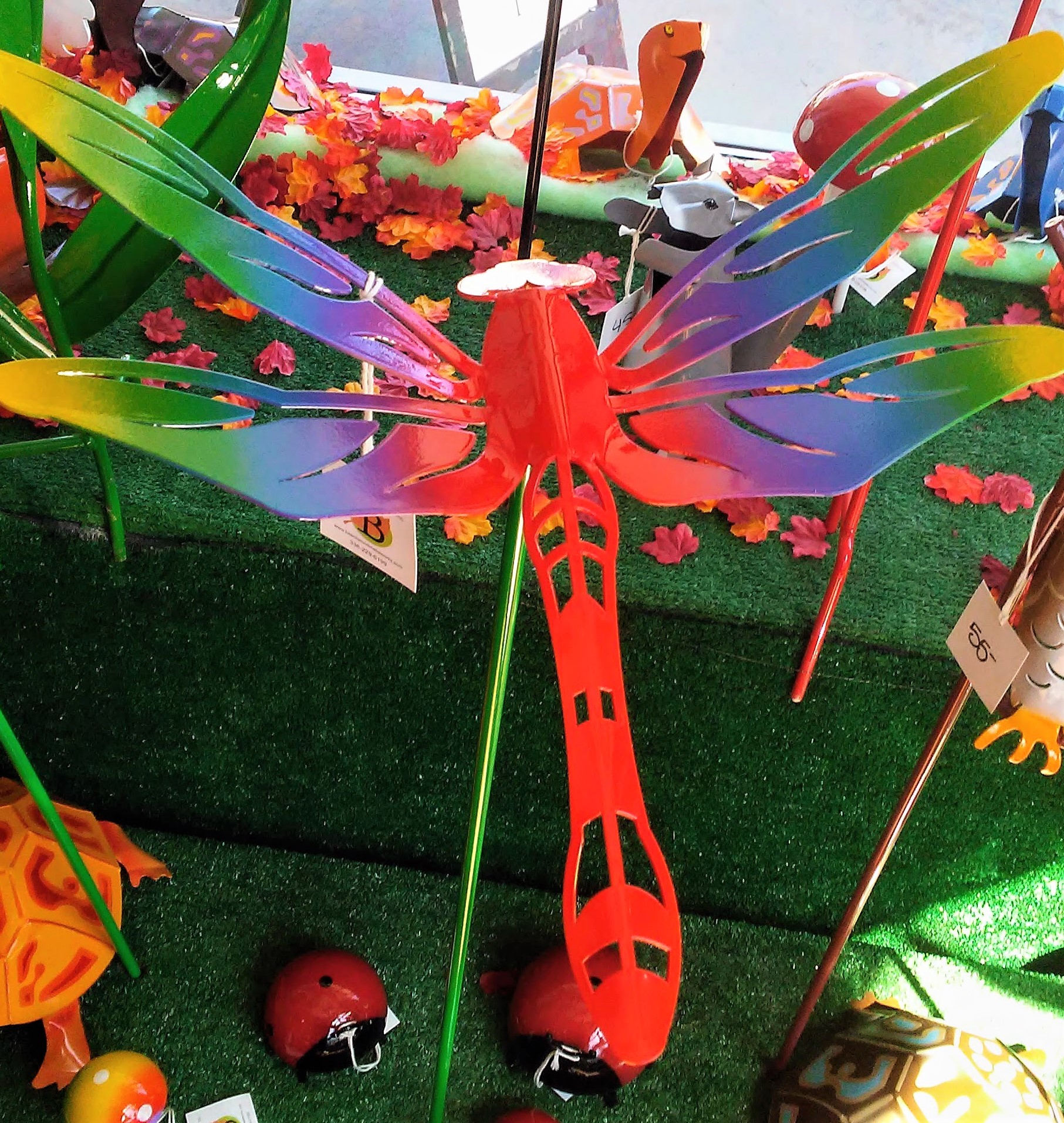 💚 💚 💚
So.... if this looks like it is on my porch right now, that's because it is. This one I got on the first store visit. It is on a curved green branch.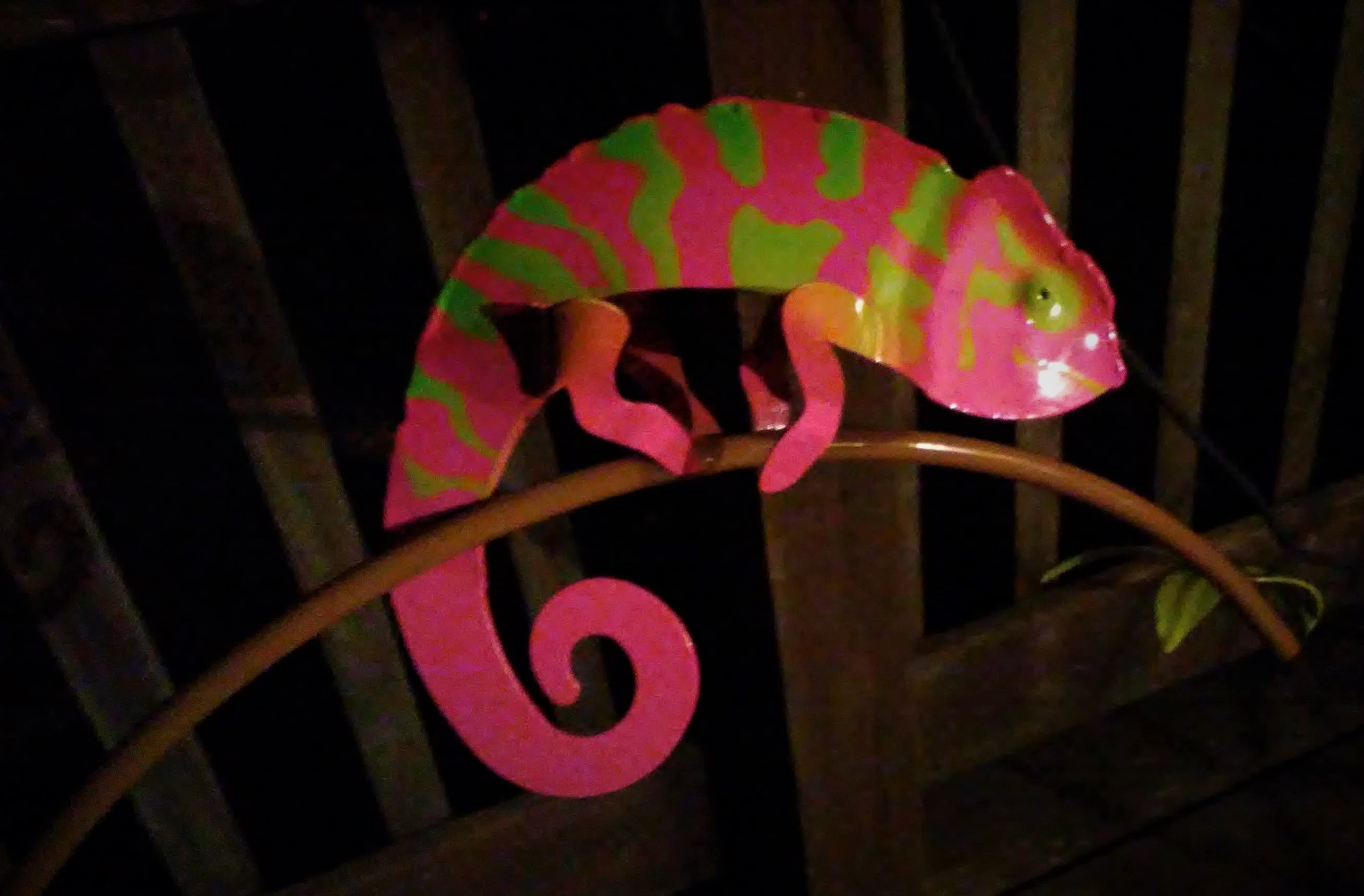 From the first day I saw it, I thought this Phoenix would be coming home with me before the spending is over, but the more and more I have looked at my photos, I believe the white/purple/blue Phoenix in my first photo might be the one instead. I believe it would show up famously between some of next summer's foliage.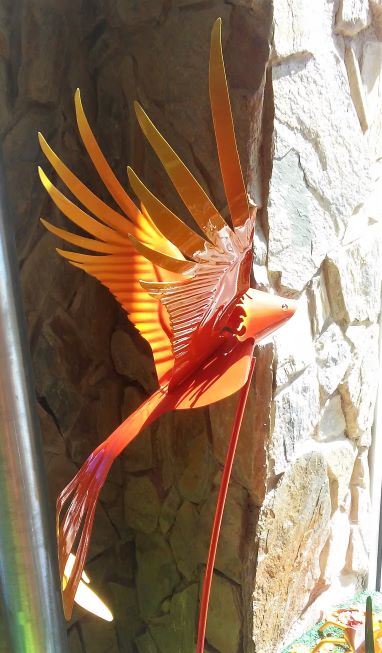 Now these aren't exactly cheap, but you have to know, that these folks paint them and then bake the paint on like the paint that is on your car, so they should (and do from what I have seen), hold their color and finish for years if you don't bang them up !
I hope you enjoyed my post. I created it for #marketfriday hosted by the most famous @dswigle. 😈
I would say YAY !! IT'S THE WEEKEND !! ...but I still have a mandatory 5 Saturday hours in the morning. I'll try not to talk about it further, since I don't want my post down-voted for excessive cursing. LOLOLOLOL !!!
Hope you are all doing well.
Love ya ! Mean it !
Jacey