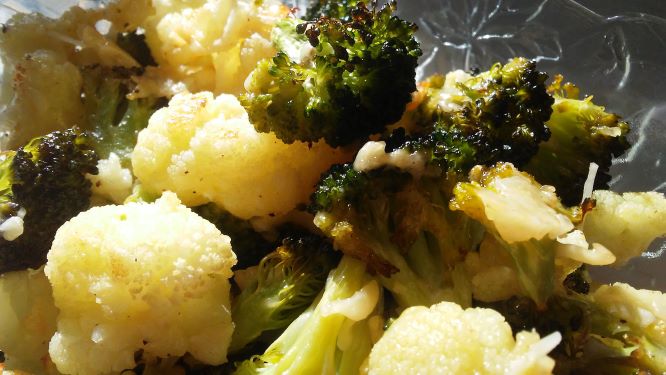 The last time I was at my sister Jan's house, she fed me supper so I would let her borrow my sewing machine and help her with a new window shade she was trying to make. :) Oh yes, I work for good food. LOL !!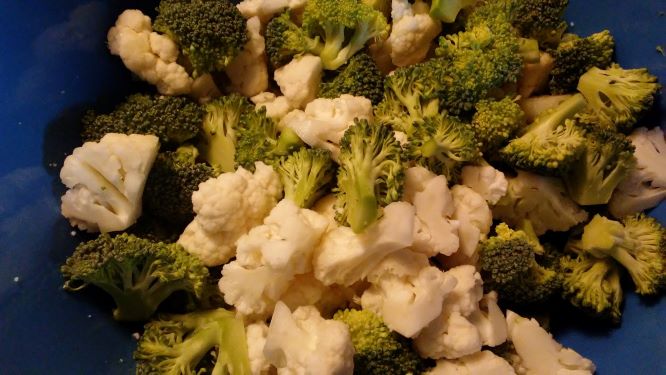 One of the sides she had made to go along with some grilled chicken was Broccoli & Caulifower Roast. I believe she found the recipe on Pinterest. It was so simple, yet I found it delightfully yummy. You simply cut up some broccoli and cauliflower, mix it together in a bowl. (I'll put the entire recipe below) Then you drizzled some olive oil, added some shredded parmesan and freshly pressed garlic into the veggies.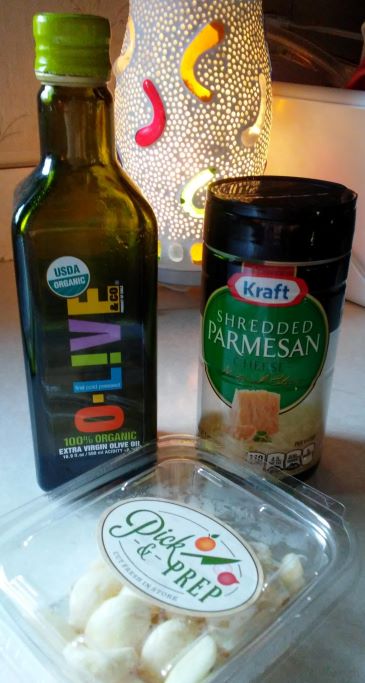 Yes.. .I cheated, I bought the garlic cloves already stripped. :)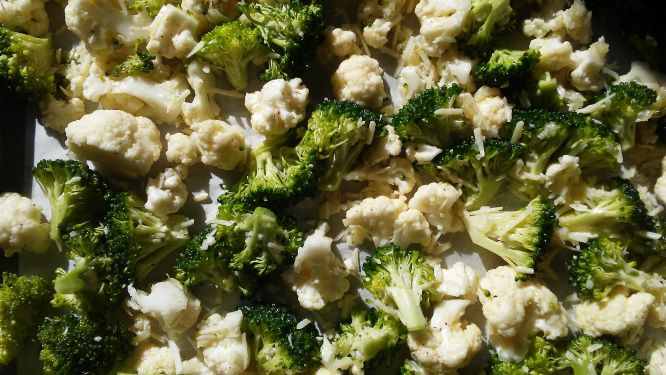 Then you spread it out on a baking sheet, making sure there is only a single layer and that it is not piled up in places.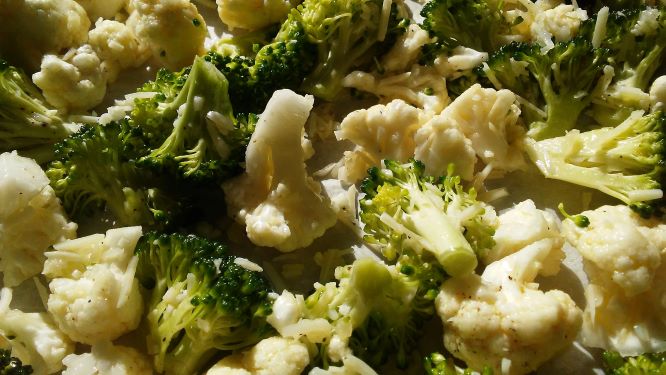 You bake around 400 degrees, it needs to be high like that and it only takes about 20 minutes. The recipe says to flip it halfway through and although that has been my intent, one time I forgot and it came out just fine.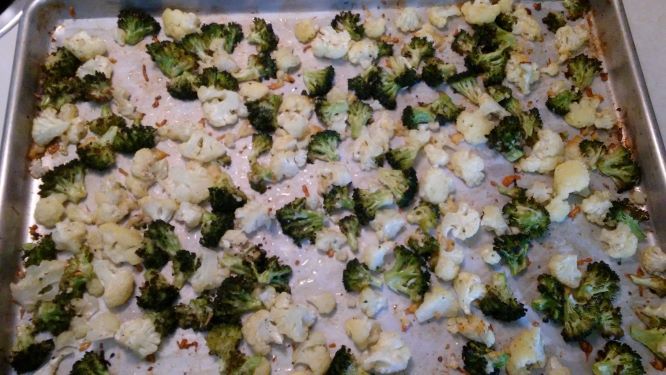 It gets a little crispy in places, in a very nice way and you can cook it a little more if you like more crispy, but keep a close eye..... or else ! :)
Then scoop yourself up a bowl and enjoy !
Of course you can do this with only one veggie or other veggies, but if the other veggies you use are more solid, you would have to change your cooking time.
Here is the recipe as my sister gave it to me. I don't usually make 8 cups at a time, so I adjust the other ingredients accordingly.
4 cups of broccoli (florets)
4 cups cauliflower (florets)
1/3 cup olive oil
6 cloves of garlic (minced) I use my garlic press
2/3 cup grated parmesan cheese (divided)
salt and pepper to taste
-Preheat your oven to 400 degrees (F). Line a large baking sheet with foil or parchment paper.
-Mix the broccoli and cauliflower florets in a large bowl. Add the olive oil, garlic, and half of the parmesan cheese. Toss to coat. Sprinkle with salt and black pepper, then toss again.
-Arrange the veggies in a single layer on the lined baking sheet, giving them plenty of room to breathe. Bake for 18-22 minutes, until the edges are browned. (Toss halfway through for more even cooking.)
-Right before serving, toss with remaining parmesan cheese, and sprinkle with additional salt & pepper to taste.
There !! Try it, you'll love it ! If not, send it to ME. :)
Hope you are having a wonderful weekend.
Luv ya !
Jacey
happily full