I haven't done a lot of painting in the recent months and I am trying to get myself back into the groove. Life... .life happens and fun things sometime get put on the back burner, where they go sadly cold for a while.
I know abstract art is not for everybody, but through my life I found that the abstracts that others did was really what caught my eye when I was out and about. I think it is because very bright, bold colors make my brain spark !
I also think it is fun because it is natural for our eyes and brain to try to make some kind of sense out of what we are seeing and we look for familiar shapes and form. It's got to have some sort of order.... right?? There must be a meaning to it....right??... but what is it? Our minds wonder around and around in it while our brain plays with what we see..... or that is how it is for me.
This is how one of last night's small pieces came out. I had not started in this direction at all.
Please feel free to guiltlessly laugh. I don't take myself too seriously either. :)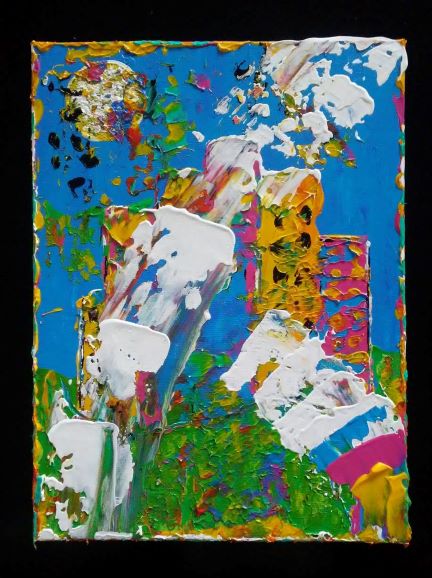 I started to do some colorful abstract buildings in a cluster. I had a lot more detail on them than you see below and had decided the piece was done. I reached over to get something or do something and knocked one of my paint tubes over on it where it obliterated the tops of two of the buildings and the damage was not repairable as far as getting it back to where it was before the fall as too many colors and layers were involved. Drats !! It was in the wee hours of the morning and so my natural response at the time was to slap across it a few more times with that same paint tube. LOL Yes ! It was not in a fit of temper, but once it was no longer done, what was the next solution..... direction.....path. After a few slaps..... I applied the "artsy swipes" of white, where it became a totally different type of piece..... and THEN.... I was done again.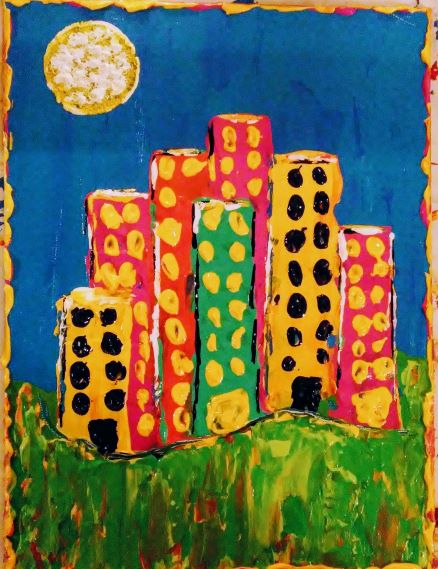 I put it over to dry, got cleaned up and went to bed (at 4:30 AM !)...... This morning, I decided I liked the way it turned out, even though it was nowhere near the first "finish". It has great color and energy..... even if the content is ... .well.... not sure about that. ha ha
I like photos of wet paint at different angles, so I include this fun photo too.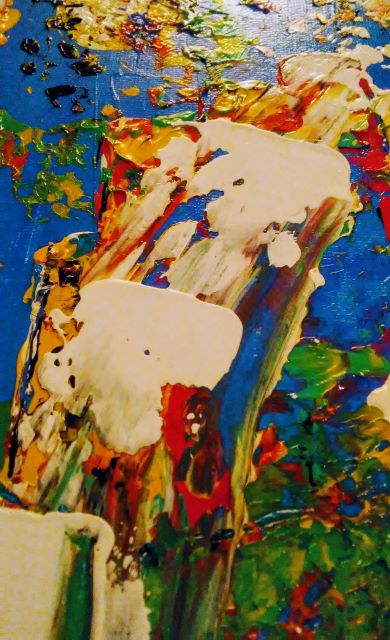 I have another one I did before this. I'll put it up later so you can judge that one too. Typing that made me laugh !
Hope you are are having a wondering Saturday.
Love you ! Mean it !
Jacey
I had some paper lanterns laying in a chair across the room and thought they were pretty in a pile, so I took a photo on my way to bed.