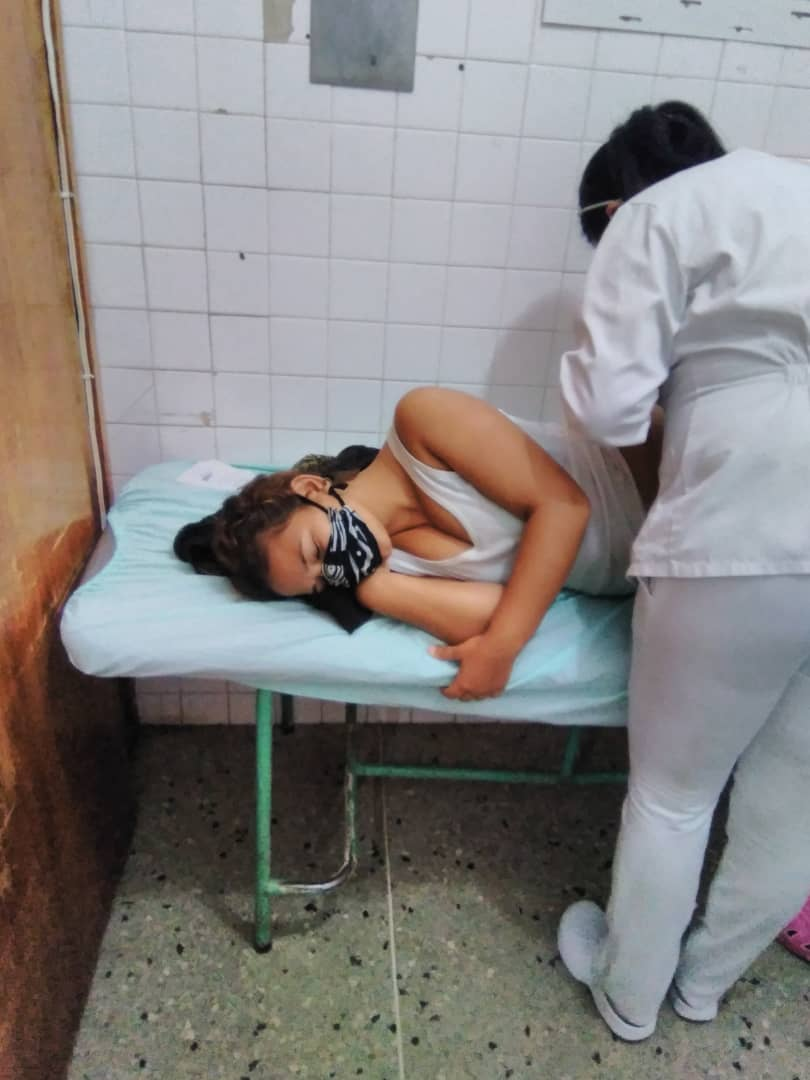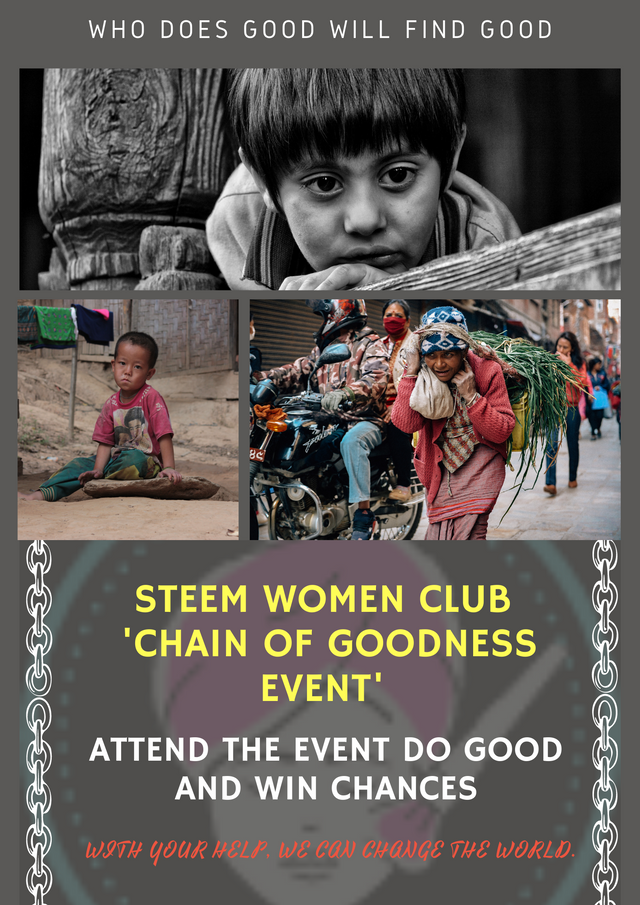 Steem Women Club Community 'CHAIN OF GOODNESS EVENT' | Do Goodness and Earn |Do Goodness Find Goodness |

---
"Dios dame salud que yo me encargo del resto", es una expresión que mi mamá decía con frecuencia cuando nos veía abrumados, yo era una adolescente y no lo entendía.
Mamá tiene razón, tener salud es mucho más importante que tener dinero, con salud puedes trabajar y conseguirlo. Sin salud no podemos hacer nada. Por eso debemos dar gracias a Dios cada día de tener salud, sobre todo en estos momentos de pandemia, y ser un poco más conscientes.
Inicio de esta manera mi introducción, porque mi amiga @yecikaulacio, y compañera de #steemit, ingreso aquí a la plataforma mediante mi invitación y el apoyo de su hermano, con la esperanza de mejorar si situación económica, ella es de Churuguara, muchos de ustedes quizás la han visto. Ahora está pasando por una situación de salud, bastante delicada.
"God give me health I'll take care of the rest", is an expression my mom often said when she saw us overwhelmed, I was a teenager and I didn't understand it.
Mom is right, having health is much more important than having money, with health you can work and make it. Without health we can't do anything. That is why we should thank God every day that we have health, especially in these times of pandemic, and be a little more aware.
I start this way my introduction, because my friend @yecikaulacio, and partner of #steemit, entered here to the platform through my invitation and the support of her brother, with the hope of improving her economic situation, she is from Churuguara, many of you may have seen her. Now she is going through a health situation, quite delicate.
---
Ella ha expresado su sentir en algunas de sus publicaciones del diario.
---
---
Esa foto me la envió para mostrarme como estaba de inflamada, ha regresado al hospital de churuguara varias veces y con dolor, se hizo un eco con un diagnóstico que daba esperanzas de mejoría, pero continuó con el dolor, y hoy se vio bastante mal.
She has returned to the hospital in Churuguara several times with pain, she had an echo with a diagnosis that gave hope of improvement, but she continued with the pain, and today she looked pretty bad.
---

Primer estudio||First exam

Segundo estudio|Second exam
---
Se repitieron los estudios y estos arrojaron otro diagnóstico, la tienen que trasladar hasta Coro, allá hay una sola ambulancia por lo que debe esperar que llegue otra emergencia u otro paciente para poder regresar, mientras la tienen en observación.
El doctor que la atiende hoy le pinta otro panorama muy distinto al que tenía, los miomas siguen allí, tiene ovarios poliquisticos y un líquido encapsulado, que presumen puede ser un embarazo ectópico, pero la tiene que ver el especialista, necesito otro eco, rayos x y laboratorios.
The studiesexams were repeated, now they have another diagnosis, she has to be transferred to Coro, there is only one ambulance there, so she must wait for another emergency or another patient to arrive in order to return, while she is under observation.
The doctor who is attending her today paints a very different picture from the one she had, the fibroids are still there, she has polycystic ovaries and an encapsulated liquid, which they presume may be an ectopic pregnancy, but the specialist has to see her, I need another echo, x-rays and laboratories.
---
---
Sea lo que sea no es normal un sangrado de más de 15 días, dolores similares al parto y vómitos. Ella se ayuda es con este trabajo y sé que quizás la seguirán leyendo, porque dará su más grande esfuerzo por estar presente y activa, sea lo que sea son gastos médicos elevados y tratamiento que debe de costear incluyendo alimentación y movilización.
Hoy quise ayudarle y darle mi aporte económico. Pidiendo a Dios le regalé el don de la salud. La sane por completo y que no permita que esta situación la aleje de su mayor sueño que es ser mamá. Desde aquí es lo mejor que puedo hacer por ella. Y si puedes orar por ella, también te lo agradecerá.
Whatever it is, it is not normal to have bleeding for more than 15 days, labor-like pains and vomiting. She helps herself with this work and I know that perhaps you will continue to read it, because she will give her greatest effort to be present and active, whatever it is, there are high medical expenses and treatment that she must pay for, including food and mobilization.
Today I wanted to help her and give her my financial contribution. Asking God I gave her the gift of health. May He heal her completely and not allow this situation to keep her away from her biggest dream, which is to be a mother. From here is the best I can do for her. And if you can pray for her, she'll thank you too.
Translated with www.DeepL.com/Translator (free version)
---
_El gesto de amor más lindo y grande, es la oración._
_The most beautiful and greatest gesture of love is prayer._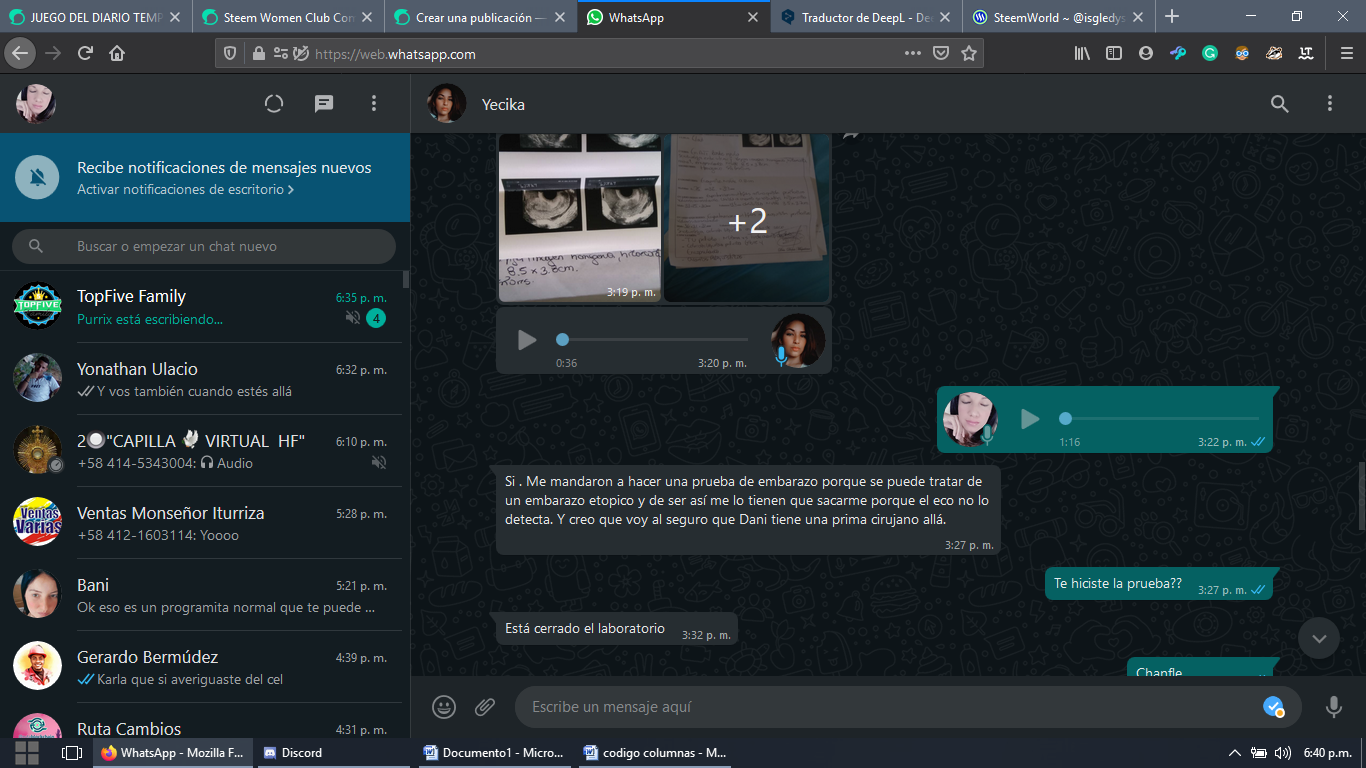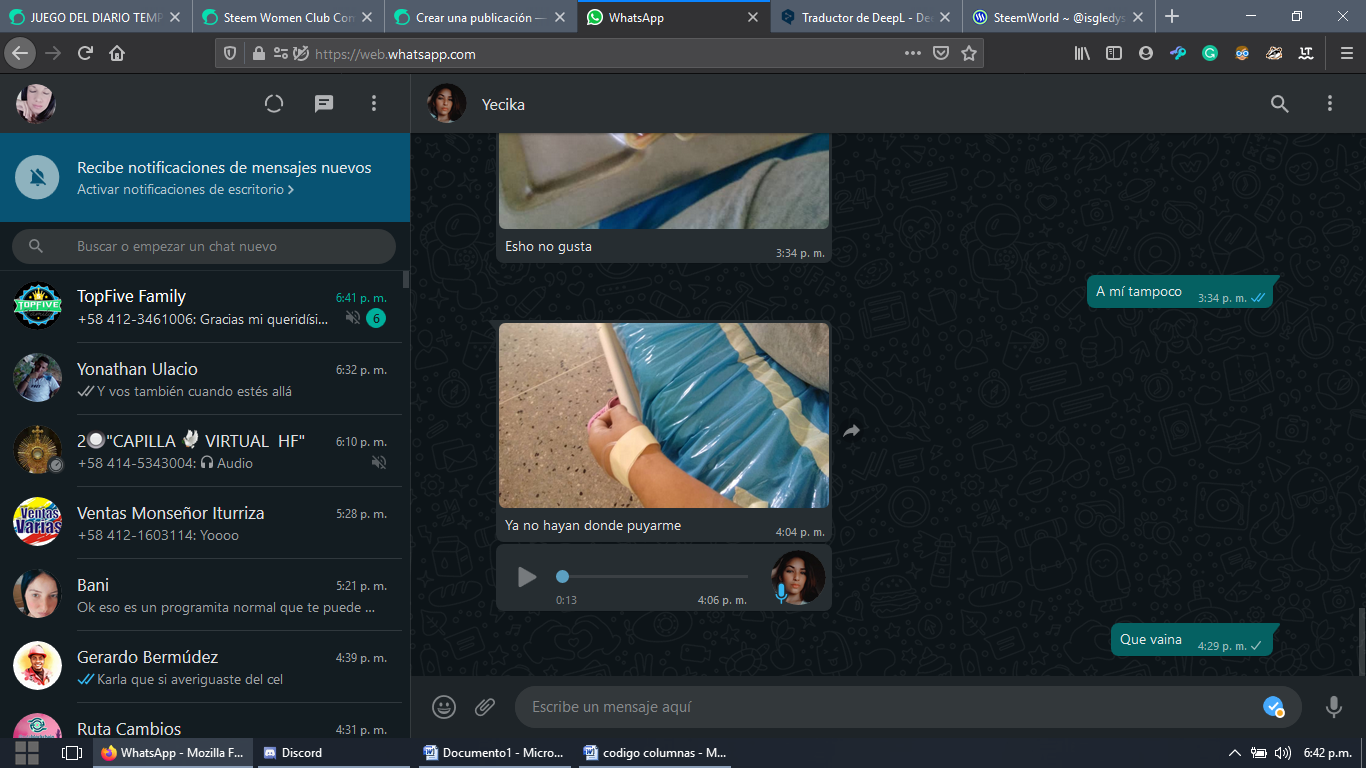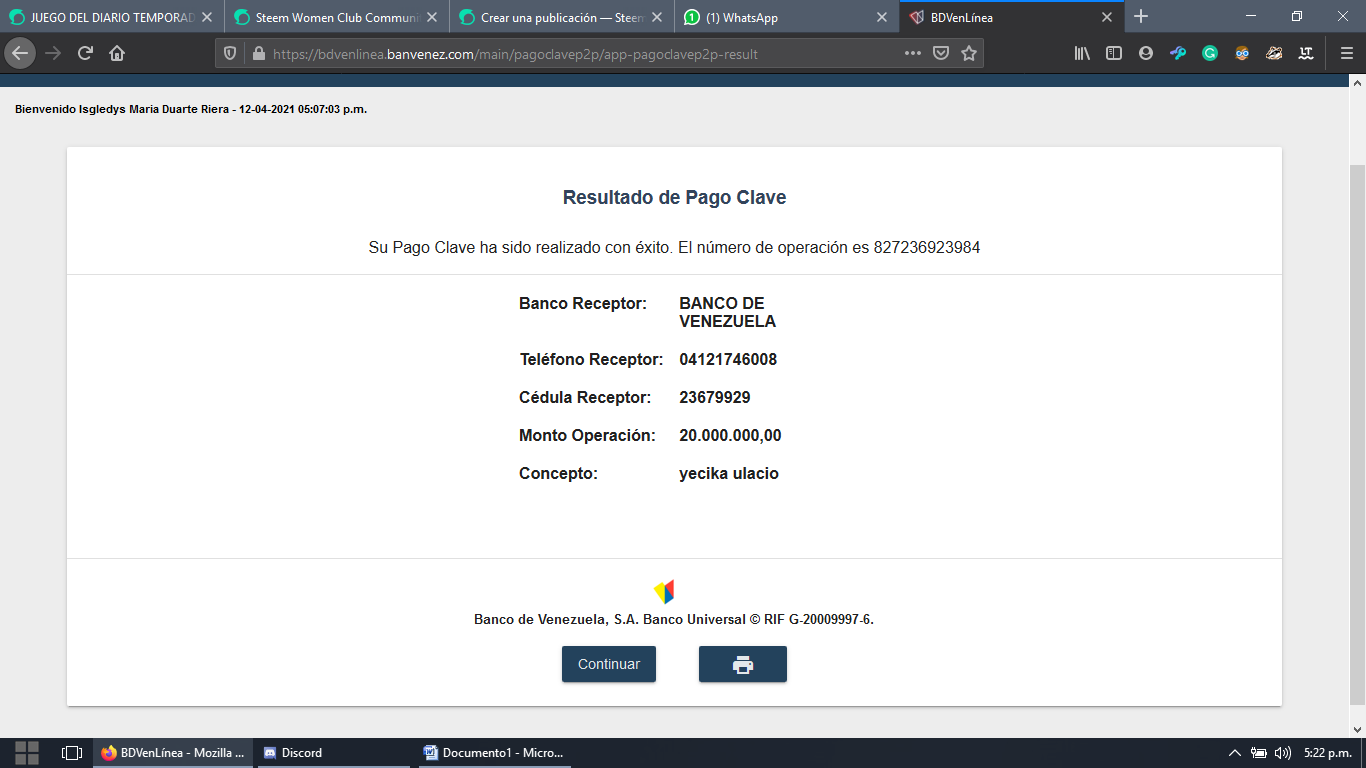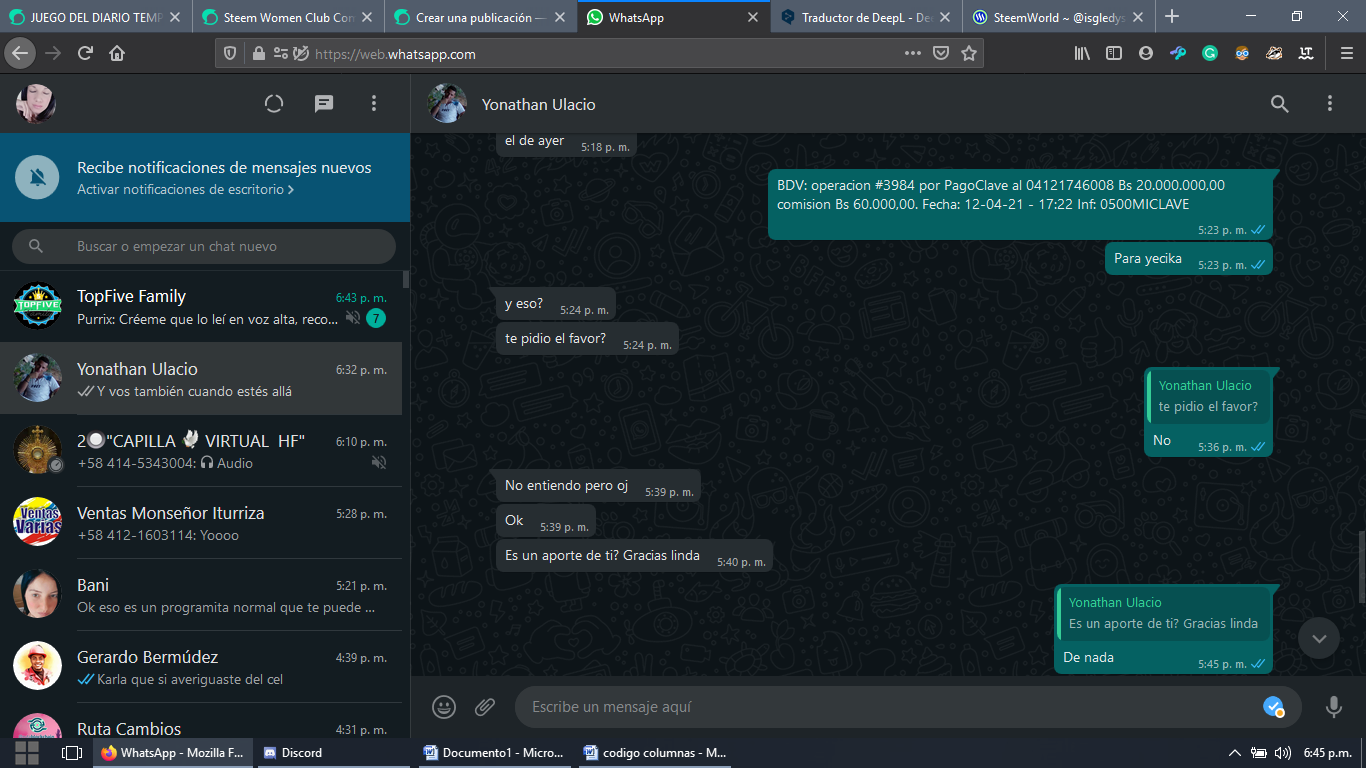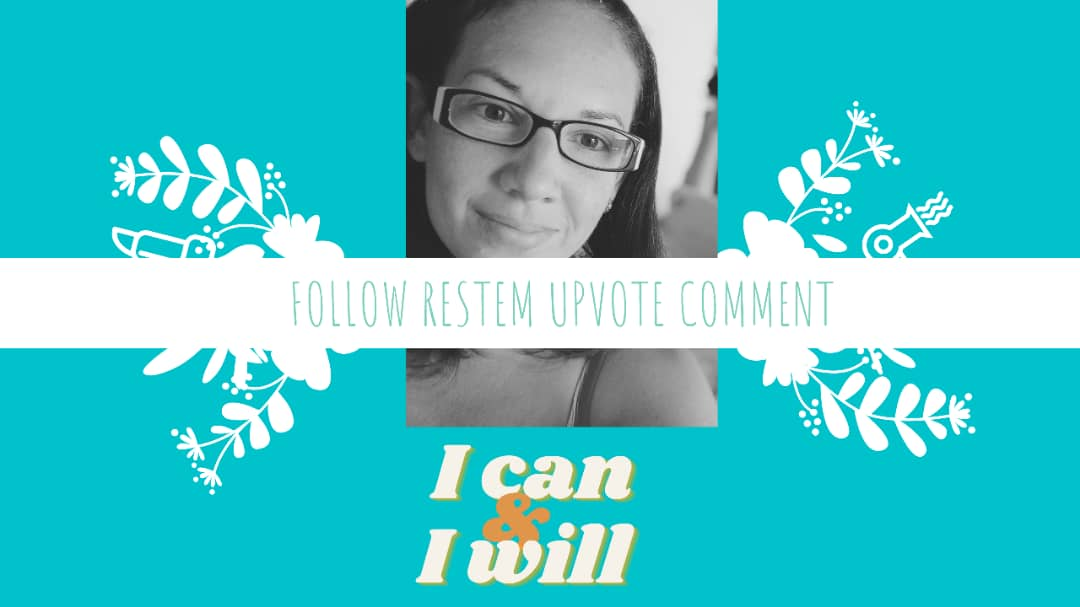 Editada en Canva