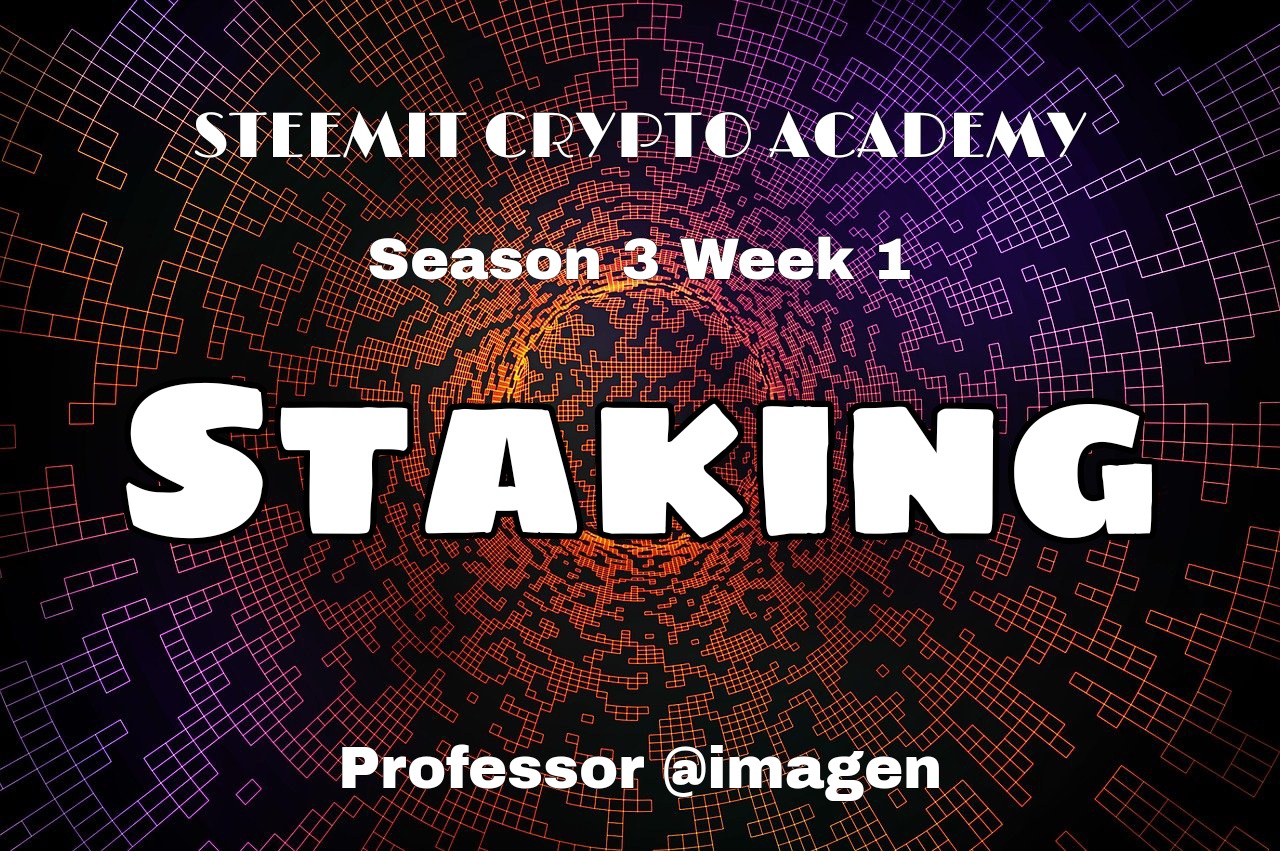 ---

---
It is a great pleasure to be once again in this third season of the Steemit Crypto Academy, and a warm greeting to all participants, both those who have been present in previous seasons, as well as those who have just joined this initiative, which seeks to encourage knowledge of this fascinating universe through study and research.
Once again, I reiterate my pleasure and my deepest gratitude for the trust placed in me, to be again at the helm of this new season of the Academy that has just started this week.
---

---
What is Proof of Stake (PoS)?
---
One of the most popular consensus protocols in the blockchain is the so-called Proof of Stake (PoS), which was created to replace the Proof of Work (PoW) initially developed for Bitcoin mining.
The Proof of Work (PoW) requires intense computational work to validate the transactions made on the network, which results in high power consumption, in addition to its lack of scalability, which is understood as the ability to adapt and respond to a system in relation to its performance, as the number of users increases significantly.
To address these problems, Proof of Stake (PoS) was born, a new type of consensus protocol very different from PoW, with lower power consumption and greater scalability, which allows it to adapt to the increase in users, increasing the number of operations and shortening response times.
---

---
Origin of Proof of Stake (PoS)
---
Proof of Stake (PoS) was born from the hand of developer Sunny King, a legend in the blockchain space but a very reserved character in his private life, who presented it in 2011 in the Bitcointalk forum, and subsequently embodies the idea in the PPCoin White Paper, where he explains how the protocol works.
The basis of this innovation has enabled blockchains to become more efficient and stable: if they can be made cheaper to create and operate, they can be used to host decentralized databases that, in turn, can power all kinds of business and social functions.
In the PoS protocol, mining nodes are randomly selected in advance, under the criterion of cryptocurrency holding of these nodes, i.e., those nodes that hold a larger amount of cryptocurrencies, have a higher probability of being selected as validator nodes. These validator nodes are the nodes authorized to process and validate blocks within the network.
However, in order to maintain the overall participation in the network, those nodes holding a smaller amount of cryptoassets can also be selected, but with a lower chance in the selection process.
In this sense, the greater the amount of cryptocurrencies a user has, the more power he will have to mine new blocks in the blockchain, so that he will receive a greater reward for his participation.
This selection criterion, which also takes into account the time of permanence of the nodes in the network, responds to the premise that those people who have a greater amount of money invested in the network, are also the least interested in the network suffering an attack against their assets, and therefore, they will protect it at all costs from malicious uses.
Differences between PoW and PoS
Image taken from Coinmotion
---

---
What is Staking?
#
It can be defined as a process in which assets are blocked to generate rewards. This method of generating income with cryptocurrencies is quite recognized due to the great profitability offered by most of the websites that allow staking.
In most cases you will need to block the assets for different periods of time to be able to staking, however, there are different platforms where you can staking without blocking the funds for periods of time.
Staking is similar to the savings system of traditional banks, but staking stands out because of the great return, they can offer from 5 to 100 times more than most traditional banks.
Calculating staking rewards is more complicated than it seems, there are many factors that influence, for example, the amount of currencies present in the staking, and the inflation rate.
---

---
Differences between HODL, Yield Farming and Staking
#
Yield Farming: they work with smart contracts and unlike staking, the funds blocked in Yield Farming are mainly used to create liquidity, in short, in Yield Farming your coins will be used by other users and the platform which offers you the service.
Some of the most recognized Yield Farming are:
Compound
MakerDAO
Synthetix
Yearn.finance
Uniswap
One of the most important reasons for Staking is that it creates more demand in the market, since the funds are being blocked and most of the holders of the coin are not selling their assets constantly, even staking is a quite viable option to continue generating passive income in the bearish season of the market, this was explained by Chef Fran, an Argentinean administrator of the official Pancake Swap team.
The Hodl consists of owning one or more assets without selling for medium/long periods of time, here you should not block your funds and you will not generate passive income by owning the currency.
---

---
Differences between APY and APR
#
It is essential for cryptocurrency investors to know these terms, the APR and APY tell you the return.
The APY, is the annual percentage return and includes compound interest while the APR does not, the APY is usually used more in investments while the APR is used more in loans.
For example if I want to staking USDT/USDT and the APY is 100%. In one year I will have twice as many coins (without reinvesting the generated).
Let's suppose I am staking with 500 USDT and the APY of 100% is maintained for one year. In the course of one year I will end up with 1000 USDT (500 USDT from the initial investment and 500 USDT generated from staking).

---
Homework Task.
#
1.) Research and choose 2 platforms where you can do Staking, explain them, compare them and indicate which one is more profitable according to your opinion. (Binace is not allowed)
2.) What is Impermanent Loss?
3.) What is Delegated Proof of Stake (DPoS)?
4.) Conclusion
---

---
Guidelines
#
(1) Your article should be at least 300 words.
(2) This homework task expires Saturday, July 3 at 23:59 UTC
(3) Eligibility Criteria--
Must have a reputation of 55 or above
Must have at least 250 SP (excluding any SP delegated-in)
(4) Add tag #imagen-s3week1 and #cryptoacademy in your post and should be among the first five tags. And also make sure you post in the Steemit Crypto Academy community.
PLAGIARISM AND SPAM WILL NOT BE TOLERATED
Use copyright-free images or indicate the original source
---
---
Cc:-
@steemitblog
@steemcurator01
@steemcurator02