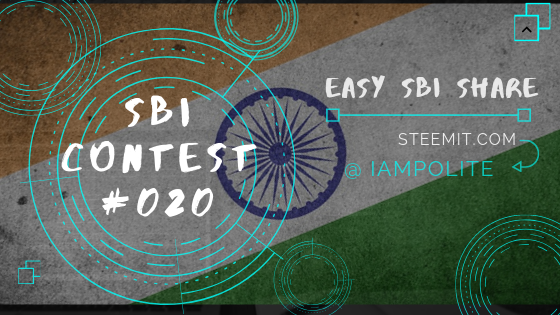 Hello Everyone!
I am back again with the 17th edition of SBI contest
So to enter this contest all that you need to do is just make a comment whatever you want with your username. Additionally, you can tag someone who might be interested in the contest.

We'll be following Contest Kings rules in the giveaways
No Upvote
No Resteem
No Follow
Additionally rules you need to follow for the contest
steem username on which you need the rewards to be sent
Tag your friends who might be interested in the giveaway (optional).
The winner will be announced after post payout.
And now the time for winner for last week Contests...
SBI/SM Contest #015
In this contest, you need to share one of the latest battles you WON on splinterlands and you can get a chance to win SBI or one of the SM cards listed.
By the way, the contest was really great and thanks for all for this support
We got 9 entries form
@gamemods | @darthgexe | @gillianpearce | @che-shyr | @roshne | @muscara | @chireerocks | @mmunited | @aggamun
Prize sent -- 2 x Rexxie + 1 x Sea Monster.
In this contest all that you need to do is just make a comment whatever you want with your username
We got 22 entries from
@orjantomarcelo | @muaznotfi | @silent678 | @onebiz | @erixink | @sacra97 | @kirstin | @barmbo | @darthgexe | @antoniarhuiz | @qwerrie | @roshne | @elgranpoeta | @acido1120 | @chris94 | @davidesimoncini | @gamemods | @fredkese | @certain | @wongbraling | @alokkumar121 | @cruis
Prize sent - 1SBI
And the winner is @erixink

SteemIndian | An initiative to support Indian steemians. Read More
Join Us Here -> Discord channel | Telegram Channel
Also, I created an invite list for this contest, if you don't want to be included in that list please let me know via comment. Thanks
@acido1120, @aggamun, @aloha-creations, @alokkumar121, @antoniarhuiz, @apenny, @bitandi, @barmbo, @cadawg, @certain, @chris94, @cryptof, @cruis, @darthgexe, @davidesimoncini, @definethedollar, @elbrava, @elgranpoeta, @erixink, @fredkese, @flxlove, @gamemods, @gillianpearce, @giocondina, @jmehta, @johndoer123, @kirstin, @mimismartypants, @mmunited, @monsterbuster, @muscara, @mrnightmare89, @olivia08, @onestopfacts, @onebiz, @qwerrie, @rachaeldwatson, @roshne, @sacra97, @simonjay, @wakeupkitty, @wongbraling, @zyzzyva