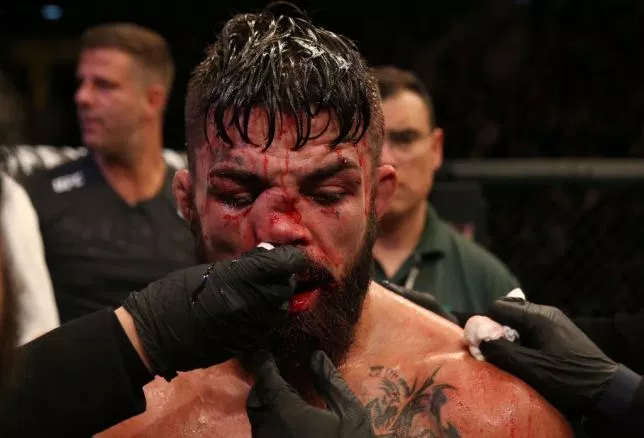 ---
UFC welterweight, Mike Perry suffered a horrific nose break during his split decision loss to Vicente Luque at UFC Fight Night 156. It was a bloodbath and seeing how the blood flowed freely from Perry's nose onto Luque's body was just scary.
Perry and Luque were engaged in what has been tagged a war and the former was the victim of a brutal flying knee in the third round. A stunt which didn't just end at being a mere flying knee, but one that came with the 'floods.'
After the flying knee to the nose by Luque, Perry continued to fight and tried to fight off a submission attempt and ended up putting a remarkable show even if he lost out to Luque.
The war ended at 29-28, 28-29, 29-28 in favour of Vicente Luque. A very well contested fight if it will be called anything other than a bloodbath in the ring.
The 27-year-old was rushed to the hospital where a scan was carried out after he started experiencing difficulty breathing.
---
My Thoughts.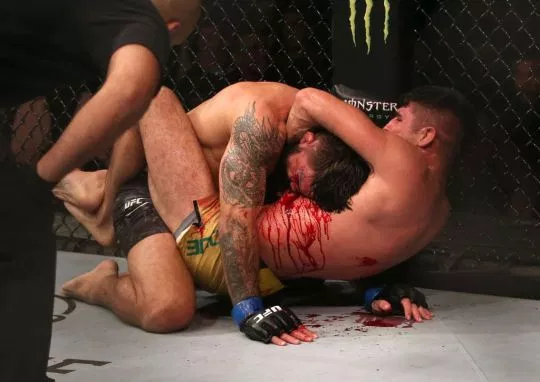 I have always maintained that I love sports and will always love sports with boxing as one of my favorites. But, I cannot really understand the UFC and will not want to because it is just real street fighting to me.
The brutality is just so real and glaring and after watching this fight, I just feel really scared and will not want to get into the rings with anyone.
The fight ended in a bloodbath and the fighters were said to have been given additional $50,000 each for putting up a good show, but is it really worth it? Too much horror if you ask me.
Will Perry be able to fight again after this?
Is the compensation package for a UFC fighter worth it?
Do you think the UFC needs to change its fighting rules and mode of operation?
How does one even manage not to get bodily harm from fighting like savages as a sport?