Succeeding eSteem RSS released for its web app, I made a post on how to Share Steem Blogs to Other Social Media Perfunctory. In that post I explained how Steemians can share all their blogs to Twitter automatically but with no #tags, I mentioned it that I would love it more if IFTTT has this feature implemented, good #tags gives a Tweet good numbers of impression. People like bots to handle stuff for them rather than going through menial hassles, I made the tutorial due to this reason and to bring more viewers to users posts from outside Steem.
I was surfing Steem yesterday and I found a post showing #Steem, #Steemit, and #SteemPeak hashtags analysis titled Proof of Sharing #posh by an avid Steemian, @acidyo. It came into my mind that it would be great if we can do this automatically and include tags to our Steem tweets, by doing this we will give #Steem tag good impression. I immediately messaged the IFTTT team to add this feature and continued to explore their site to see if this could be possible. After sometimes exploring and experimenting on the site, I figured how to it.
I will show you how I did it, it's very easy to do, just follow the steps and screenshots below. The concept is, we will be creating our own Applet instead of using predefined ones.
Procedures
Login IFTT account, from the website home page, click on Explore located in the top right corner.
On the Explore page select the ➕ to create your own Applet
On that next page select the ➕ ;

You will be taken to Choose a service panel, search for RSS for a faster result and select the result.

Select New feed item

Input your Steem RSS Feed URL into the box: https://esteem.app/@username/rss and click Create trigger button
We are done with the first part!
You will be redirected to this page after completing the first part in order to add the second service;
Click on the ➕ as shown in the image below

Search for Twitter for a faster result and select the result.

Select Post a tweet

We now arrived at Complete action fields page. In the Tweet text textbox you can add #tags you want to automatically attach to each Tweet. You can also add @username to mention a user on each share too but I use this carefully not to annoy the mentioned user. After you finish with the textbox click on Create action

Click the Finish button. Woot! You're done ♨
Click on your profile avatar, from the drop-down list, select My Applets to configure, see disconnected, and connected Applets.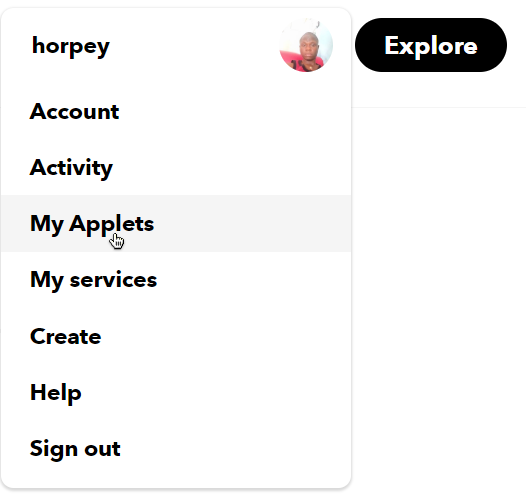 This does not share your own post only but your resteemed post too. So, if like a post just resteem it to get shared on Twitter.
---
Result
---
A post by @melinda010100 I resteemed while writing this post.

Thank you for reading, let's do this to get our content out of Steem and give #Steem and related tags huge impression and views on Steem content.