Beloved Community
This week we have outdone ourselves. The one-month goal is about to be reached these days...
It's great!!
Amada Comunidad
Esta semana nos hemos superado a nosotros mismos. La meta de un mes está a punto de alcanzarse en estos días...
¡¡Es Grandioso!!
<>

---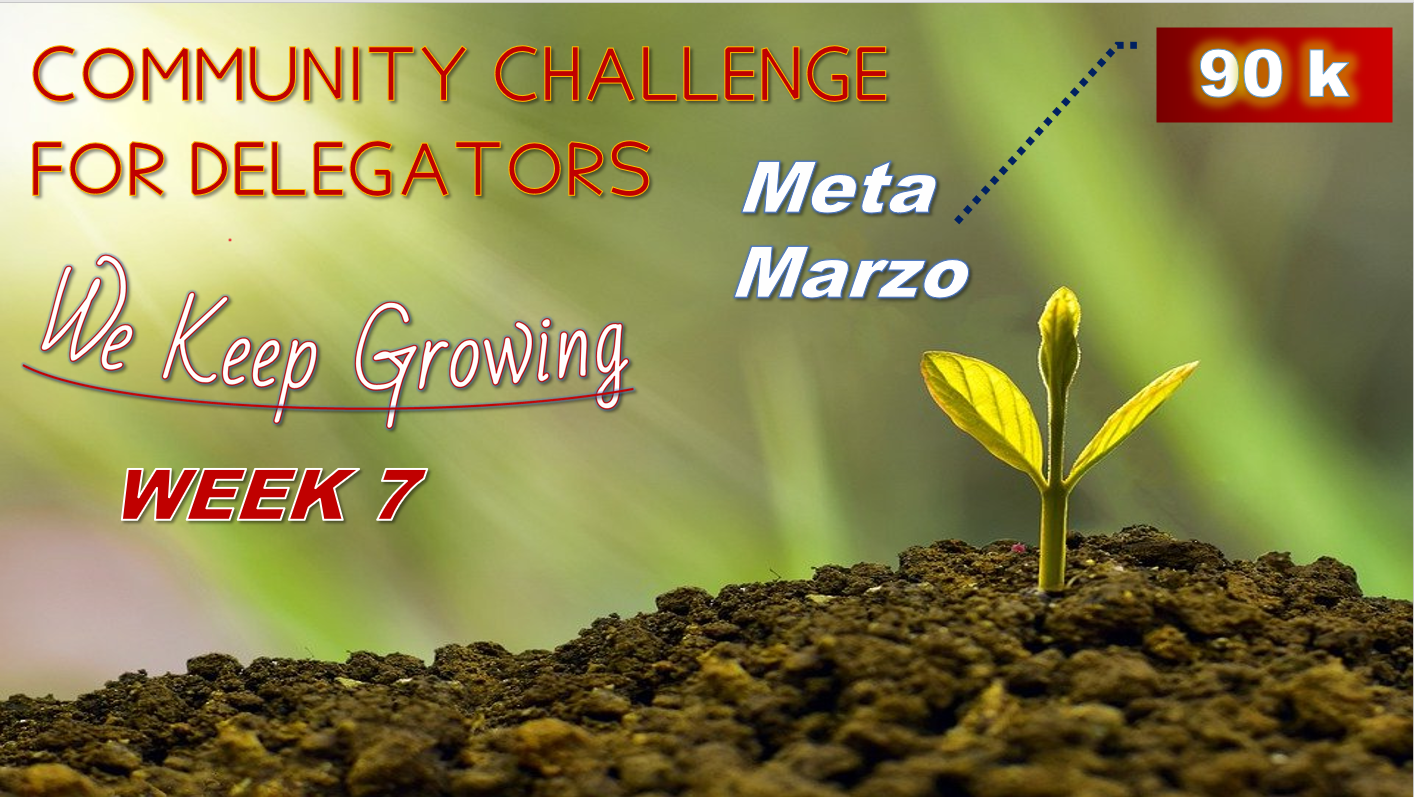 We continue to grow rapidly, and this is thanks to the tireless work and support of all of you, our community members and loyal delegators. We encourage you with this weekly challenge that we continue to move towards the 100K goal. We are over 80 K of STEEM POWER. So, what are you waiting for to be part of this incredible project?.

Seguimos creciendo vertiginosamente, y esto es gracias a un trabajo incansable y el poyo de todos ustedes, nuestros miembros comunitarios y fieles delegadores. Les animamos con este desafío semanal que sigamos avanzando hacia la meta de los 100K. Ya pasamos de los 80K de STEEM POWER. Así, que, ¡¿qué esperas para ser parte de este increíble proyecto?.


COMMUNITY CHALLENGE FOR DELEGATORS: We all grow
DESAFÍO COMUNITARIO PARA DELEGADORES
---

Make a delegation to @hive-141434 "Recreative Steem" and write a nice post taking screenshots of the act itself. If you are already a delegator, you can increase the current delegation according to your possibilities.
Realiza una delegación a @hive-141434 "Recreative Steem" y escribe un lindo post tomando capturas del acto en sí. Si ya eres delegador, puedes aumentar la delegación actual según tus posibilidades.
---
En caso que no conozcas el mecanismo para delegar SP, hemos preparado un video-tutorial para enseñarte a hacerlo. ¡Atrévete, es muy sencillo!

In case you don't know the mechanism to delegate SP, we have prepared a video-tutorial to teach you how to do it. Dare, it's very simple!
---
---
Te dejaremos disponibles algunos enlaces de delegación, de modo que puedas acceder de forma rápida al programa.
We will leave you some delegation links available, so that you can quickly access the program
center >
AQUI

Starting this week, all RECREATIVE STEEM delegators will receive rewards for curing 80% of community collections and they will be automatically credited to each delegator's wallet every day, it should be noted that said reward will be in liquid Steem in their Wallets and will additionally count with Votes to your posts in our community from the Community Account @hive-141434.
A partir de esta semana todos los delegadores de RECREATIVE STEEM recibirán recompensas por curación del 80% de las cobranzas comunitarias y serán abonadas automáticamente al monedero de cada delegador todos los días, cabe resaltar que dicha recompensa será en Steem líquido en sus Monederos y adicionalmente contarán con Votos a sus publicaciones en nuestra comunidad desde la Cuenta Comunitaria @hive-141434.

IMPORTANT RULES

1. Submit screenshots of the delegation process
2. Write in a few words your motivation for participating in this delegation program with Recreative
3. Set your post to 15% to support @hive-141434
4. Invite 3 your friends to join this challenge
5. Post it on your social networks
6. Put the post in the comments section
7. Post from this community
8. Use the tag #challenge-delegators
REGLAS IMPORTANTES

1. Presenta capturas de pantalla del proceso de delegación
2. Escribe en breves palabras tu motivación al participar en este programa de delegación con Recreative
3. Configura tu post al 15 % para apoyar @hive-141434
4. Invita a 3 de tus amigos a unirse a este desafío
5. Publícalo en tus redes sociales
6. Coloca el post en la sección de comentarios
7. Publica desde esta comunidad
8. Utiliza la etiqueta #reto-delegadores


"BOOMING SUPPORT ONCE A DAY TO THOSE WHO PARTICIPATE"
🥇🥈🥉
Thank you for trusting us and supporting us!!
-----
The rewards from this post will be used to Power up and strengthen the community account @hive-141434
------

SPONSOR || PATROCINANTES


These are our social networks