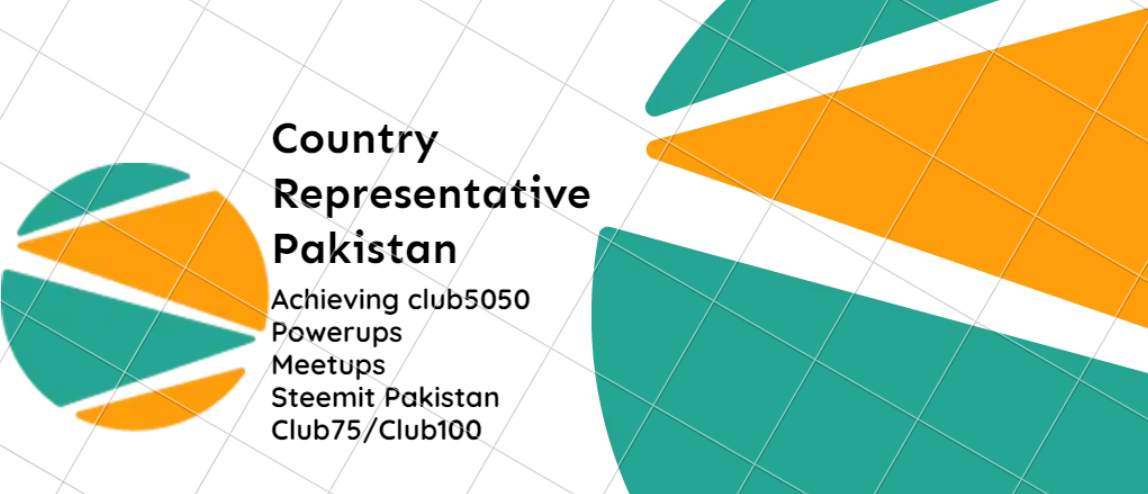 Hello and Good Evening Everyone!
This is @haidermehdi Currently serving happily as the Country Representative of Pakistan!
Monthly Support Program For November!
Alhamdulillah, Alhamdulillah we managed to retain our spot in The Monthly Support Program offered to communities worldwide from the Steemit Team. I believe we are the first Country Community to do it and i thank Allah for it the the most.
Next, thankful to The Steemit Team for recognizing our efforts for growing the Community and helping our community members in making an amazing progress. All the users that we supported were keeping their sheer focus on powering up steem and building their steem power which leads to delegating sp to @Steemit-pak. And then the club5050 was announced which made us even happier.
Our members and my team had a clear moto towards the organization of the #Club5050 initiative and we knew it from the word go about how to manage this system! I have been making reports of active users and Steemit Pakistan labeling system for the club5050 users. We are going the right way with this and we believe we can achieve more :)
We are now trying our best to move towards club75 and club100. All the team is now powering up the 100% of their earnings. Later, stats will be discussed as well.
Announcement of New Clubs:
Club5050 || Club75 || Club100
Club5050 was the firstly announced club in which everyone was told to maintain their weekly transfers which are now shifted to Monthly Transfers.
Any user who transfers steem in the last 30 days, has to equally powerup equivalent steem. Like if my transfers in the previous month are 40 Steem, then i have to powerup 40 or more steem in the same days.
---
To achieve club75, we have to follow pretty simple rules.
Whenever you make a transaction, you have to power up thrice the amount of cash out. i.e. If you cash out 100 Steem, you have to powerup (100 * 3 = 300 Steem)
---
To join Club100, there is only and only one rule :p No withdraws!❤️❤️❤️❤️
In this, we are looking forward to a time period of 90 days. i.e. your transfers should be 0 and everything shall be powered up only for the last 30 days. This is how you can achieve Club100!
---
Daily Monetization of Club5050 users
We are doing daily efforts and presenting tables through which we can identify whether the users that are tags of club5050 are eligible for it or not. We also keep an eye over their powerup percentages. This gives us more belief and trust over users who are found eligible to use the tag. Here are the links to reports of some previous days. I haven't seen such reports anywhere and i am proud that we are doing it for the sake of #club5050 promotion. Soon we would be running these tasks for club100 and club75 just when the initiative gets two-three month old :) We promise to conitnue this to help steem economy :)
My Promotions Plan
The designs are ready and soon i would be visiting an outlet to talk over our plans for promoting steem! This will be a physical meetup with the restaurant owner, i have already sent them the details and they are willing to meet us. Let's hope it goes well! I went to a very famous sitting place in Karachi and talked to the management about placing these brochures to them and distribute it among their users. I dropped my cell number and i have already started getting messages from people about Steemit. It feels great to bring new and sensible users here on steemit who can promise a long and energetic ride :)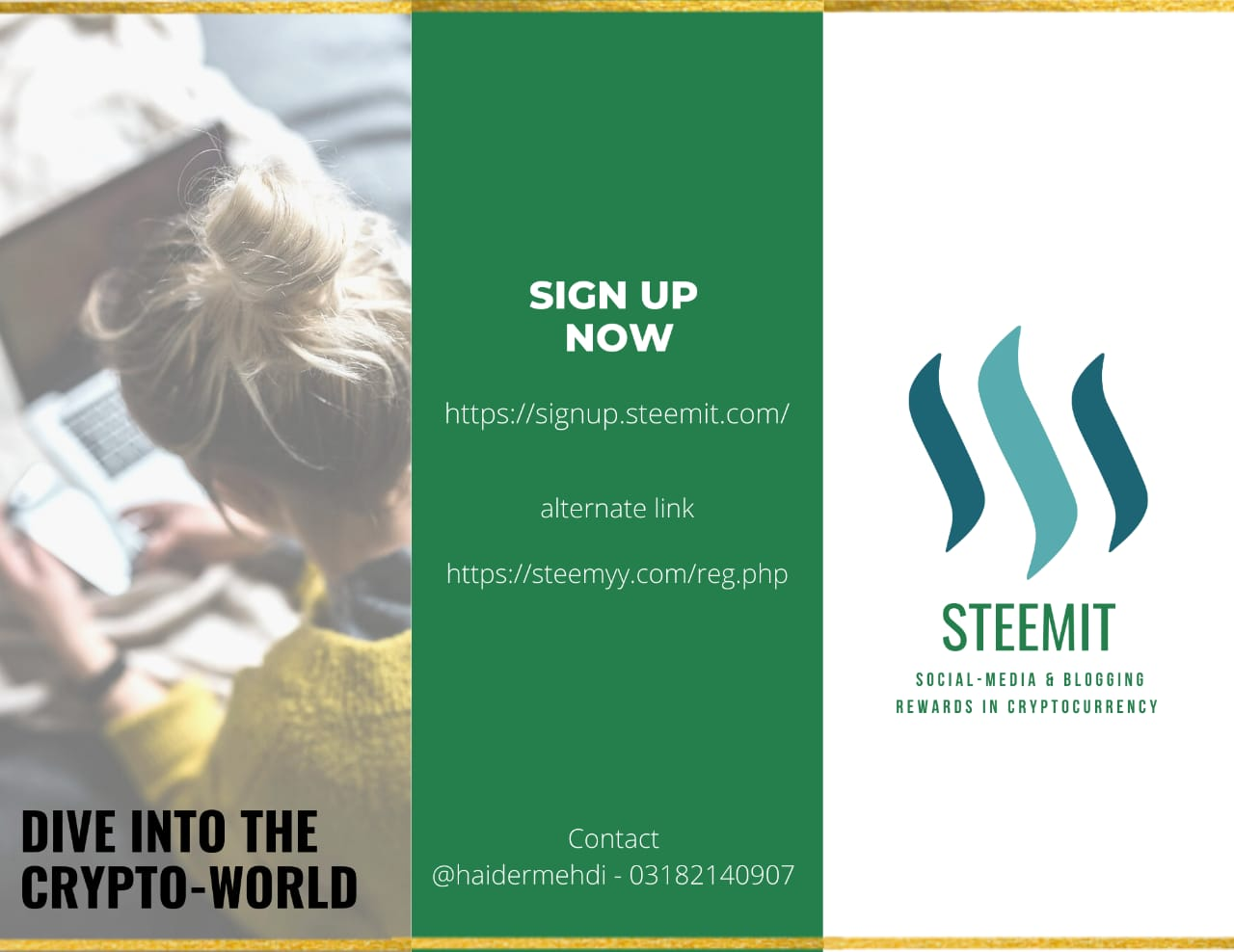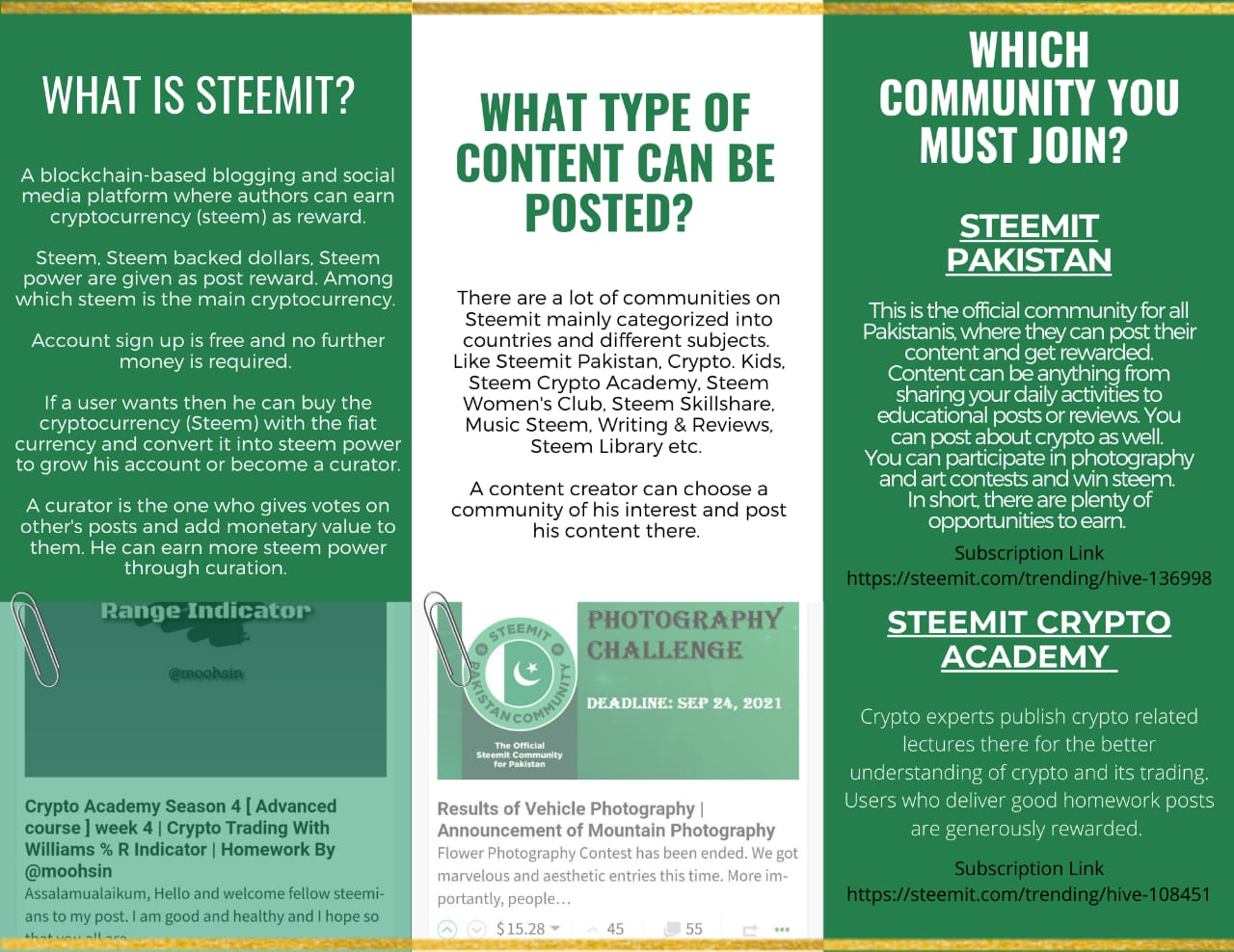 Steemit-Pak Delegation Rewards!
We have reached almost 60k Steem Power* with the help of Steemit Team and our delegators. We are looking to take this more higher as we move on in the future. For this we are offering two major rewards:
100% of the curation rewards to be distributed among the Delegators. We are also planning to giveaway 500% rewards to those users who are earning less than one steem per week due to lesser delegation being a newcomer! We hope to announce this soon!
Delegations rewards will be now distributed at the end of the month and there might be some extra bonus for you to hold your delegations with us. We are quite sure that we will return you the best for your delegations. Even for the little ones :)
Country Representative's & Team Commitment to #Club5050 & Club75 with 100% Power Ups!
Haidermehdi - Club5050 Member. Doing 100% powerups since last 30 Days.
Vvarishayy - Club5050 Member. Maintaining club5050 Badge even before its announcement.
Hassanabid - Club75 Member. Powered up 3x Earnings on steemit in last 2 months.
Event-Horizon - Club75 Member. Powered up 3x Earnings on steemit in last 2 months. Club5050 member since January 2021.
#Club5050 Efforts and Guides
https://goldvoice.club/steem/@event-horizon/important-or-what-s-there-in-club5050-besides-extra-rewards-from-steemit-team-or-20-to-steemit-pak
https://goldvoice.club/steem/@event-horizon/weekly-moderator-report-steemit-pakistan-or-my-acceptance-and-guidance-of-club5050-or-20-to-steemit-pak
https://goldvoice.club/steem/@vvarishayy/powerup-half-of-your-weekly-earnings-use-the-tag-club5050-and-get-the-support-from-the-curators
https://goldvoice.club/steem/@hassanabid/important-notice-things-to-remember-before-using-club5050-tag-20-to-steemit-pak

Club5050 User's Report - Wallet Date Range From 8-15th October - 20 Users Data Who posted using TAG #CLUB5050
Assets For Sale
We are working with pride in the Sell for steem Community and now i can proudly say that i Myself am selling Assets of Steem and Steemit Pakistan Promotion. I am on the way to introducing a new assets.
Steem Pen.
Steem Mugs.
Steemit Pakistan Shirt
STEEM SHIRT
STEEMIT PAKISTAN DIARY
STEEMIT PAKISTAN MASKS
STEEM SHIRT
STEEMIT PAKISTAN SCARFS COMING SOON
Contest and Promotion
Steemit Pakistan has always been a community that has been organizing contests since its beginning and has never compromised over giving steem, trx, sbd as a reward to its members over their quality work. We have always been concerned against plagiarism and it the fight against it, we have covered a lot of such cases and now they are brilliant writers. We have educated a lot of people regarding plagiarism through these contests and this has been an amazing achievement in our journey of an year and more.
The contests in the community are always live and we are promoting steem through Banners, online sessions, educating people about crypto and much more. You would be able to see our promotions within the next week and i am sure they won't disappoint you :)
We have restarted the Art Contest which has brought us back our active members. We are continuously improving in this regard and we hope to reach more number of active members in the future.
CONTACT DETAILS
| Country Representative Pakistan | Haidermehdi |
| --- | --- |
| Contact | +92 3182140907 |
| Discord | Haidermehdi#0457 |
| Telegram | haidermehdii |
This is it for now, i promise to come with new details and new promotion stories in the next week. As stated, the meetup has taken place and now it is the turn for a boys meetup! We are going to have a grand meetup soon!. Stay Tuned!
Yours, Haider Mehdi.
Country Representative Pakistan❤️
Steem on!