Perhaps this is the most unexpected news recently for me. Independent unions are an obsession of communist governments because the collapse of communism stems from independent unions in Poland. They were afraid of a similar scenario, so far there was only one union organization, it was like an extension arm of the Communist Party.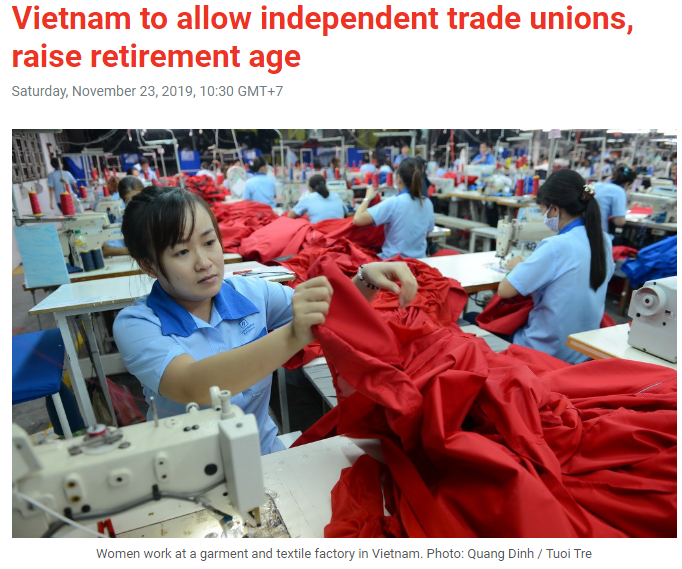 But, In order to meet the requirements of free trade agreements, Vietnam was forced to revise its labor laws, allowing the establishment of independent unions at the grassroots level.
The revised Labor Code was passed by the National Assembly members of Vietnam on November 20, 2019 and has been hailed by the US embassy as a "historical law", because this is an important step "bringing Vietnam's legal system closer to international labor standards".
The revised Labor Code, which came into effect in 2021, allows for the creation of independent unions, that is, not belonging to the Vietnam General Confederation of Labor, the only union currently available.
In fact, Vietnam cannot do anything else, as it is a requirement of free trade agreements that Vietnam has signed, such as the Comprehensive and Progressive Agreement for Trans-Pacific Partnership (CPTPP) and the European Union. In the negotiations on those agreements, labor issues are still the toughest records for Vietnam.
In Vietnam after the law, a decree is needed to guide and implement it is not necessarily easy. I hope this change will improve the lives and rights of workers soon.

Connect with me on other foundation
facebook || youtube || twitter || blogger || wordpress || d.tube || minds || reddit || linkedin || tumblr || instagram
🔥🔥🔥 @anhvu & daily random upvotes from the this post.

Recent posts