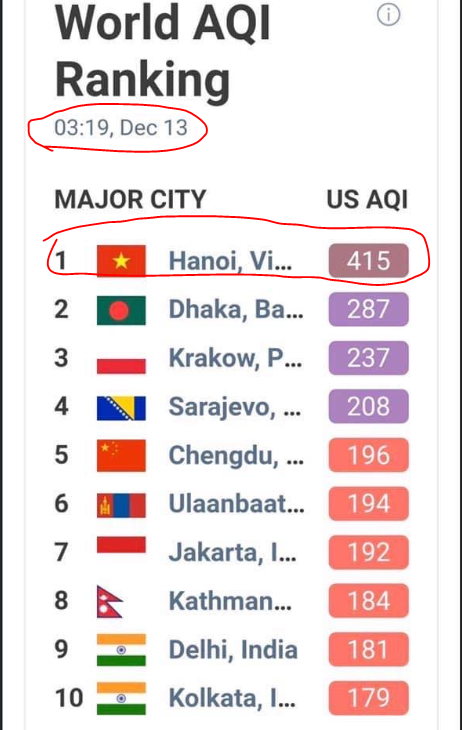 Air pollution levels in some northern provinces and Hanoi are getting worse in recent days, but the most frightening thing is the "silence" and insecurity of the people.
I was stunned when I read these lines: "On December 13, air pollution levels in some northern provinces and Hanoi worsened, to the point of serious impact on human health. But neither the Hanoi Natural Resources and Environment Department nor the General Department of Environment have made any recommendations. " on tuoitre.vn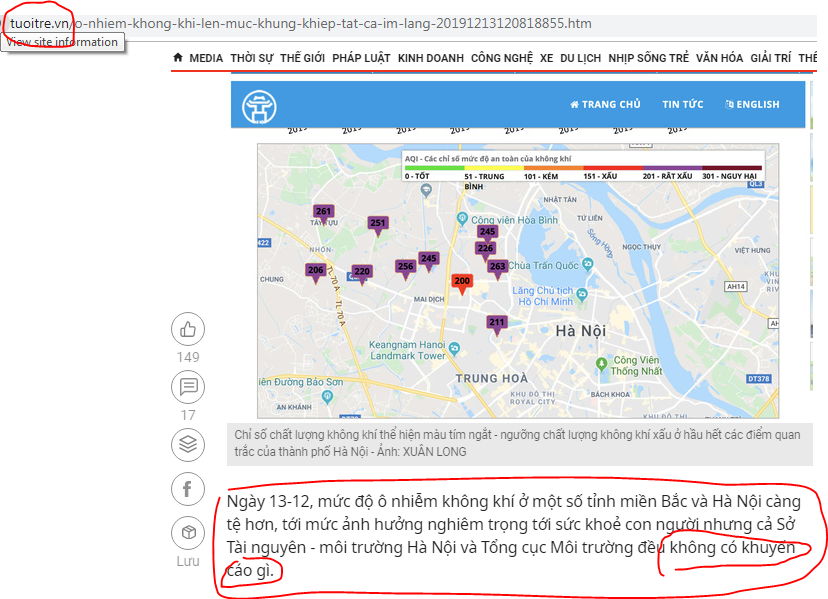 They are silent because we are supposed to breathe like that and there's no other way? What are they not recommending because they think it is another agency's responsibility? They ignored it because they thought that after a few days everything would be back to their original state? ... No one knows, nobody has the answer because they are silent and still silent. That's all!
Perhaps people think that the smoke will melt or people have already gotten used to it, if they warn or do something, they won't get better or can't "ban" breathing? I don't know why people are so indifferent or indifferent. If the numbers are noisy, noisy excessively necessary or do not die, they should also enter the word "highway" for people to know. Otherwise, do something right to make people safe.
This is not the first time pollution to such an alarming level, It's not too surprising to not react or manage in time.
But what I'm more afraid of is not only that, everyone goes to the streets to celebrate the victory of a sport, but no one took to the street because the air was so polluted, even though they breathed it daily. Vietnamese people are strange, very strange!

Connect with me on other foundation
facebook || youtube || twitter || blogger || wordpress || d.tube || minds || reddit || linkedin || tumblr || instagram
🔥🔥🔥 @anhvu & daily random upvotes from the this post.

Recent posts