-Versión en Español-
¿Que nos conduce a que hoy hablemos de un país como Irlanda, un rió tan icónico para Venezuela y el estilo musical New Age? Bueno lo mas increíble es que no solo hablaremos del rió Orinoco, su relación con irlanda, también hablaremos de un pez que solo vive en el Orinoco, claro esta y de música del genero New Ega..
Bien, Eithne ní Bhraonáin, nace en Donegal, en la ciudad de Gweedore en el año 1961, ubicadas en la Isla Irlanda en lo que corresponde a la República de Irlanda o simplemente Irlanda del Sur, cuya lengua es el gaélico, misma la cual hoy día solo es hablada por un muy bajo porcentaje de personas, tanto en la isla como fuera de ella, Eithne disfrutaba de la música, ya que en su familia sus tíos gemelos eran músicos desde jóvenes, así que Eithne con sus 18 años se integra a Clannad, agrupación liderada por sus tíos, hermanos y familiares, desde su inicio su voz marco una particular imagen del grupo, el uso novedoso de los sintetizadores, manejo de la reverberancía en los sonidos de vocalización de Eithne sentó la marca de ella y de su vida musical, con un talento impresionante de adaptación para los idiomas canta en Ingles, Latín antiguo, Español incluso en Japones, claro esta que de principal manera en Gaélico su lengua natal, pero no solo logra cantar y grabar en diez distintos idiomas, ella interpreta varias canciones en dos lenguas la Quenya, lengua inventada por el escritor y filólogo británico J. R. R. Tolkien de igual manera también canta en lengua Loxian, lengua inventada por la letrista Roma Rya..
Es al adoptar su nombre artístico que se da a conocer, puesto que para el mercado de habla inglesa le era complicada la pronunciación de su nombre en gaélico, uso una adaptación fonética anglosajona del mismo, siendo así como se hace conocida con el nombre artístico de Enya, la cantante mas popular de Irlanda después de U2, en su disco Watermark, logra fama con el tema de mayor difusión, vinculándola para siempre a la canción Orinoco Flow, con el cual obtuvo mas de diez discos de oro, nueve de platino y alcanza fama mundial, su fama llego a niveles con los que obtuvo premios tales como Grammy, el Globo de Oro, incluso el premio Oscar de la Academia, por componer e interpretar temas para el cine, pero su imagen junto a los idiomas Quenya y Loxian, diseñados a partir de estudios de escritores y con colaboración de la misma Enya, es considerado lenguaje "Alto Elfico" estructuralmente elaborado, gramatical y metricamente diseñado, con sus propia escritura, esta lengua hoy día parte de las obras el Señor de los Anillos, donde Enya interpreta varias canciones.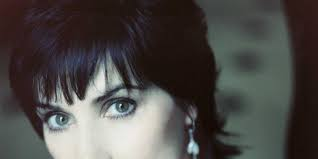 imagene tomada de https://www.abc.es/
La imagen de Enya y su vinculo con el rió Orinoco debido a la canción Orinoco Flow, condujo a un investigador que describía a varias especies de peces, encontrando un pequeño pez de rayas negro-amarilla de características estilizadas, identificándolo como una especie única y solo ubicada en el rió Orinoco, y que en honor a Enya fue registrada con el nombre científico de "Leporinus-Enya".
Es así como hoy pudimos descubrir a una cantante y compositora Irlandesa, cuyo nombre quedara para siempre vinculado al rio Orinoco y a un pez cuyo nombre lleva el suyo propio ENYA.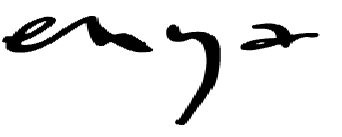 English Version
What makes us speak today of a country like Ireland, such an iconic river for Venezuela and the New Age musical style? Well, the most incredible thing is that we will not only talk about the Orinoco river, its relationship with Ireland, we will also talk about a fish that only lives in the Orinoco, of course, and about music from the New Age genre..
So, Eithne ní Bhraonáin, was born in Donegal, in the city of Gweedore in 1961, located on the Island of Ireland in what corresponds to the Republic of Ireland or simply Southern Ireland, whose language is Gaelic, which is today Today it is only spoken by a very low percentage of people, both on the island and abroad, Eithne enjoyed music, since in her family her twin uncles were musicians since they were young, so Eithne with her 18 years joined Clannad, a group led by her uncles, brothers and relatives, from the beginning her voice marked a particular image of the group, the novel use of synthesizers, handling of the reverberation in the sounds of Eithne's vocalization set the mark of her and her musical life, with an impressive talent of adapting to languages, he sings in English, old Latin, Spanish even in Japanese, of course, mainly in Gaelic his native language, but he not only manages to sing and record in ten different languages, She interprets several songs in two languages: Quenya, a language invented by the British writer and philologist J. R. R. Tolkien, in the same way she also sings in the Loxian language, a language invented by the lyricist Roma Rya..
It is by adopting his artistic name that he becomes known, since for the English-speaking market the pronunciation of his name in Gaelic was complicated, he used an Anglo-Saxon phonetic adaptation of it, thus becoming known with the artistic name of Enya, the most popular singer in Ireland after U2, in her album Watermark, achieves fame with the most popular song, linking her forever was the song Orinoco Flow, with which she obtained more than ten gold records, nine platinum. and reaches world fame, his fame reached levels with which he obtained awards such as Grammy, the Golden Globe, even the Oscar Academy Award, for composing and interpreting themes for the cinema, but his image together with the Quenya and Loxian languages , designed from the studies of writers and with the collaboration of Enya herself, it is considered a "High Elvish" language structurally elaborated, grammatically and metrically designed, with its own writing, this language today part of the Lord of the Rings plays, where Enya performs various songs..
The image of Enya and her link with the Orinoco River due to the song Orinoco Flow, led a researcher who described several species of fish, finding a small fish with black-yellow stripes with stylized characteristics, identifying it as a unique species. located in the Orinoco river, and that in honor of Enya was registered with the scientific name of "Leporinus-Enya".
This is how today we were able to discover an Irish singer and songwriter, whose name will be forever linked to the Orinoco River and to a fish whose name bears her own ENYA.