CONCURSO: TUS EXPECTATIVAS EN STEEMIT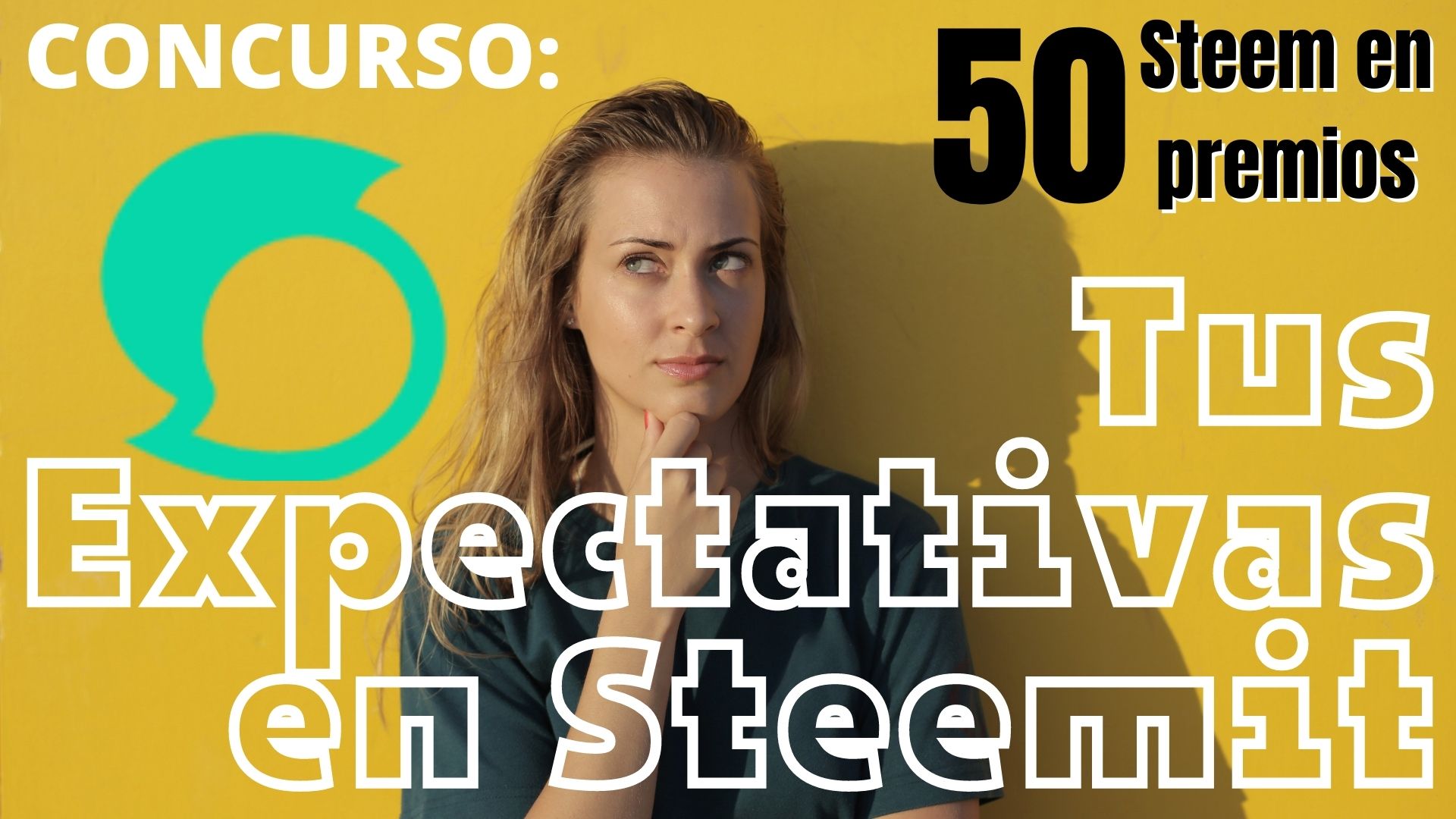 Estimados amigos;
Cuando llegamos a Steemit, lo hacemos con un cierto nivel de expectativas que muchas veces es producto de la motivación que nos dan los que nos invitan a formar parte del gran blockchain; otras veces es forjada por nuestro alto nivel de expectación frente a las cosas nuevas.
Es todo un ecosistema excitante, que nos invita a soñar, crear, florecer y forjar una marca fuerte que nos identifique como blogger único en la plataforma.
La propuesta:
Quiero invitarte a que nos compartas desde tu experiencia personal:
📌 Tus expectativas al llegar a Steemit
📌 ¿Quien te entusiasmó y te inspiró a convertirte en un blogger de Steemit?
📌 ¿Tus expectativas han sido cubiertas, han sido superadas o por el contrario... han sido defraudadas?
📌 ¿Cuánto tiempo tienes siendo parte del blockchain y que es lo que te entusiasma a continuar?
📌 Comparte una fotografía de tus inicios en Steemit y otra actual
📌Invita a 3 amigos a participar en este concurso.
📌 Comparte en tus redes sociales (twitter, facebook, instagram) tu publicación para promocionar a steemit.
📌 Utiliza entre tus etiquetas #writing #lifestyle #steemit #contest y la de tu país ejemplo: #argentina. Mencióname en tu publicación.
📌 El concurso finaliza el Martes 05 de Marzo de Abril a las Argentina.
📌 Coloca el link de tu publicación en la caja de comentarios de este post.
📌 Tu entrada puede ser en cualquier idioma
Todas las imágenes deben ser exclusivas para tu publicación. El plagio o reciclaje de contenido es prohibido en steemit
Los premios 🎉🎊🎁:
🎯 10 premios de : 5 Steem c/u = 50 STEEM
---
---
---
Cc.- @disconnect @steemcurator01
@graceleon CR Argentina
--------------------------

CONTEST: YOUR EXPECTATIONS IN STEEMIT.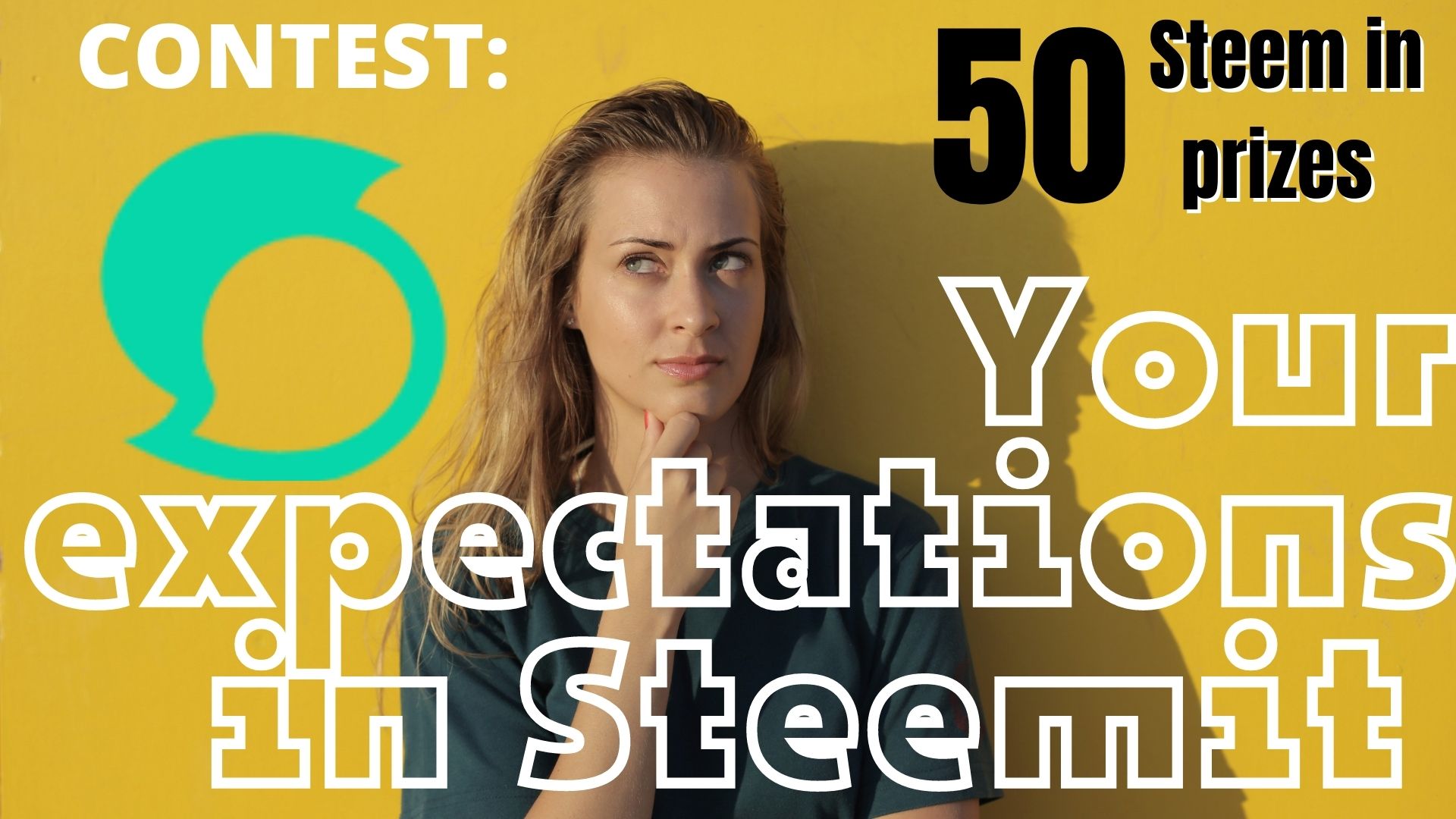 Dear friends;

When we come to Steemit, we do so with a certain level of expectation that is often a product of the motivation given to us by those who invite us to be part of the greater blockchain; other times it is forged by our high level of expectation in the face of new things.
It's a whole exciting ecosystem, inviting us to dream, create, flourish and forge a strong brand that identifies us as a unique blogger on the platform.
The proposal:
I want to invite you to share with us from your personal experience:
📌 Your expectations when coming to Steemit.
📌 Who got you excited and inspired you to become a Steemit blogger?
📌 Have your expectations been met, have they been exceeded or on the contrary... have they been disappointed?
📌 How long have you been part of the blockchain and what excites you to continue?
📌 Share a picture of your beginnings in Steemit and a current one.
📌Invite 3 friends to participate in this contest.
📌 Share on your social networks (twitter, facebook, instagram) your post to promote steemit.
📌 Use between your tags #writing #lifestyle #steemit #contest and the tag of your country example: #argentina. Mention me in your post.
📌 **The contest ends on Tuesday, March 05th at 8pm Aray, April 05tPlace the link of your post in the comment box of this post.
📌 Your entry can be in any language.
All images must be unique to your post. Plagiarism or recycling of content is prohibited on steemit.
Prizes 🎉🎊🎁:
🎯 10 prizes of : 5 Steem each = 50 STEEM.
---
@graceleon CR Argentina
---
---